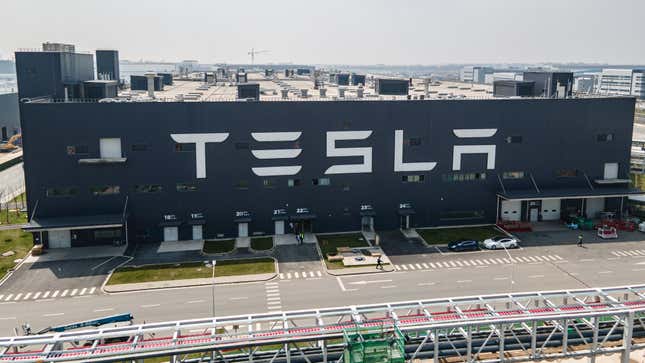 Tesla CEO Elon Musk appears to have finally picked a second-in-command at the car manufacturer, whose share price has tanked in the past year, as it keeps struggling to meet its growth targets.

Paulina Porizkova on being an Estee Lauder model
The electric carmaker's China chief Tom Zhu has been promoted to take direct oversight of Tesla's US assembly plants as well as sales, service, and deliveries in North America and Europe, according to an internal posting of reporting lines reviewed by Reuters that confirms an earlier Electrek report. Zhu's title, for now, remains vice president for Greater China.
Zhu's appointment comes after months of Musk devoting attention, time, and money—too much of it, if you ask Tesla investors—to his latest acquisition, Twitter.
Zhu, a New Zealand passport-holder who has been living and working in China, managed to turn things around at Tesla's Shanghai plant as covid lockdowns wreaked havoc. The hope is that he can do the same on the other side of the world, too. Last month, Zhu and a team of his aides were brought to the US to troubleshoot production lapses, sparking rumors that he was being groomed for a bigger, more global role.
Tesla's subpar 2022, by the digits
1.3 million: Total Tesla deliveries in 2022
40%: Increase in deliveries in 2022 versus 2021, missed Tesla's own target of 50% growth
405,278: Vehicles Tesla delivered in the fourth quarter of 2022, missing Wall Street estimates of over 420,000.
34,000: Vehicles that were produced but could not be delivered in the last quarter of 2022 due to logistical issues
65%: How much Tesla's stock fell in 2022, marking its largest annual drop since inception
Tom Zhu's Tesla turnaround in Shanghai
Musk famously insists on staying overnight at his office during times of crisis, something he shares with Zhu. During Shanghai's two-month covid lockdown, Zhu was among the first batch of employees sleeping in the factory as they strived to get the plant back up-and-running after a 22-day shutdown. Even when he's not living on the premises, he's just a 10-minute drive away.
Under Zhu's leadership, the Shanghai gigafactory saw production of the Model Y and Model 3 rise by more than 70% in the quarter ended Sept. 30, 2022. By then, the Chinese facility accounted for more than half of Tesla's global production.
People of interest: Zhu's team
Zhu joined Tesla in 2014 after working as a project manager at Kaibo Engineering Group, advising Chinese contractors working on infrastructure projects in Africa. At the EV maker, he has been overseeing all Asia operations with country managers in China, Japan, Australia and New Zealand reporting to him. According to an organizational chart seen by Reuters, four other Tesla managers are joining the cohort:
Jason Shawhan, director of manufacturing at the Gigafactory in Texas
Hrushikesh Sagar, senior director of manufacturing at Tesla's Fremont factory
Joe Ward, vice president in charge of Europe, the Middle East and Africa
Troy Jones, vice president of North America sales and service
Until a few weeks ago, Zhu was also Tesla Shanghai's legal representative—a role he handed over to Tesla's general manager in China, Wang Hao.
Tom Zhu and Elon Musk's to-do list for 2023
Zhu's role pertains more to output and logistics. Musk, who boasts of his technical prowess and claims he doesn't want to be CEO of anything, will likely still be the top boss when it comes to design and development. Together, the duo has their work cut out for them. Here's a non-exhaustive to-do list for Tesla:
⚡Amp up Tesla production and deliveries in North America
🏷 Develop a smaller, cheaper electric car
🚗 Gear up for the launch of Cybertruck, which has 1.5 million-plus pre-orders already, and a revamped version of its Model 3 sedan. 2023 may also be the year the beast vehicle teased in 2023–the Roadster with a 0-60 time of 1.9 seconds, a top speed of over 250 mph, and a 620-mile range–finally makes its debut
Related stories
📉 With his latest $3.6 billion Tesla stock sale, Musk once again sells loyalist investors short for the sake of Twitter
🤑 Musk's attention shift from Tesla to Twitter is costing him the title of world's richest person
🏦 How to tell if Elon Musk's Twitter is winning? Watch the bonds.