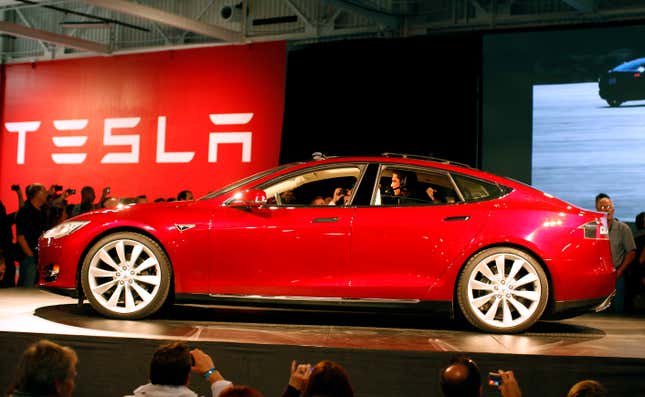 Tesla has to pay just over $3 million to a Black former contract worker for failing to protect him from racial abuse—a charge for which the electric carmaker was initially awarded a $137 million fine in 2021.

Owen Diaz, who worked as a lift operator at Tesla's Fremont factory from June 2015 to May 2016, filed a lawsuit in 2017 alleging rampant racism at the workplace. In October 2021, a federal court in San Francisco found Diaz experienced a racially hostile work environment, and Tesla did not take reasonable steps to rectify the harassment, despite complaints to supervisors. At the time, the jury ruled Tesla must pay Diaz $137 million in damages. It was seen as a landmark verdict that doled out the highest ever award for an individual suing over discrimination.
The drastically reduced penalty announced Monday (Apr. 3) comes after Tesla lawyer Alex Spiro attacked Diaz's credibility, claiming he'd distorted the time he'd worked at Tesla, and lied about working as bus driver to escape the factory setting, when in fact he went to work in another factory for Coca Cola. None of these claims addressed the workplace environment at Tesla.
"I don't think the truth drove the decisions here," Lawrence Organ, a lawyer for Diaz, told Fortune, adding that Tesla's strategy was to "minimize and sanitize" and "it's just sad that those antics worked."
The case is a rarity not just because of the controversial payout, but also because it has played out in the public eye for years. Tesla typically uses mandatory arbitration to resolve employee disputes behind closed doors.
Quotable: CEO Elon Musk says Tesla should've paid "zero"
"If we had been allowed to introduce new evidence, the verdict would've been zero imo [in my opinion]. Jury did the best they could with the information they had. I respect the decision." —Elon Musk in a tweet on April 3, 2023, which didn't elaborate on what the "new evidence" entailed.
A non-exhaustive timeline of racism lawsuits at Tesla
October 2017: Owen Diaz, a former lift operator at Tesla's Fremont factory, sues Tesla. He complains of Black workers being subject to racial slurs at the plant, including use of the n-word; racist graffiti and cartoons in his workspace and the toilets; and being told to "go back to Africa" by colleagues.
November 2017: Former assembly worker Marcus Vaughn brings a class-action lawsuit against Tesla. He describes the company as a "hotbed for racist behavior," claiming, among other things, to have witnessed a Black co-worker getting beaten with a chair.
August 2021: In a case settled by arbitration, a Black former Tesla employee Melvin Berry was awarded $1 million after supervisors used the n-word and burdened him with unfair work for he confronted them.
October 2021: A federal court in San Francisco finds Diaz was subject to a racially hostile work environment, and Tesla did not take reasonable steps to tackle the abuse, despite complaints to supervisors.
November 2021: Tesla challenges the October ruling in Diaz's case.

February 2022: California's Department of Fair Employment and Housing (DFEH) sues Tesla after receiving hundreds of complaints (pdf) from workers at the electric vehicle manufacturer's factory in the San Francisco Bay Area.
April 2022: US district judge William Orrick cuts Diaz's award to $15 million, saying that $137 million compensation decided by jurors was excessive.
June 2022: Shareholder Solomon Chau sues Tesla for creating "a toxic workplace culture grounded in racist and sexist abuse and discrimination against its own employees" which harms both its financials and reputation. The same month, Diaz rejects the reduction in his payout, opening the doors for a retrial.
January 2023: A judge denies Tesla's request to toss out California DFEH's lawsuit.
April 2023: A Black man named John Goode files a lawsuit alleging that a racist white manager fired him on false pretenses. Separately, following a five-day retrial, a San Francisco federal jury instructs Tesla to pay Diaz $3.2 million in punitive damages and $175,000 in non-economic damages. It's a far cry from the plaintiff's ask for around $150 million in punitive damages, $6.3 million in past non-economic damages, and $2 million in future non-economic damages.
Person of interest: Elon Musk's lawyer Alex Spiro
Spiro, who represented Musk in the Diaz retrial, has become the billionaire's go-to attorney. The 40-year-old Quinn Emanuel Urquhart & Sullivan partner has won important cases for Musk.
🫣 In 2019, Spiro saved Musk from paying in a defamation suit brought by a British cave explorer who Musk had called a "pedo guy."
💥 He's part of the legal team that's behind the Twitter layoff spree. Spiro became known to employees as a member of "the Goons"—Musk's inner circle. He was dismissed from Twitter following some disagreements in December, but he continued as Musk's personal attorney.
✍️ In February, Spiro convinced jurors that Musk's 2018 "funding secured" tweet was "technically inaccurate" but it did not amount to securities fraud.
Related stories
⛅ Workers at Tesla's solar factory in New York describe a racist workplace