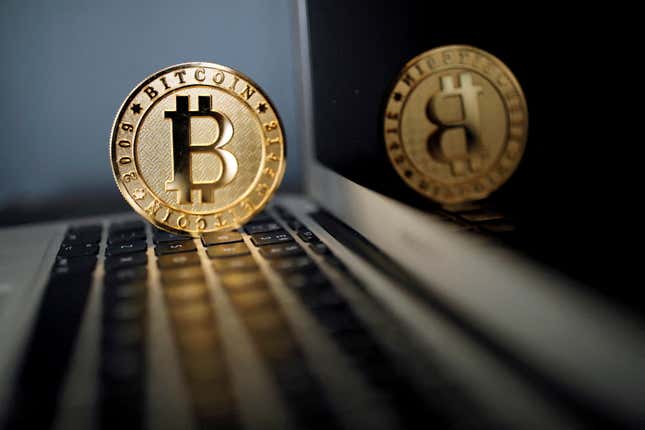 The bitcoin whitepaper has been discreetly included in every Mac operating system since 2017—and Apple won't say why.

Quartz Smart Investing with NewEdge Wealth's Ben Emons
The whitepaper was written by the pseudnonymous creator of the bitcoin blockchain, Satoshi Nakamoto. It describes a peer-to-peer electronic payment system that is decentralized and enables financial transfers without a bank.
The whitepaper was written in 2008 in the wake of the financial crisis and is largely regarded as the start of the cryptocurrency movement.
The whitepaper has been included as a sample document for an application called "Virtual Scanner II," which is either hidden or not installed on MacOS, wrote blogger Andy Baio.
To find the bitcoin whitepaper on your own Mac, simply head to Finder>Applications>Utilities and open The Terminal App. Then enter the following command into the app:
The whitepaper could have been installed by a pro-bitcoin engineer. It also could have been placed there by a coder who was defying computer scientist Craig Wright who's been trying unsuccessfully for years to copyright the bitcoin whitepaper claiming that he is Satoshi, noted crypto news outlet CoinDesk.
"Of all the documents in the world, why was the Bitcoin whitepaper chosen? Is there a secret Bitcoin maxi working at Apple?" wrote Baio. "The filename is 'simpledoc.pdf' and it's only 184 KB. Maybe it was just a convenient, lightweight multipage PDF for testing purposes, never meant to be seen by end users."
This isn't the first time Apple has hidden a document in its Mac operating system. In the Pages app, there is a document titled "apple.txt," which contains the text from two speeches delivered by former CEO Steve Jobs; one from the Crazy Ones Think Different ad campaign and another from his commencement speech at Stanford in 2005.