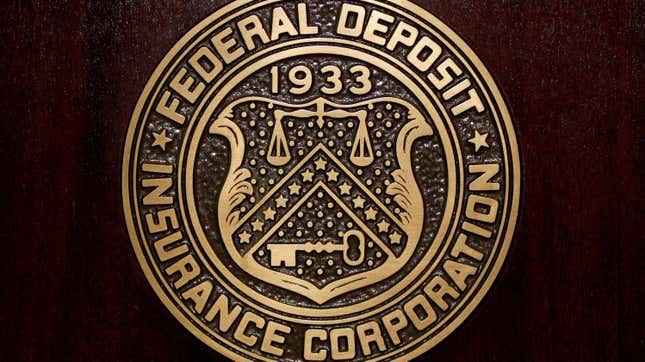 In a new report reviewing its supervision of the failed Signature Bank, the Federal Deposit Insurance Corporation (FDIC) said it didn't have enough staff to properly regulate Signature, and that the bank failed because of bad management and the FDIC's slowness to act.

Signature Bank was a crypto-friendly bank in New York that had to be taken over by the FDIC after a run on the bank in March, following the closure of crypto-friendly Silvergate Bank in California. Both banks had a flighty deposit base, and a business model focused on fast deposit growth.
"Despite repeated criticisms from FDIC supervisors, SBNY never adequately addressed the liquidity risk management concerns," the FDIC wrote in its report (pdf).
Swift deposit growth before a swift deposit drain
Signature saw deposits increase 175% from 2017 to 2021, much faster than banks of a similar size. And in 2021, Signature passed a 10% limit for a "key risk indicator" in deposit growth for its digital assets group. Instead of slowing down its deposit growth from that industry, Signature changed the limit to 35% of all deposits.
"The bank's organizational structure lacked clear decision-making processes, transparency as to who made decisions, and documentation as to approval and escalation protocols," the FDIC said. "Key decisions were often made by individuals or small informal groups of executive officers, without always following prescribed processes."
The FDIC was understaffed in New York
Another problem: The FDIC said that from 2017 to 2023, it was unable to adequately staff a team of examiners dedicated to regulating Signature. As a result, some review of the bank "were not completed timely or at all," the agency said.
The FDIC estimated that since 2020, its New York regional office has been running short of the large financial institution examiners it needed, to the tune of 40%. While several other FDIC regional offices have experienced staffing problems, the New York office's shortage was made particularly acute by the high cost of living in New York and the concentration of other regulators and private-sector firms competing for finance industry talent, the agency said.
The New York office had been raising concerns to the Risk Management and Controls division of the regulator multiple times since 2020. In response, the FDIC created a working group that was studying what might happen if it increased compensation for examiners-in-charge or if it allowed staff in those positions to have more flexibility with remote work. The agency also had been developing deputy positions to assist senior examiners and exploring other changes to make the role more attractive to potential candidates, including pay increases agreed to in 2022.
The report notes: "While these actions are positive, more work is needed. Examination resource shortages, particularly in the New York region, are a mission-critical risk that will require a sustained whole-of-agency response."