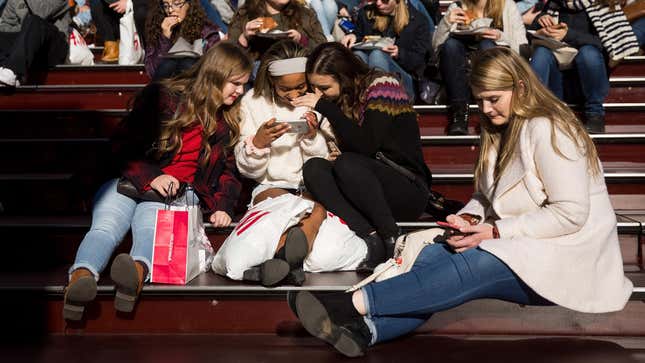 The Federal Trade Commission (FTC) wants to restrict Meta's use of data collected from users under the age of 18.

In a proposed modification of a 2020 privacy order, the watchdog is seeking "blanket prohibition" against Meta, previously known as Facebook, which would stop the company from monetizing teens' and children's information.
"Under no circumstance would the company be able to monetize that information or use it for its own commercial gain—whether for advertising, enriching its own data models and algorithms, or providing other benefits to the company—even after the minor turns 18," the commissioners wrote in a complaint published yesterday (May 3). Data collected from minors can only be used to provide the service, such as maintaining an Instagram feed, or for security purposes like detecting potentially fraudulent accounts.
This is the third time the FTC has taken action against Meta for allegedly failing to protect users' privacy. The company now has 30 days to respond to the proposed findings from the FTC's investigation.
Quartz reached out to Meta for comment.
Quotable: Facebook is a repeat privacy violation offender
"Facebook has repeatedly violated its privacy promises. The company's recklessness has put young users at risk, and Facebook needs to answer for its failures." —Samuel Levine, director of the FTC's Bureau of Consumer Protection, in a May 3 statement.
A brief timeline of FTC's privacy fight with Facebook (now Meta)
November 2011: The Commission files a complaint against Facebook alleging deceptive privacy practices for the first time.
August 2012: The FTC secures an order barring the company from misrepresenting its privacy practices. But according to a subsequent complaint filed by the Commission, Facebook violated the first FTC order within months of it being finalized—engaging in misrepresentations that helped fuel the Cambridge Analytica scandal.
July 2019: At the heels of the Cambridge Analytica scandal, the FTC fines Facebook $5 billion and establishes a second order with sweeping restrictions to increase accountability and transparency in order to resolve violations of the first order. It goes into effect next year.
April 2023: FTC's action alleges that Facebook has violated the 2020 order, as well as the Children's Online Privacy Protection Act Rule (COPPA Rule).
A quick rundown of FTC's proposed modifications to Meta's privacy order
In addition to restricting how Meta uses the data they collect from minors, the proposed order is setting some checks and balances in place, too. These include…
⏸️ pausing the release of any new or modified products, services, or features without written confirmation from a third-party assessor that its privacy program is in full compliance;
🤝 extending compliance for any companies it acquires or merges with;
👁 disclosing and obtaining users' affirmative consent for any future uses of facial recognition technology;
💪 strengthening existing requirements around privacy review, third-party monitoring, data inventory and access controls, and employee training;
📝 and expanding Meta's reporting obligations to include its own violations of its commitments.
One more thing: Facebook must answer for Messenger Kids lapses
Messenger Kids, touted as a safer alternative to Messenger, is supposed to let parents manage their kids' contact list, and monitor messages on the Messenger Kids app. But the system is not foolproof.
The federal agency alleges that, in some instances between late 2017 to mid-2019, Messenger Kids allowed children to communicate with unapproved contacts in group text chats and group video calls. The misrepresentations around parental controls violated the 2012 order, the FTC Act, and the Children's Online Privacy Protection Rule (COPPA Rule), according to the FTC.
Related stories
📱 Why I won't let my children near Facebook's Messenger for kids
🚫 Zuckerberg's plan to open Meta's Horizon Worlds to minors is facing opposition
💸 Facebook expects to be hit with a $5 billion FTC fine. Wall Street is thrilled