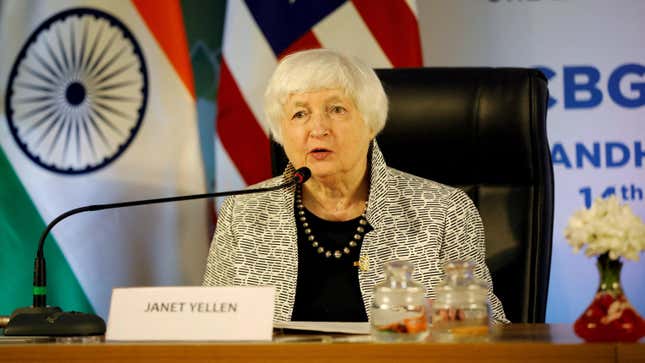 Finance ministers from the G20 countries gathered in the western Indian city of Gandhinagar to confer about the global economy's toughest problems on July 17, but a new report from Reuters suggests that many representatives of the world's large economies aren't taking the debts of low-to-middle-income countries seriously.

Should you keep investing in Big Tech?
The United Nations (UN) estimates that 50 countries need debt relief to ease global poverty, which rose for the first time in more than 20 years because of covid-19. But in their discussions, the G20 finance ministers have made little progress so far on this front, Reuters reported, chiefly because many of them didn't bother showing up.
German and British finance ministers were absent from the meeting, while Argentina, Brazil, France, and Mexico only sent junior officials. The US sent the largest delegation, with Treasury secretary Janet Yellen leading the charge.
The finance ministers were supposed to discuss restructuring the debts of Sri Lanka and Ghana, on which each country defaulted in 2022 under unprecedented economic stress from the pandemic. Additionally, rising interest rates, sluggish economic recovery, and the fallout from Russia's invasion of Ukraine are increasing the potential for future domestic defaults around the globe.
Finance ministers in heavily indebted countries are already slashing budgets for education, healthcare, and public investment to address the problem.
Achim Steiner, administrator of the UN Development Programme (UNDP), told Reuters that G20 finance ministers failing to make a "breakthrough" on a debt restructuring framework is cause for "grave concern."
Zambia's restructuring deal could have been a blueprint
A breakthrough on Zambia's debt restructuring last month could have set an example for the G20's treatment of other poor country debts.

The Zambian government's creditors, led by China, restructured $6.3 billion of the nation's $8 billion debt. Under the deal, negotiated last month in Paris, Zambia saw its schedule for debt repayment lengthened to 20 years, and its annual interest payment reduced to 1%.

In response, private lenders that hold billions of Zambia's debt are considering marking down some of their loans to the country, which would further ease its debt burden. Meanwhile, S&P Global forecasted that Ghana's foreign creditors will see losses of up to 50% on their loans.
What will happen to the people of heavily indebted poor countries?
While Yellen said that she would prefer that G20 countries approach Sri Lanka and Ghana like they did Zambia, China has been unwilling to agree to any kind of multilateral approach to debt restructuring. Even Zambia's restructuring talks took three years and fell short of the G20 Common Framework, which promised rapid debt reductions.
The UNDP sounded alarm bells last week, telling finance ministers to give poor countries a break from debt repayment as the pandemic and increased borrowing costs push 165 million more people worldwide into poverty.

"What this means is a government that can no longer pay its teachers; a government that can no longer employ doctors and nurses in hospitals, that cannot provide the medicines for rural health centers," Steiner told journalists.

The UNDP found that 25 low-income countries had spent more than 20% of their revenue on debt repayments last year, which is the most nations crossing that threshold since 2000.