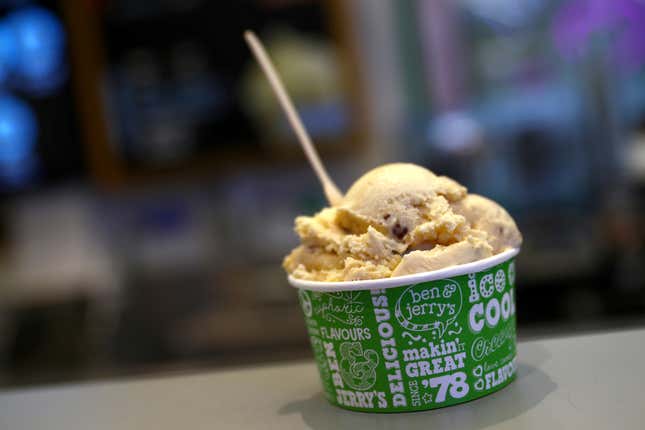 It's workers at the least progressive companies who most need to unionize—right? Not necessarily. This week, ice cream scoopers at the Vermont flagship store for Ben & Jerry's told management in a letter that they plan to unionize. They're seeking to join Workers United, a union that recently won elections at about 300 Starbucks coffee shops.
3 considerations before your company takes a stance
Union membership is still fairly rare in the US outside the manufacturing sector, but it's been on the rise in recent years, alongside a broader push for better workers' rights across industries.
What's perhaps surprising in this case is that workers at Ben & Jerry's, which has prided itself on progressive policies since its founding in 1978, feel they need a union to protect their rights. Maybe it's a sign of the times, or maybe a signal to the company's management, that its staff have seen what's been happening elsewhere in the business, and are taking note.
Or perhaps what's surprising is that scoopers at the social justice–minded brand haven't been unionized all along. 
Ben & Jerry's in Israel
Ben & Jerry's is wholly owned by Unilever, which bought it in 2000 with an agreement to leave its social mission in the hands of the ice cream maker's independent board. But recently, that's seen a big challenge.
In the summer of 2022, Ben & Jerry's took its owner to court for, it said, undermining its social mission and, ultimately, its whole business. It argued that customers know it for upholding certain ethical standards and promoting them through its sale of politically themed ice creams, often donating some of the proceeds to aligned causes.
In 2021, the company announced it would stop selling ice cream in the Occupied Palestinian Territories, as designated by the United Nations. Unilever effectively overruled that decision: To avoid political heat in Israel, it arranged for the sale of the Ben & Jerry's Israeli subsidiary to its local distributor, along with the right to continue packaging the ice cream the same way and selling it under its longstanding Hebrew and Arabic product names.
In August 2022, a New York judge rejected Ben & Jerry's claim. The message from Unilever, upheld by US law, was that the independent board in charge of Ben & Jerry's social mission had "no power" to stop the sale. The implication: It had no power at all.
Does unionization send a signal?
"I think of this union as a sign of respect for Ben & Jerry's," said Rebeka Mendelsohn, a shift manager and catering lead, in a statement quoted by MarketWatch. "We're a company that stands for social justice rights and equity, and I want to ensure that this message is translated to all levels of employment."

Mendelsohn's statement suggests that the union should support Ben & Jerry's mission, not challenge it. But even progressive businesses can feel stung by their workers' decisions to seek support outside the company ecosystem, or to hedge against conditions changing for the worse. Recent choices by employees at relatively progressive-minded companies like Kickstarter and REI to unionize have seen managers react not with support, but with suspicion.
Ben & Jerry's had not responded to a request for comment by the time of publication.
The Vermont workers' decision may well be unbarbed, a way simply to make sure employment policies keep pace with the company's stated values. But it also seems likely that Ben & Jerry's employees have seen how their parent behaved last summer, and that the Israel decision has given them a flavor—bitter, rather than sweet—of what it might do under pressure.