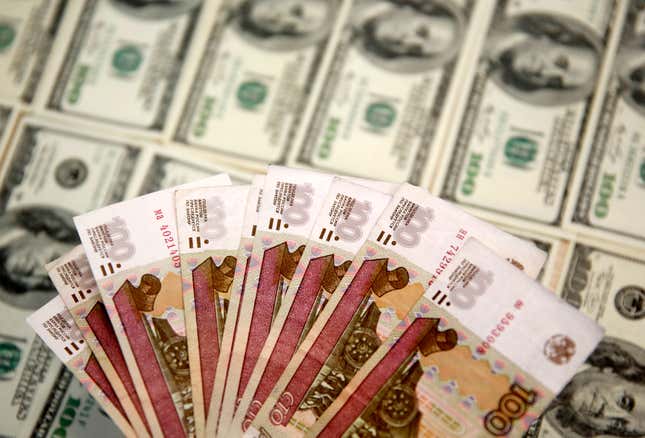 The ruble has broken through to a new low this year, as sanctions and foreign firms leaving the country continue to put pressure on the Russian economy.
The currency moved to above 80 ruble per dollar, its most devalued level since April 2022 when it was at 83 rubles to the dollar, but still up from its lowest level on March 7, 2022 when it fell to 143 rubles to the dollar. Before the war, the ruble hovered around 70 rubles per dollar.
This latest fall in value was caused by speculation that oil company Shell was converting and repatriating $1 billion rubles from the sale of a project in the Russian Far East, according to Bloomberg. The Kommersant, a Russian daily newspaper, reported that President Vladimir Putin allowed Shell to sell its stake in the Sakhalin-2 project to Russia's Novatek PJSC.

Neither Shell nor the Kremlin has commented on whether the deal had taken place. In response to Western sanctions, Putin created a special commission whereby foreign firms have to ask for permission to sell assets in the country. Despite this attempt to contain foreign flight, the Russian economy has lost $15 billion to $20 billion in the past year from foreign companies quitting their operations in Russia, according to estimates from Bloomberg Economics.
The timing of Russia's decision to invade Ukraine was partly based on economics. Russia is a major energy exporter and the Kremlin has hyped up the fact that its invasion has made energy prices more expensive for Western countries.
Last week, Russian leader Vladimir Putin admitted for the first time that Western sanctions are having a negative effect on the Russian economy. Previously, Putin had claimed that Russia's economy remained resilient.