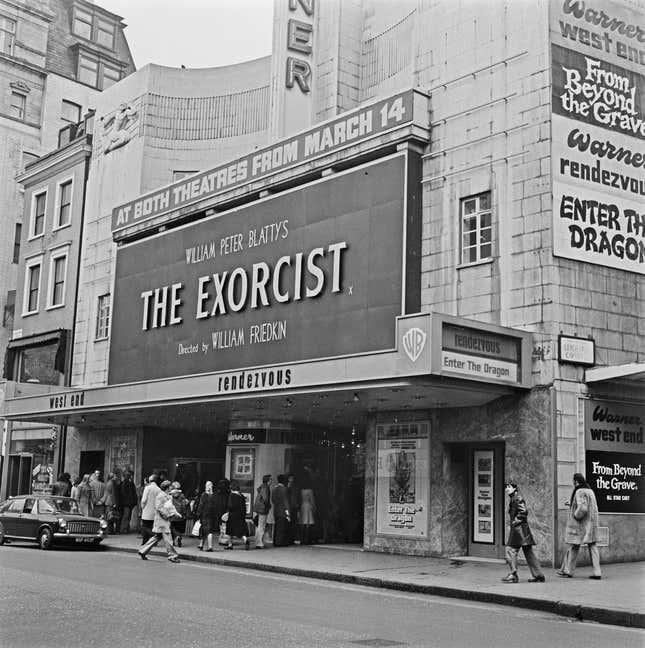 As Warner Bros. turns 100 years old this month, the movie studio's profits are the highest they've ever been. Its top 10 films released since 2001 have grossed more than $14.4 billion, adjusted for inflation.
But the highest-grossing movie of all time for Warner Bros. is still The Exorcist, released in 1973, which made $428.2 million that year worldwide. Accounting for inflation, that would be about $2.9 billion today, more than double the take of any Warner Bros. film released since.
Other top performers include installments in the Harry Potter, Batman, and The Lord of the Rings series, as well as Aquaman. The No. 2 worldwide box office hit after The Exorcist is Harry Potter and the Deathly Hallows: Part II, released in 2011. That movie raked in $1.32 billion, or close to $1.76 billion adjusted for inflation.

The Dark Knight and The Dark Knight Rises follow close behind, putting them among Warner Bros.' six highest-grossing films.

Post-2000 films made the most, with the exception of The Exorcist

Besides The Exorcist, the top five highest-grossing Warner Bros. films all appeared after 2000. Following The Exorcist, the second most-lucrative film pre-2000s was 1978's Superman. It brought in about $300 million during the year of its release, equivalent to $1.3 billion today.
Two other pre-2000s movies that cleaned up at the box office are Twister and The Matrix. Twister grossed $495.7 million worldwide in 1996. That translates to $950.4 million today. The Matrix, which debuted in 1999, made $465.9 million, or $841.4 million adjusted for inflation.
Warner Bros.' first feature film was My Four Years in Germany, released in 1918 amid World War I. That effort, a firsthand account of the US ambassador to Germany's experiences during the Great War, is now considered a propaganda movie. It grossed an impressive $1.5 million in 1918, the equivalent of $29.8 million today.