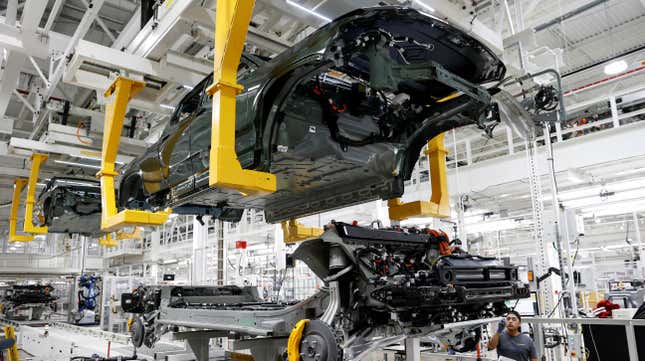 On April 10, the Environmental Protection Agency (EPA) is expected to propose new rules limiting tailpipe emissions from automobiles. The agency will require more than half of all new cars sold in the US to be electric by 2030, and up to 67% by 2032, sources told the New York Times.
Why a tightening of credit conditions could lead to a weak economy
Transportation is the largest source of carbon dioxide emissions in the US, the country with the second-biggest CO2 footprint after China. The new proposals would be the Biden administration's toughest rules to date on curbing car pollution.
But even as automakers ramp up EV production, those ambitious targets will probably face headwinds.
Will regulation help accelerate adoption of EVs?
EV uptake in the US is still tiny: In 2022, electric vehicles made up only 5.8% of the total auto market. To encourage the shift from gas to electric, the federal government has doled out financial incentives for buyers of battery-powered cars. Under the Inflation Reduction Act, consumers who buy a new EV could qualify for credit of up to $7,500.
But speeding up adoption will require more spending on infrastructure, including electric chargers, which today total about 130,000 nationwide. To meet the needs of EVs, the US must grow that number more than eightfold by 2030, according to a forecast from S&P Global Mobility.
Access to raw materials is another hurdle. The US is finding new sources of minerals for EV battery production, given past supply chain challenges and geopolitical tensions. But diversification can be a slow process.
Prices for EVs are falling
There's also the question of whether consumers will make electric vehicles the majority of new car sales within a decade. Prices are falling, but they still aren't on par with those for gasoline vehicles; on average, an EV costs $11,000 more than the average for all passenger cars and trucks, according to Kelley Blue Book.
To boost demand, Tesla has cut prices for some of its models a few times already. Even so, it takes a while for people to replace their vehicles—in the US, the average is about 11 years.
Still, slashing car pollution has become a global trend, with countries such as France and Germany setting targets for phasing out diesel and gasoline engines between 2025 and 2050.