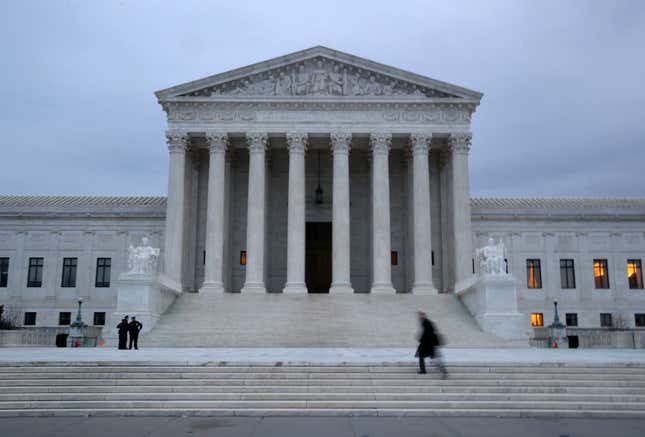 The US Supreme Court has reined in the power of the Environmental Protection Agency to regulate water pollution, ruling that wetlands are not "waters of the United States," as defined in the landmark 1972 Clean Waters Act.
Ben Emons Part 2: The Fed, Apple shares
Wetlands need to be directly connected to bodies of water in order to qualify under the statutory definition, otherwise they're fair game to pollute, according to the majority opinion of the court.
It's the high court's second blow to the government's main environmental agency in as many years. In 2022, the justices weakened the EPA's authority over regulating clean air.
Regulating "swimming pools and puddles" Sackett v. EPA
The plaintiffs in the water-regulation case, Chantell and Michael Sackett, first sued the EPA in 2007, after the agency tried to stop them from building a home on property they purchased, claiming it was on "navigable waters." It was a separate but related case that reached the Supreme Court, which ruled that the homeowners had standing to appeal what the EPA had called a "final decision."
The court's May 25 ruling (pdf) in favor of the plaintiffs was technically unanimous, but in name only. Donald Trump appointee Brett Kavanaugh and the court's three liberals—Elena Kaga, Sonia Sotomayor, and Ketanji Brown Jackson—agreed that the homeowners should prevail in their case, but disagreed with the conservative majority that wetlands needed to be directly connected to bodies of water in order to be regulated by the EPA.
Writing for the majority, justice Samuel Alito called the Clean Waters Act a "potent weapon, [imposing on developers] what have been described as 'crushing' consequences 'even for inadvertent violations.'"
An opinion written by Cavanaugh disagreed with using that rationale to find in favor of the Sacketts, and contained a warning about redefining what constitutes national waters.
"By narrowing the Act's coverage of wetlands to only adjoining wetlands, the Court's new test will leave some long-regulated adjacent wetlands no longer covered by the Clean Water Act, with significant repercussions for water quality and flood control throughout the United States," Kavanaugh wrote.
Kagan had harsher words for her colleagues in the majority. "Congress, the majority scolds, has unleashed the EPA to regulate 'swimming pools and puddles,' wreaking untold havoc on 'a staggering array of landowners,'" she wrote in a particularly tongue-in-cheek opinion. "Surely something has to be done; and who else to do it but this Court? It must rescue property owners from Congress's too-ambitious program of pollution control."
The "national decision-maker on environmental policy"
The decision comes a year after the Supreme Court decided, in a suit brought by West Virginia, that the EPA did not have the authority to regulate carbon dioxide (CO2) emissions under the Clean Air Act. The vote in that case was 6-3, along ideological lines.
Kagan, in her opinion for the Sackett case, staunchly criticized the majority for both decisions.
"There, the majority's non-textualism barred the EPA from addressing climate change by curbing power plant emissions in the most effective way. Here, that method prevents the EPA from keeping our country's waters clean by regulating adjacent wetlands," Kagan wrote. "The vice in both instances is the same: the Court's appointment of itself as the national decision-maker on environmental policy."