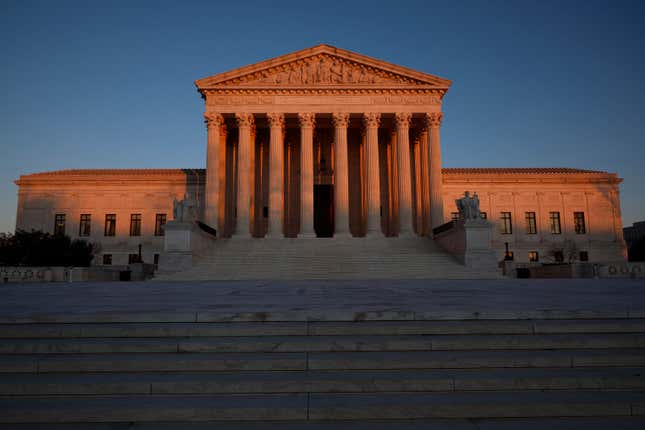 The US Supreme Court has rejected North Carolina's attempt to enshrine a fringe political theory that would have handed unchecked control of elections to state legislatures.
Should you keep investing in Big Tech?
Writing the majority opinion for a 6-3 decision (pdf), chief justice John Roberts wrote that the US Constitution does not "insulate" state legislatures from judicial review.
The decision was an indictment of the independent state legislature theory, a radical interpretation of the US Constitution's elections clause that claims state legislatures should have unilateral control over elections. The June 27 ruling essentially establishes that courts have the authority to weigh in on the legality of state election regulations.
A fringe theory of elections
The independent state legislature theory has gained prominence in recent years as unfounded claims of widespread voter fraud have become part and parcel of Donald Trump's political movement and far-right efforts to overturn the 2020 US presidential election.
The theory, if put into effect, would have given state legislatures "wide authority to gerrymander electoral maps and pass voter suppression laws," completely removing oversight by state courts, according to the nonprofit Brennan Center for Justice at New York University.
Roberts was joined in the majority by Trump-appointed justices Brett Kavanaugh and Amy Coney Barrett, as well as the court's three liberals, Sonia Sotomayor, Elena Kagan, and Ketanji Brown Jackson. Clarence Thomas dissented for the court's rightmost bloc, joined by Neil Gorsuch and Samuel Alito.
North Carolina falls short at the Supreme Court
North Carolina claimed its state supreme court had no authority to strike down a newly drawn congressional map passed by the state legislature. The direct issue of the map was moot because the state supreme court—now with a stronger Republican majority—in April reversed its earlier ruling, finding that it lacked the power to review the map.
Still, the lawsuit still had broader implications for state-control of elections across the US and marks a blow for antidemocratic efforts to overturn free and fair elections. That's especially important in the run-up to the 2024 US presidential election, in which Trump once again is the Republican frontrunner.