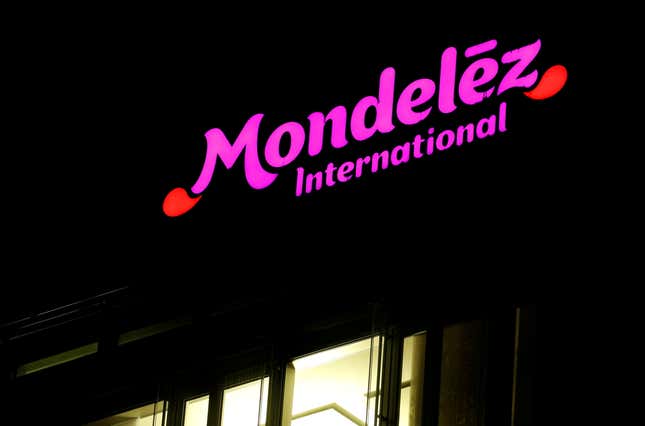 Mondelez International—the global manufacturer of a range of snacks including Oreo and Toblerone—is facing a growing boycott across northern Europe for its decision to remain in Russia.

Marcus Samuelsson on the New York City restaurant scene
The company, which said it has requested a meeting with the Norwegian government to address the protests, reiterated that it doesn't sell Russian-made products in Norway. Mondelez operates a factory manufacturing the popular Freia chocolate line in a suburb outside Oslo.
Although it has condemned the invasion of Ukraine and suspended new investments and advertising in Russia, the company has refused to stop selling its products in the country.
"[Mondelez International] complies with all political decisions and sanctions and will continue to consider necessary adjustments to operations in order to ensure full compliance," it said in a statement.
Along with a number of other major multinational corporations, the American-owned snack maker was placed on a blacklist by the Ukrainian government this year for its decision to keep operating in Russia.
Several Nordic companies that are refusing to sell Mondelez products—including Norwegian Air and the Norwegian Football Association—cited the list as a factor in their decision to protest. Other companies that have announced boycotts include airline SAS, railway operator SJ, and shipping group Fjord Line.
Coop Norge, Norway's second-biggest grocery retailer, said it was considering dropping Mondelez products and requested advice from the government.
Russia boycotts impact the literary world
Calls for boycotts haven't been limited to multinationals. Elizabeth Gilbert, the bestselling author of Eat, Pray, Love, announced on June 12 that she was suspending the publication of her new novel because it's set in the Soviet Union at an unspecified time in the 20th century.

After receiving feedback from readers who criticized setting any book—no matter the content—in Russia, Gilbert said she didn't want to "add any harm" for the Ukrainian people. Her novel, about environmentalists resisting the Soviet government, apparently has nothing to do with Ukraine, Russian president Vladimir Putin, or modern-day Russia.
A similar incident rocked the literary world last month when Masha Gessen, a renowned journalist, resigned from the board of PEN America to protest the organization's decision to cancel an event featuring Russian authors.
PEN America, which aims to encourage free expression, canceled the panel discussion after two Ukrainian writers said they couldn't appear at a gathering with Russians in any capacity.
What other notable companies are still operating in Russia?
Domino's Pizza: The chain is still operating in Russia, along with other fast-food franchises like TGI Friday's and Sbarro.
Johnson & Johnson: The pharmaceuticals company keeps manufacturing drugs for sale in Russia, though it has scaled back some related operations and investments. Other healthcare companies like Eli Lilly & Co. and Pfizer have followed suit.
Hilton Worldwide: Despite suspending new hotel development there, the American hotel chain still has properties in Russia, including the flagship Carlton in the heart of Moscow. Conversely, Hyatt Hotels Corp. and Marriott Hotels & Resorts have announced plans to cut ties with hotels in the country, with the latter intending to leave completely.
Proctor & Gamble: The consumer goods giant was condemned by the Ukrainian government for continuing to make products in Russia and contributing millions of dollars in tax revenue to the country.
Related stories:
The Swiss government is forcing Toblerone to change its logo after the company outsourced production
The moral philosophy behind boycotts