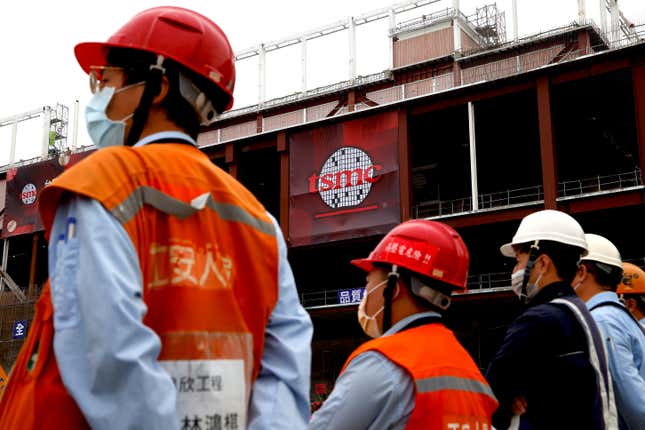 TSMC, the world's largest semiconductor manufacturer, has pushed back the planned 2024 start date of production at its Arizona factory by a year due to a shortage of skilled workers.

Should you keep investing in Big Tech?
The company is "encountering certain challenges as there is an insufficient amount of skilled workers with those specialized expertise required for equipment installation in a semiconductor-grade facility," TSMC chairman Mark Liu said during a July 20 earnings call.
In the interim period, the company said it'll send over "experienced technicians from Taiwan to train the local skilled workers for a short period of time" to bridge the skills gap. Last month, Nikkei Asia reported that a "task force" of more than 500 experienced workers will be heading to the US to help set up specialized equipment.
Construction on the Arizona microchips manufacturing plant, which was supposed to start producing 4 nanometer chips next year, is now due to start in 2025. The opening of a second fab, which will produce smaller and more complex 3nm chips, is still on track for 2026.
The labor backlash against TSMC's Taiwanese workers coming to the US
TSMC's move deals a blow to president Joe Biden's plans to bring semiconductor manufacturing back to the US—currently down to around 10% of global output from 40% three decades ago—and triggered a wider controversy about labor issues.
California congressman Ro Khanna tweeted yesterday (July 21) that he is "deeply disturbed that TSMC is replacing union workers with non-unionized workers from Taiwan." Khanna called for the government to "condition grants on paying a prevailing wage and treating union workers fairly."
While the workers TSMC is sending over to train employees is only around for a short time, Khanna raised concerns about other TSMC labor practices, citing an article about TSMC cutting pay for its unionized American electricians, which led to 50 of them leaving, only to be replaced by 25 non-union workers from Taiwan.
Morris Chang, TSMC's 91-year-old founder, has previously stated companies succeed when they don't have unions.
TSMC's performance, by the digits
10%: Forecasted drop in 2023 revenue
3.28%: Drop in TSMC's shares at market close in Taiwan today (July 21)
$40 billion: The amount TSMC invested in the Arizona plant, tripling its initial investment in the project
Company of interest: Apple
TSMC has been a major Apple supplier for years, and the iPhone maker, which actively lobbied for plant subsidies, is expected to buy a third of the output from the Arizona plant. But a Bloomberg report suggests these promises are more for optics and PR than anything. By the time TSMC starts production in the US, Apple will have moved on to the more sophisticated 2 nm chips that can only be sourced from Taiwan.
Related stories
🏭 Biden's visit to TSMC's Arizona plant underlines his big chip manufacturing push
👎 TSMC's great quarter is bad news for semiconductor supply chains