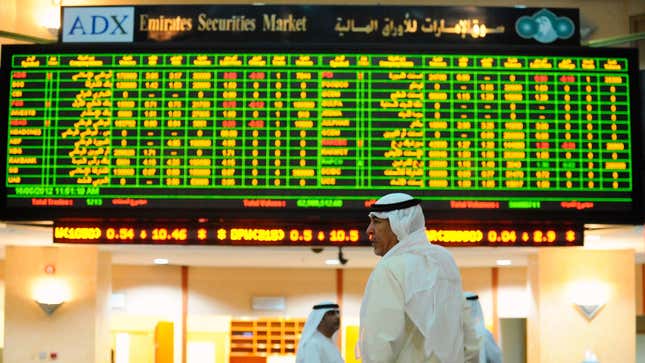 A state-owned oil and gas giant is setting the tone for the Gulf's capital markets.

Come Monday (Mar. 13), when Abu Dhabi National Oil Company (ADNOC) Gas lists on Abu Dhabi Securities Exchange (ADX), it'll become Abu Dhabi's largest listed company. It is also the world's biggest listing so far in 2023.
While the size and scale of this debut may be anomalous, it signals a trend: Gulf countries, and the UAE in particular, are going to see a wave of sizable initial public offerings (IPOs) this year.
The ADNOC Gas IPO, by the digits
$2.5 billion: Proceeds raised from the IPO
$124 billion: Orders for a 5% stake in ADNOC Gas, an oversubscription level of more than 50 times.
2.37 dirhams ($0.65) per share: IPO price, set closer to the top end of the price range of 2.25-2.43 dirhams a share
$50 billion: ADNOC Gas's valuation after the IPO, making it Abu Dhabi's largest listed company.
How many IPO listings will the UAE see in 2023?
At least eight companies across various industries including tech, asset management, and regenerative medicine are expected to list in Abu Dhabi this year, according to Bloomberg. "These are sizable companies," Sameh Al Qubaisi, director general of economic affairs at Abu Dhabi's department of economic development, told the publication. "Some are high-growth companies that have only been there for five or six years, the disruptors."
Some estimates run higher. Mohamed Al Hadari, the deputy chief executive of the Securities and Commodities Authority, expects 11 companies to list on the UAE capital markets in 2023, raising upwards to $2 billion.
The region has seen and continues to see a string of IPOs as investors are favoring a market that has quickly recovered in a post-pandemic world, largely thanks to high oil prices. Last year, funds listed in the Gulf region in 2022 surpassed $23 billion—over half of the proceeds in Europe, the Middle East, and Africa. And there has been more diversification in the state-dominated listings, as school operator Taaleem and medical firm Burjeel both made their public debuts.
Quotable: What makes the UAE and other Gulf countries attractive
"Higher energy prices have of course been helpful, but Saudi and the UAE have also enjoyed strong macroeconomic tailwinds and GDP growth. Inflation is much lower there than it is in the US and Europe, so they have not faced the same issues, and they are both going through structural reforms to grow their economies, attract foreign capital and boost the inflow of talent. —Christian Cabanne, head of central and eastern Europe, the Middle East and Africa ECM at Bank of America
Company of interest: G42
Abu Dhabi-based artificial intelligence and cloud computing company G42 listed its geospatial data products and services provider Bayanat's shares on the emirate's bourse in the last quarter of 2022.
It has at least six more IPOs in the pipeline this year, including G42 Healthcare, Presight.AI, and AIQ, its joint venture with ADNOC.
Place of interest: Dubai
While Abu Dhabi got a headstart with the ADNOC listing, other parts of the region aren't far behind. UAE-based exchange house Al Ansari Financial Services, which began as a family business in 1966, said yesterday (Mar. 9) that it is planning to float 10% of the company on the Dubai Financial Market via an IPO.
Bank of interest: Barclays
In 2014, Barclays gave up its Saudi licenses as its global investment banking operations were pared down under then-chief executive Antony Jenkins, who cut some 8,000-odd jobs in the division. But seeing the uptick in the region's capital markets, the British bank is weighing a re-entry to manage deals, including IPOs, Reuters reported, citing two anonymous sources.
Related stories
📊 A complete guide to the future of the IPO
🇮🇶 The IPO that doubled the size of Iraq's stock market in one day
🫧 How the history of financial bubbles can help us prepare for what's next