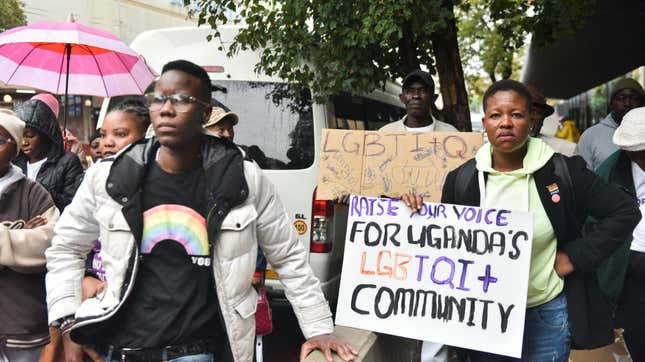 The US has harshly criticized Uganda over its recent legislation known as the Anti-Homosexuality Act.
Should you buy McDonald's and Caterpillar stock right now?
US president Joe Biden urged his Ugandan counterpart Yoweri Museveni to immediately repeal the law he signed yesterday (May 29). Branding the legislation a "tragic violation of universal human rights", the American leader expressed concerns about how the law would impact Ugandan citizens, and also US government personnel, business people, tourists, and others living and working in the East African country.
Uganda is one of the 64 countries in the world that criminalize same-sex consensual acts, but the new law establishes tougher new punishment. It mandates life sentences for same-sex relations, 20 years in prison for "promoting" homosexuality, and death penalty for "aggravated homosexuality," which includes same-sex acts involving people under the age of 18 or when a person is HIV positive.
HIV transmission is now punished just as harshly regardless of whether a person was aware of their status and whether the infection was intentional or accidental.
Quotable: Biden calls out Uganda's anti-gay act
"Innocent Ugandans now fear going to hospitals, clinics, or other establishments to receive life-saving medical care lest they be targeted by hateful reprisals. Some have been evicted from their homes or fired from their jobs. And the prospect of graver threats—including lengthy prison sentences, violence, abuse—threatens any number of Ugandans who want nothing more than to live their lives in safety and freedom."—US President Joe Biden in a May 29 statement
The Ugandan programs the US is reconsidering
Biden said he called on his National Security Council to review the effects of the law on the provision of aid and investment programs in Uganda. These include:
🎗 The US President's Emergency Plan for AIDS Relief (PEPFAR) and other forms of assistance and investments. A number of actors working to fight the disease, including the Global Fund to Fight AIDS, Tuberculosis and Malaria (the Global Fund) and the Joint United Nations Programme on HIV/AIDS (UNAIDS), joined PEPFAR in condemning the Anti-Homosexuality Act 2023 for obstructing health education and the outreach, adding that "the stigma and discrimination associated with the passage of the Act has already led to reduced access to prevention as well as treatment services."
💼 Eligibility for the African Growth and Opportunity Act (AGOA), a preferential trade program that gives countries in sub-Saharan Africa preferential access to US markets, allowing them to export products tariff-free.
⛔️ The US is also considering imposing sanctions or banning from entry into the country "anyone involved in serious human rights abuses or corruption." In a separate statement, secretary of state Antony J. Blinken backed Biden on developing mechanisms to "support the rights of LGBTQI+ individuals in Uganda and to promote accountability for Ugandan officials and other individuals responsible for, or complicit in, abusing their human rights."
One big number: US investment in Uganda
Nearly $1 billion: How much the US government invests annually in Uganda's people, business, institutions, and military. The US-Uganda programs have "boosted economic growth and agricultural productivity, increased investments in Ugandan businesses, and strengthened our trade cooperation," Biden said.
Uganda's Anti-Homosexuality Act 2023 is bad for business
Uganda's extremely conservative environment risks hurting not just aid provisions, but also private business investment. The Open For Business coalition, which represents big corporates like Google, Microsoft, MasterCard, HSBC and Facebook owner Meta, had warned in March that the anti-LGBTQ law would make the country less attractive to foreign companies and ultimately damage its growth prospect. Dominic Arnall, CEO of Open of Business Group, reiterated those concerns after the law was enacted this week: "Our data shows that this law runs counter to the interests of economic progress and prosperity of all people in Uganda," he said.
Related stories
🚨 Uganda will jail LGBTQ people for 10 years
👊 Uganda's annual LGBT pride parade has been canceled after the government "threatened to mobilize a mob"
🇰🇪 Kenya's high court has upheld its colonial-era law banning gay sex