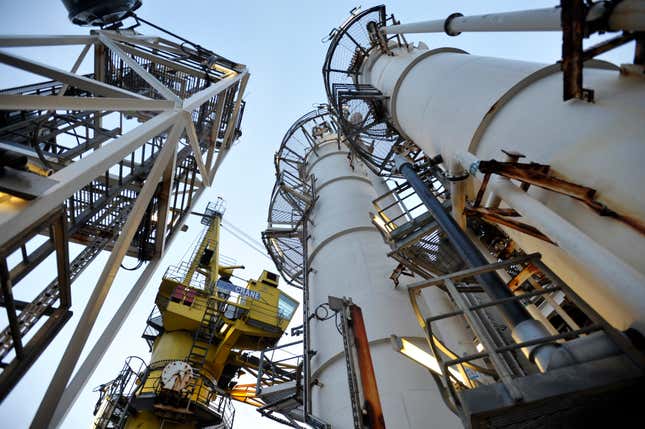 The UK's prime minister Rishi Sunak announced that hundreds of new oil and gas drilling licenses will be up for auction, in a new push for fossil fuel-based energy security that will undermine efforts to tackle climate change.

Should you keep investing in Big Tech?
Sunak's announcement of the new licenses, for drilling in the North Sea, was paired with the granting of £20 billion ($25 billion) towards carbon capture projects in Scotland. The grant seemed to be part of a flawed balancing act—a move to compensate for the greenhouse gases that will be released by burning fossil fuels extracted from the North Sea. Carbon capture and storage is a key element of the Conservative party-led government strategy to achieve net-zero emissions—producing and absorbing equivalent volumes of greenhouse gases—by 2050.
Sunak argued that new oil and gas extraction will be necessary to power the country beyond 2050, and secure the UK against energy price swings triggered by authoritarian regimes. "Even when we've reached net zero in 2050, a quarter of our energy needs will come from oil and gas," he said. "But there are those who would rather that it come from hostile states than from the supplies we have here at home."
In an interview with BBC Radio Scotland, Sunak said carbon capture was needed to reach net zero. When pressed to describe how new oil and gas licenses help achieve that climate target, he said: "Not only is it better for our energy security not to rely on foreign dictators for that energy, not only is it good for jobs, particularly Scottish jobs, it's actually better for the environment because there's no point in importing stuff from halfway around the world, with two to three times the carbon footprint of the stuff we've got at home."
The problems with Sunak's plan for more oil and gas drilling
When it comes to long-term prospects for oil and gas development in the North Sea, the industry's own association, Offshore Energies, estimates that existing deposits will last for another 30 years—so just about into the 2050s. Beyond that, projects to discover and explore new oil and gas deposits will be expensive—certainly more so in a world largely powered by cheap renewables. Also, the scientific community as well as the United Nations and the International Energy Agency have all called for the end of new oil and gas developments to prevent further global warming. The UK recorded its hottest year ever in 2022 and its hottest June ever last month, while July has broken several records for the highest temperatures ever recorded on Earth.
Predictably, Sunak's announcement has been met with strong criticism for weakening the UK's climate commitments. (The UK's independent climate advisor to the government has already judged these commitments to be in jeopardy.) Even some of Sunak's Conservative party colleagues have been scathing. One Conservative lawmaker, Chris Skidmore, deplored the government's decision in a message shared on social media on Monday, lambasting the move as wrong not only on economic grounds, but also because it has skirted parliamentary scrutiny. The UK's lawmakers are currently on summer recess, and Skidmore said he will ask for an emergency debate on the move as soon as parliament reconvenes.
The UK is relying too heavily on oil and gas

The government department for Energy Security and Net Zero told Quartz in a statement that the new drilling licenses will merely slow down the decline of oil and gas production in the North Sea. "Unlike most other countries, the UK's climate commitments are set in law," the statement said. "As a net importer of oil and gas and a rapidly-declining producer, new oil and gas licences simply reduce the fall in the UK supply—they do not increase it above current levels and will not increase emissions above our legally binding carbon budgets." In 2019, the UK became the first country in the world to declare a climate emergency.
The UK's push for energy security has so far involved support for oil and gas development, a new nuclear project, and even a coal mine. It has yet to unveil similar support for renewable energy. Alok Sharma, a Conservative lawmaker who presided over the UN COP26 climate conference in Glasgow in 2021, pointed out earlier this month that the government missed a deadline to remove constraints on the planning of onshore wind farms, and introduced an amendment to an energy bill to make that happen.
A survey released last week showed that a majority of UK voters, across party lines, wanted to see increased support for renewables and other green investments. Data published in the Financial Times also showed that UK voters are much more in favor of green policies compared to voters in other European countries like France and Germany.
Will more oil and gas drilling in the North Sea lower energy costs?
A number of factors, including Russia's war in Ukraine and the unique structure of the UK's energy market, contributed to the spike in energy bills experienced by UK households last winter. One of those factors was the removal of a regulatory price cap that allowed energy companies to impose higher prices.
The government provided support to all British households over the winter, a measure that helped reduce the burden of heating bills by essentially directing taxpayer money to the coffers of energy companies. In turn, those energy companies have since posted skyrocketing profits. Most notably, Centrica, the parent company of British Gas, reported a stunning £969 million ($1.2 billion) profit in the first six months of 2023, up nearly 900% from the same period the previous year.