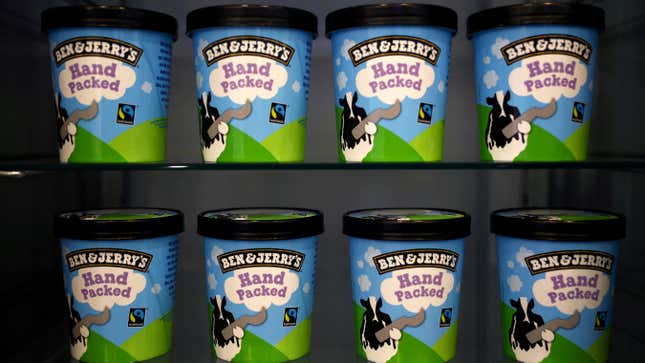 In the quarter that ended on June 30, Unilever sold less ice cream compared to the previous three-month period, yet made more money from it. The solution to the riddle is simple: higher prices.

Why the Apple developer conference could signal a Disney stock buying opportunity
Inflation has plagued economies around the world for more than a year, and the British consumer goods giant, whose products span both food and drinks and household supplies like detergents and hygiene products, has a key role in determining grocery prices. In January, then CEO Alan Jope spoke at the World Economic Forum in Davos, Switzerland, and warned: "We might be, at the moment, around peak inflation, but probably not peak prices." Three months later, after Unilever hiked prices, Jope defended the company from accusation in had been "profiteering" from inflation—in fact, he said, "we are very conscious that the customer is hurting." Now Unilever has a new CEO, Hein Schumacher, but the company nonetheless warned prices will keep rising, albeit less steeply.
This past quarter saw Unilever prices up 9.4%. Across nutrition, home care, personal care, and beauty and wellbeing, price growth rates cooled a little over the quarters, but that's not true for ice cream. At 5.6% underlying sales growth, ice cream was the company's slowest-growing segment, even as prices rose more than 12%. For one, ice cream is a discretionary product in an inflationary environment. Then, Unilever continues to cite continued input cost inflation for the dairy product.
In-home consumption saw more of a slowdown than out-of-home purchases. "Ice cream consumers are trading down and there's relatively high price elasticity" in those sales, chief financial officer Graeme Pitkethly, who is set to retire at the end of May 2024, said during the July 25 earnings call.
Charted: Unilever ice cream volumes are down but sales are up
Unilever's financial results, by the digits
9.1%: Unilever's underlying sales growth overall in the first half of 2023
9.4%: Unilever's underlying price growth in H1 2023
0.2%: Volume of sales decline at Unilever in H1 2023
5.7%: How much Unilever stock rose on the results
30.4 billion ($33.6 billion): First half 2023 turnover, up 2.7% year-over-yer
€400 million ($443 million): Cost inflation Unilever expects in the second half, down significantly from about €1.5 billion ($1.7 billion) in the first half
20%: Increase in Unilever's operating profit, to €5.5 billion ($6.1 billion). UK's consumer watchdog, the Competition Markets Authority (CMA), has been probing supermarkets and retailers for "greedflation" as shoppers are hit with bloated bills while companies continue to rake in profits. Unilever could soon face the regulator's scrutiny.
41%: Unilever's "business winning market share," which means more than half of its business is going to rivals. had reduced to 41%.
€750 million tranche: Size of the third trance of its ongoing €3 billion share buyback programme it completed this past quarter, between March 17 and June 2, since it is flush with cash. The first two were in March 2022 and September 2022.
Related stories
🇳🇬 A cash crunch and an expensive dollar are squeezing Unilever out of Nigeria
🍵 Starbucks and Unilever are sourcing tea from plantations linked to rights abuse