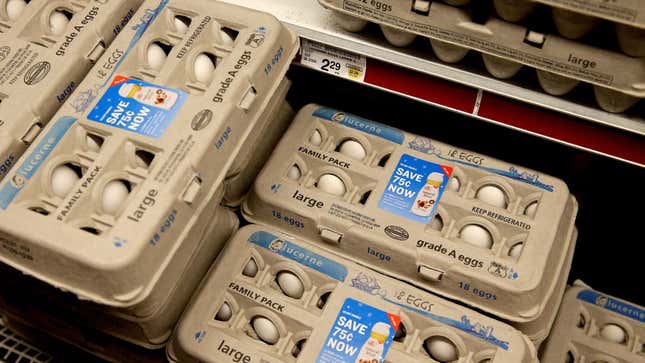 Another month, another food shortage. The latest hard-to-find item? Eggs.
Usually a relatively affordable grocery staple, eggs have now turned into an expensive commodity.

How trauma-informed workplaces can support your team's mental health
In December, egg prices soared 60% year-over-year, according to data from the US Bureau of Labor Statistics. By comparison, food inflation generally is up 10.4% year-over-year during that same time. The cost of a dozen eggs in the US is now $4.25, up from a more reasonable $1.79 a year ago. These record high prices have led some opportunistic Americans to try smuggling cheaper eggs across the US-Mexico border to sell them for a profit.

Why are US egg prices so high right now?
The biggest contributor to the high prices is a bird flu outbreak, which has affected more than 57 million wild aquatic birds, commercial poultry, and backyard flocks since January 2022, according to the US Centers for Disease Control and Prevention.
This is not the first time avian flu has affected the supply of eggs. About 50.5 million birds died after another avian flu variant arrived in December 2014 and continued to spread well into 2015. After a bird tests positive for avian flu, they are culled to control the spread of the disease. The 2015 outbreak cost farmers more than $1.6 billion. But the virus essentially vanished by June 2015.
This time, however, the avian flu appears to be more pervasive. Unlike the 2015 outbreak, which was largely contained among poultry farms in the American Midwest, the flu has spread across the entire country.
The other factors

Outside of avian flu, the same things driving up prices everywhere these days — like supply chain issues — are also contributing to the price of eggs. Higher prices for things like corn and soybeans, for instance, are driving up the cost of chicken feed. Chicken feed can account for up to 50% of the expenses related to the production of an egg. Then, of course, is the rising cost of labor.
France is facing a similar problem. The soaring cost of chicken feed, energy costs, labor costs, and the worst bird flu crisis in its history is also driving up the price of eggs there.

Hope in sight?

While wholesale prices for eggs are beginning to level off, according to a recent US Department of Agriculture report, it will take time before those lower prices make their way to supermarkets.

As we wait, at least we can enjoy some — dozens? — of amazing egg memes.