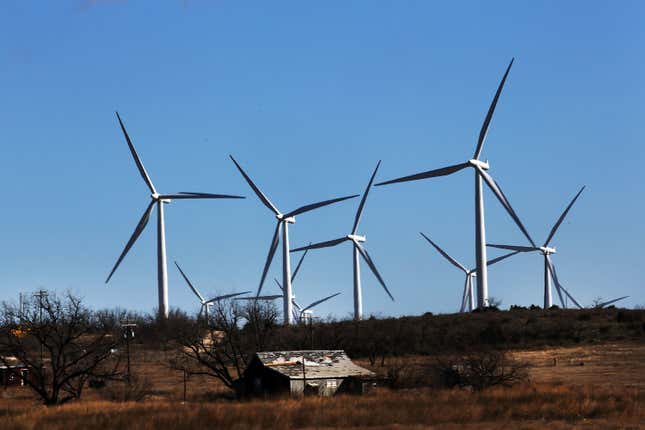 When it comes to wind energy, a lot of attention in the US has gone to the potential green energy powerhouse of the northeast including Massachusetts, Maine, and New York. But the central states that are actually building the most wind capacity are far from the coast. There, vast prairie stretches into the horizon, and farmland is finding dual purposes for both wheat and wind.
Should you keep investing in Big Tech?
The capacity to generate electricity from solar and wind increased across the country to more than 238 gigawatts (GW) in 2022—up nearly 13 GW from 2021 according to Climate Central's WeatherPower tool. WeatherPower makes electricity generation estimates for solar-PV and wind-turbine installations using weather data (pdf) from their closest respective grid points. About 27% of that power was solar while 73% of it was from wind. Texas tops the list as the highest wind generating state, capable of powering 12.2 million homes. Across the US, wind power alone could power 46.72 million homes, about a third of all households.






Is solar and wind power enough to reach emissions targets?
The data from the weather tool combined with federal capacity forecasts suggests that the ability to generate solar and wind power can grow quickly enough for the US to meet its net-zero emissions targets by 2050.
Electricity currently generated from solar and wind equates to $82 billion of revenue, according to Climate Central. Estimates were based on the US Energy Information Administration calculations that the average retail price of electricity in 2022 was 12 cents per kilowatt-hour.
Wind power generation and actually using that harnessed power are two different matters. Not all wind power that is captured can be fed into the grid, as electrical grids may be outdated and in need of investment to either repair or expand them. For example, Texas built its electrical grid in open fields decades ago, when George W. Bush was governor. That move positioned the state to hold more power outside its urban centers, but the grid in Texas struggles to transfer power to urban centers. In contrast, the state of Maine, which has the second greatest untapped potential for offshore wind, is also the state with the most frequent power outages, particularly in rural areas. Infrastructural improvement to the electric grid will need to happen before American homes can actually depend on that wind power.