We meet, we give presentations, we take minutes, we follow up. We are robots. Just stop. Stop for one second the next time you hurtle towards a presentation and ask yourself the simple question: Is it even time to present?
To be ready to present, you need to do three things:
Make a point
Make people care about your point
Ask for something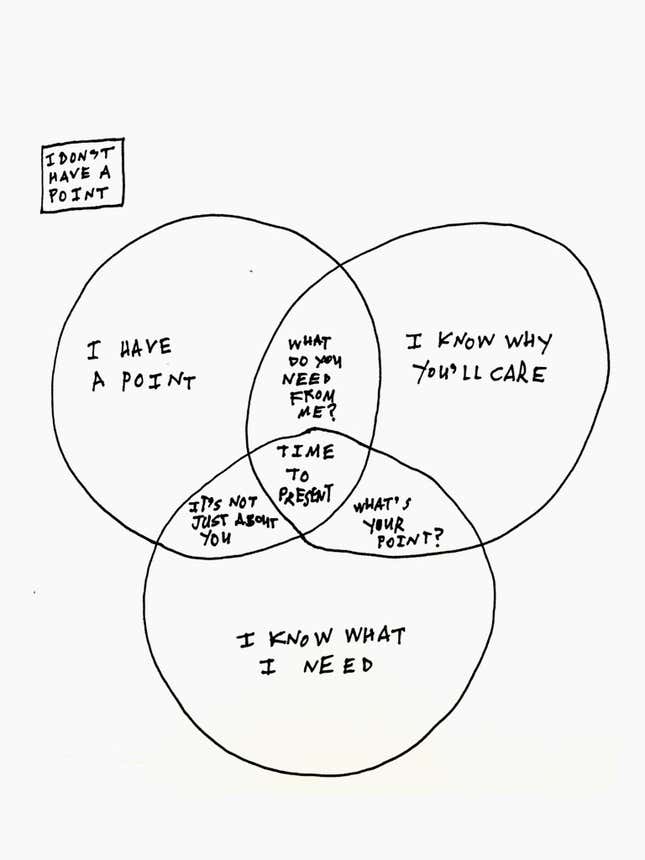 If you don't have a point, don't present.
If you have a point, but don't know why anyone else would care, you've just entertained yourself with your neurons. This is a great hobby and yours to enjoy in your own company.
If you have a point and get people to care, but don't suggest a clear action, you've riled them up and  then left them bathing in their own feelings.
Only present once you have a point, know why other people will care, and can suggest a clear action.
This article is part of a Quartz series on how to make "pointy" presentations.
Mark Pollard is the CEO at Mighty Jungle, a brand strategy agency in New York.