What motivates you to come to work? At times it may be money, a sense of progress, or the opportunity to contribute to society. But when it's a rainy Friday morning and we're low on sleep, research suggests our real motivation isn't a what, it's a who. Here are the five types of colleagues that make us look forward to coming to the office .
The Inspiration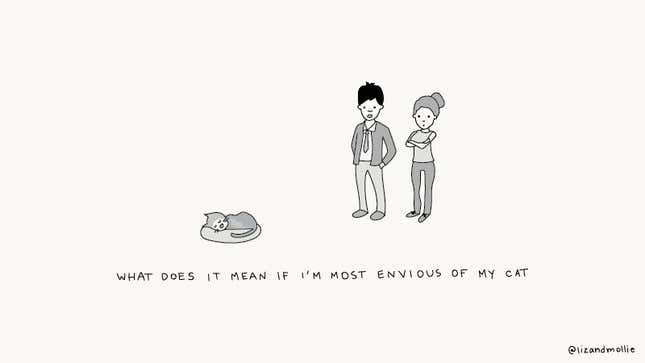 The Inspiration is your platonic work crush: you don't want to be with them, you want to be them. This person can either be a formal mentor (someone who knows they are mentoring you), or simply a more experienced colleague you deeply admire (someone you learn from by osmosis). Research shows that mentors exert tremendous influence over the direction of a young person's career, and they can help improve job satisfaction, increase leadership behaviors, and steer us towards beneficial career transitions.
It's also helpful to pay attention to people who are so inspirational that you envy them. As The Happiness Project author Gretchen Rubin writes, "When we envy someone, it's a sign that that person has something that we wish we had for ourselves. And that's useful to know." Rubin explains, "When I was considering switching from law to writing, I noticed that when I read in my college magazine about people who had great law careers, I felt a mild interest; when I read about people who had great writing careers, I felt sick with envy. That was an important clue."
The Confidante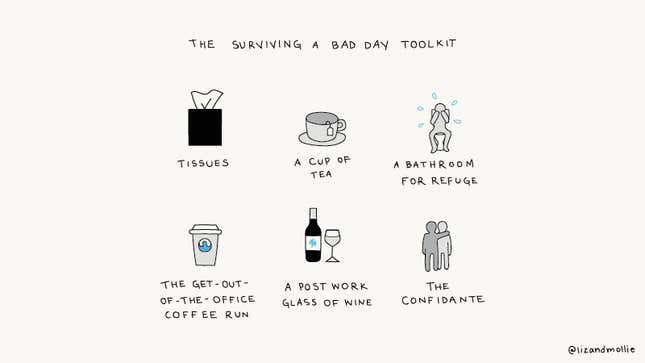 Everyone needs the Confidante. This is the work friend who will commiserate when you've had a rough conversation with your boss, will rush you to the bathroom and hand you tissues when you're about to cry, and, most importantly, will give you honest feedback when you need it most. Treasure the Confidante! Research shows that people who have more close friends at work are happier, more engaged, put more effort into tasks and make better decisions. A close friend at work also makes us feel like we belong, which Pat Wadors, the former Chief Human Resources Officer at LinkedIn, believes is a key element of job satisfaction and performance. Feeling like we belong, Wadors explains, allows us to bring our whole selves to work and gives us the courage to speak honestly and step outside our comfort zones.
To develop a confidante, allow yourself to be vulnerable with a coworker you gravitate toward. This isn't always easy. "The paradox of vulnerability is that when I meet you, the very first thing I look for in you is vulnerability, and the very last thing I want to show you is my vulnerability," explains Brene Brown, who has written several books on the topic. "So I'm desperately seeking yours, while hiding mine." Unfortunately, it's increasingly rare for people to have confidantes at work, since we change jobs so often, so we don't take the time to get vulnerable. As Adam Grant, a professor of management and psychology at the Wharton School of the University of Pennsylvania, explains, "We view co-workers as transitory ties, greeting them with arms-length civility while reserving real camaraderie for outside work." So make sure you let colleagues see beneath your shell.
The Conspirator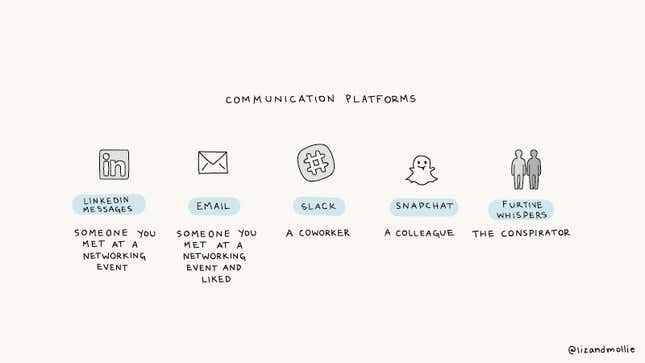 The Conspirator just gets you. This can be the same person as the Confidante, but doesn't have to be. You can gossip with a conspirator about which colleagues are trying to find another job, are active on Tinder, or are toxic to work with.
You can count on being able to laugh over lunch with a conspirator when you need a pick-me-up. Police officers and firefighters, whose jobs require them to deal with danger every day, say that joking around and "razzing" each other are a natural part of the job. Dark humor is a coping mechanism for their dangerous work argues Stuart Brown, the author of Play: How it Shapes the Brain, Opens the Imagination, and Invigorates the Soul. When facing problems at work, he says that "play gives people the emotional distance to rally" rather than focus on failure. Play increases social cohesion by enabling people to become more attuned to each other (this is why team-building activities are often based on play).
The Excellent Manager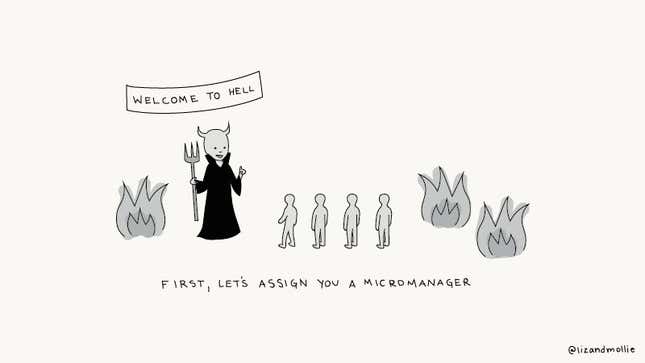 The most mythical and elusive motivator! The Excellent Manager treats you fairly, has your back, and acts like you're actually competent. Managers matter. A lot. Google's Project Oxygen, an internal study that looked at more than 10,000 "manager impressions," sourced from feedback surveys, performance reviews, and nominations for top-manager awards, found that managers had a greater impact on both employee performance and satisfaction than any other variable.
But a good manager is hard to come by: in a Parade survey of 26,000 people, 35% of respondents said they would turn down a significant raise if they could fire their supervisor. The Excellent Manager is the one who you wouldn't fire, even if you could.
Liz Fosslien and Mollie West Duffy are co-writing a book on how emotions affect work that will be published by Penguin Portfolio. You can follow them on Instagram at @lizandmollie.