The Miss America Organization, which runs the 96-year-old eponymous pageant, bills itself as "the nation's leading advocate for women's education" and the US's largest provider of scholarship money for women.
The 16 most senior members of the New Jersey-based organization's national staff are a diverse and primarily female group. But there's a striking feature in the organizational chart. That diversity stops at the top level of the non-profit, where the CEO, COO, CFO, and vice president of field operations comprise a pale rainbow of white men.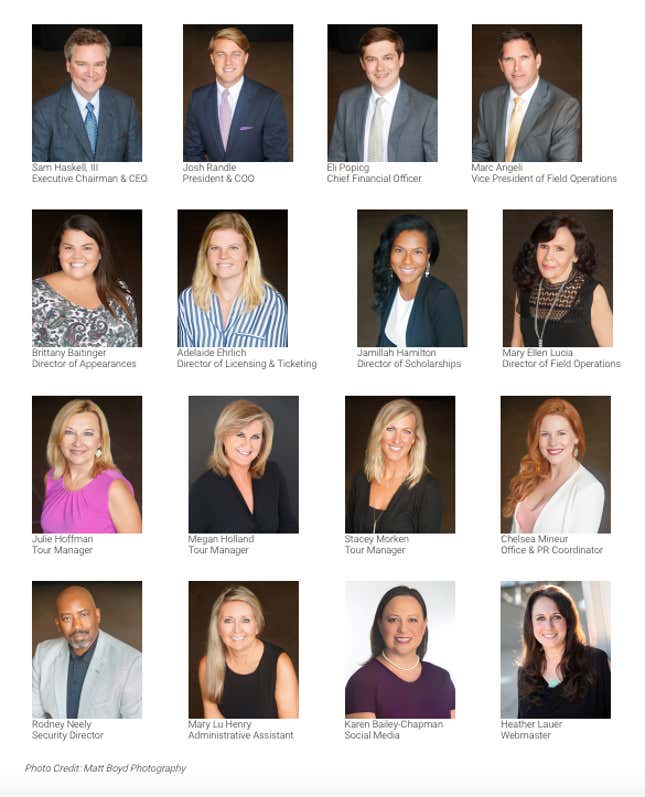 The demographic oddity matters, because the Miss America Organization show a striking disparity between the way executive talk about the women who participate in its pageant in public, and how those women are discussed in private. Emails obtained and published by the Huffington Post show CEO Sam Haskell disparaging past winners' appearance and sex lives, and laughing along ("bahahaha") at a crude sexist slur lobbed at pageant alumnae by a staff member.
Quartz tried to reach the Miss America Organization for comment today (Dec. 22), but its office is closed for the holiday.
There is no guarantee that having women in the uppermost levels of an organization leads to equitable treatment of its participants. But in Miss America's case, their absence is notable.