The North Korea of our imagination is informed by tweets, news clips, and propaganda. At times, therefore, it can be impossible to reconcile the North Korea of a vicious dictatorship, prison camps, and terrorizing test missile launches with the one that's crazy about South Korean K-pop and K-drama, and enthusiastic about British beer.
Further muddying our understanding of the place is a recent— many would say suspect—change in tone from government officials about the future of the two Koreas, and its intentions behind participating at this month's Winter Olympics in Pyeongchang, in the South.
Now, here's one more piece of the North Korean puzzle to complicate the picture further: North Korea's pseudo-Stalinist government allows a Singapore-based nonprofit called Choson Exchange to run business and entrepreneurship classes in the country, with foreigners teaching North Koreans how to run Western-style enterprises. In fact, these weeklong programs have been held a few times per year for the better part of a decade.
Choson's volunteer instructors do not talk about capitalism, or market reform, though they do lead lessons on market research and strategies for increasing revenue. They explain why the best ideas for innovation can come from anywhere, not only the boss, but they do not venture near the notion of "democracy."  
About 50 to 100 locals attend each seminar. They might include North Koreans who work in light manufacturing and plan to launch a new product line, or the managers of small service businesses, like cafes. Many of the participants are sent by their company, while others are invited by Choson, or ask to join, having heard about the program through friends or family.
Every program wraps up with a Shark Tank-style exercise in which attendees deliver their best pitch for new products, most of which speak to the day-to-day needs of the impoverished country. These business ideas have included a healthy herbal tea, a new way of packaging green peppers to prevent spoilage ("Green peppers in winter is no longer a dream!!!" read one slide in the pitch deck), a surge protector that can stabilize electricity for businesses that rely on it, and a cold cream that miraculously reverses signs of aging (product claims are not regulated in the country). The course leaders listen and point out flaws or opportunities. "Of course," says Nils Weisensee, Choson's associate head of operations, "we're not quite as tough on them as they are on Shark Tank."
"They have aspirations that we can relate to"
Choson Exchange was founded in 2010 by Geoffrey See, a graduate of the University of Pennsylvania's Wharton School and of Yale, who lives in his native Singapore. Since then, it has led some 1,600 locals in business workshops.
Inevitably, it's typically members of the relatively elite class of North Koreans, living in the capital, who can attend these courses, since there is no freedom of movement between regions and cities. Choson has taken its course on the road, however, visiting smaller cities and the Rason Special Economic Zone in the northeastern corner of the country, near the border with China and Russia. The hope is that one day, whatever benefits the lessons offer will filter out to help the lives of rural citizens, too, and that Choson's graduates will create model businesses to be replicated by others.
In the past, the organization has even taken North Koreans out of the country, flying small groups to Singapore and Vietnam for on-the-ground research and encounters with technology they would not have seen before, like ATMs. On every trip, the group was accompanied by a North Korean minder, in part as a safeguard against defections. Choson has also run workshops aimed mainly at women, who have the most hands-on experience at running small businesses, but not the education or degrees, says Weisensee.
One of Choson Exchange's founding principles behind this work is to connect foreigners with common North Koreans, who are depicted in Western media as brainwashed "mindless automatons," See explains in a 2013 TEDx video. After visiting the country as a tourist, in 2007, when he was a student of economics at Wharton, See realized that the rest of the world didn't view North Koreans as people who could make choices about their future. He was surprised to meet a young woman who said she hoped to run her own business one day, to prove that women can be effective leaders. Choson's approach to engagement with North Koreans, he says in the talk, recognizes that "they have aspirations that we can relate to."
Two years after that visit, when he was already investigating the possibility of setting up business seminars, a government official contacted See to ask for guidance during a severe currency crisis. He seized on the opportunity to set up an economics-themed cultural exchange program led by outsiders—at the time, his friends. Now Choson is the only foreign organization running business classes in the DPRK, and, in fact, one of the few outside groups doing anything within its borders. (Like any foreign entity in North Korea, it must pair-up with an on-the-ground partner to operate there. In this case, Choson partners with the Korea-Singapore Friendship Society, a small group within the larger Committee for Cultural Relations with Foreign Countries.)
Fi Truong, Choson's program manager, says the business scene in North Korea reminds her of the recent history of her native Vietnam. "We've been through what North Korea is going through right now, and what China has already been through," says Truong, who previously worked at a startup incubator. At one time, she adds, running a business in Vietnam was illegal, but now the country has one of the most vibrant ecosystems of small businesses in the world.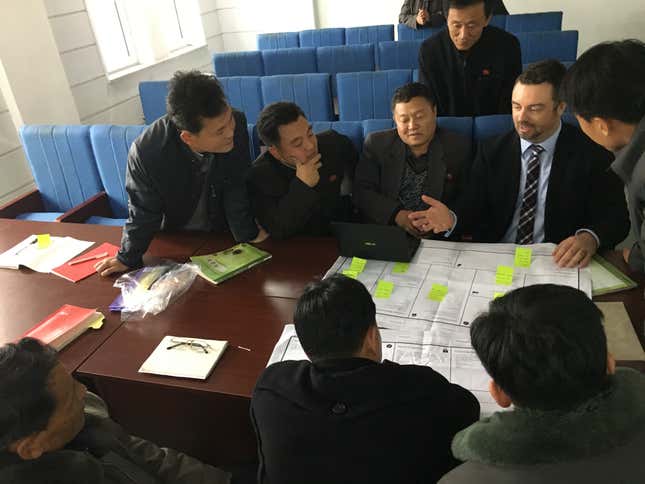 Kim Jong-un, leader of the DPRK, has indeed tolerated a fast-expanding grey market. Compared to his grandfather, Kim Il-sung, North Korea's founder, who created its Marxist-Leninist-flavored ideology of self-reliance, called "Juche," in the 1950s, and his father, Kim Jong-il, he has been the DPRK's most pro-market leader, say North Korea watchers, and that's partly because the country is squeezed for cash. Numerous rounds of global sanctions aimed at starving the ruling party of funds for its nuclear program appear to be effective, cutting off most trade and now hampering humanitarian aid projects, too.
North Korea's grey economy is not entirely new, however. It has existed since the 1990s, when a new class of merchants, known as the donju, or "lords of money," emerged, following a famine so severe a breakdown of the state was feared. North Korea's private sector is now thought to represent 30% to 50% of the country's gross domestic product, which remains tiny, estimated to be about $28 billion. (By comparison Australia's population is also about 24 million, but it has a GDP of $1.4 trillion.)
To maintain his family's grip on power, the Supreme Leader has had to outwardly decry "corrupt bourgeois" culture while quietly allowing the country to drift toward a markets-based economy, some of which is official and state-owned, but not all. Most North Koreans must now work on the side, selling food or services, to stay afloat. However, while the policy—and announced new tax codes—have favored decentralized economic production, the rules governing businesses have not been codified, putting company owners in a precarious position, says Curtis Melvin, researcher at the US-Korea Institute at Johns Hopkins University, and a contributor to the website 38 North. Bribes are common, he tells Quartz.
The ambiguous laws also work in the state's favor: It means the threat of punishment is ever present, and the supreme leader could choose to stop the music at any time.
Naturally, Choson's activities raise ethical questions: Is it morally defensible to help North Koreans earn money, a percentage of which will eventually be funneled to the regime? Weisensee considers these questions misguided. The organization supports small and medium-sized businesses, he says. "I don't think the DPRK's nuclear program is funded by increasing toothpaste sales in the local market."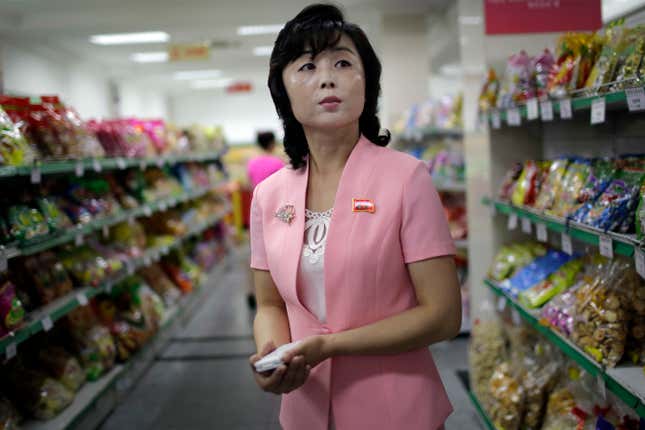 Melvin agrees, saying that Choson is "really just kind of helping ordinary people get by." Yes, North Korea is making more space for entrepreneurial activity, but big businesses are still controlled by the senior members of the party and the military. "It's not like anyone can start up and have a large business," he says.
What's more, Choson's existence opens a window to a segment of society that's underrepresented in the DPRK's depictions of itself, and in Western views into the country. "Besides, there's nothing secretive or innovative about what the [seminar members] are learning," adds Melvin. "North Korea could get this stuff from China, if they got over their fear of China."
Advertising? Hiring? Please explain
Weisensee, a German-born entrepreneur who co-founded a speciality coffee company in China, first went to North Korea with Choson as a seminar leader, strictly out of curiosity. He was immediately struck by North Koreans' eagerness, pragmatism, and thirst for knowledge, he says, so he stayed involved with the nonprofit, seeing its mission as the most sustainable approach to helping the DPRK innovate.
Leading business classes in a country that has sanctioned only three advertising billboards (all from a state-owned car company) was daunting, he found. "After being in business for a while, a lot of people who travel with us feel they know how it works. We understand marketing, we understand social media, and we know how to design a product," he says. "But what traveling to the DPRK did for a lot of us is force you to rethink everything that you think you know, because the conditions and environment are so different."
How do you market a product without social media channels? Or without a website you can easily set up? Without a public internet or virtually no advertising? Even the right to hand out flyers to pedestrians would require permission from the government, he points out.
"What's left? Word of mouth," Weisensee says. "And not word of mouth as in retweeting, but actual word of mouth."
Ian Collins, an Australian-born consultant who specializes in industrial worksite safety in his day job, was part of the most recent group of Westerners to go to North Korea with Choson, in November. (Instructors pay their own way, about $2,200 for the flight from Beijing and accommodation.) He vouches for that disorientation Weisensee describes.
Standing in front of the eager entrepreneurs in training, he struggled to ad lib examples that would illustrate the talking points of his lessons. Everything that came to mind—an effective online marketing campaign, methods for sourcing materials or production overseas—would not have made sense within the context of North Korean life. It was, for instance, a chore to describe why an invention would need to be patented, when so little competition exists in North Korea and there's no path to an international market.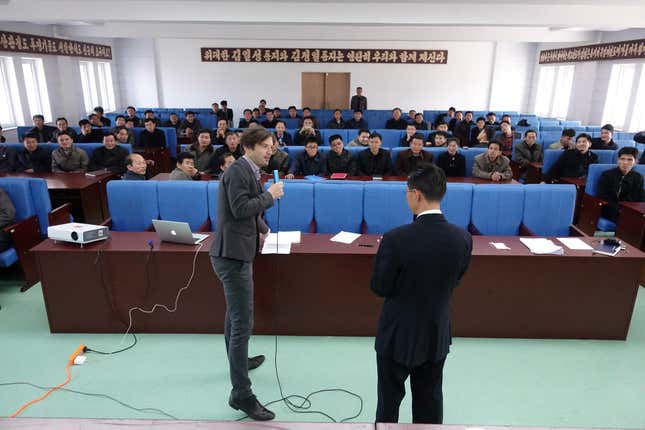 Then there was the topic of hiring and managing people, making sure employees are in the right roles. In North Korea, people are placed in jobs based on the state's needs at the time, their social class, and location, Collins explains. If teachers are needed in your area and you're graduating, you're told that you'll become a teacher and you're embedded in a work unit. Transferring out of your given position can take years. So entrepreneurs there need to find potential employees among their existing network of contacts.
One of the participants in Collins' class was thunderstruck by the notion that companies elsewhere do things differently, that you could manage employees according to their strengths and personality types. "Are there some personalities that are better at innovation than others?" he asked Collins, through an interpreter, as soon as the floor opened for questions.
The instructors never push foreign tactics as the best or required way to do something, but simply explain the way it works abroad—or "what greases our system," as Weisensee explains it.
Lately, the seminars have evolved into startup bootcamps, increasingly addressing such buzzy terms as lean startup or freemium business model, and theories behind them, so instructors have had to come up with new Korean words for the business jargon. Sometimes, however, the language defaults to English.
No loyalty cards
Like other workshop leaders, Collins was impressed, even humbled, by the ingenuity on display during his stay. He got excited about one student's prototype for a reusable breaking board for Taekwondo classes. Typically, Taekwondo students chop small planks of pine wood with their bare hands. This artificial board could replicate that experience, but be reused 100 times. Collins could see how the eco-friendly product would scale internationally, were that possible.
Another innovation to come out of the program was a collaborative calendar app designed for parents to share with their busy school-aged children. (Their days are overloaded with classes, sports, and music lessons, Truong says.) Getting to market would have been the hurdle in that case: In the DPRK, phone apps must be blessed with the government's seal of approval before they can be sold and downloaded in the official app store—which is an actual store in Pyongyang.
That kind of difference between North Korea and most of the world is more than a curiosity, of course. It represents the government's Orwellian attempt at thought control, which combines unceasing propaganda with the blocking of any free flow of information. Quartz could not interview any of the local participants in the programs for this article, for example, because reaching someone in the country by phone is essentially impossible.
At one time, Melvin explains, it was thought that the rise of the donju and growth of the private sector would weaken the government's power, because the people would be less reliant on the state. "But that hasn't happened," he says.
Meanwhile, domestic markets are expanding at a remarkable clip. "There used to be a time in the DPRK when there was one type of shampoo, and one toothpaste, but now the shelves are filled with domestically made consumer products," Weisensee says. The customer can choose ginseng or mushroom toothpaste, he adds, so suddenly understanding consumer preference becomes a relevant skill, one that the business classes cover, because the idea of asking a customer for feedback is not second nature to people accustomed to simply fulfilling government orders.
To support the nascent entrepreneurial scene, Choson is developing a community of its graduates by inviting repeat participants as a portion of every new class. And coordinators check in with former participants from time to time, too.
At one coffee shop run by former students, they recently discovered former graduates were handing out loyalty cards, an innovation they picked up in the class. "There had not been any concept of a loyalty card. It was completely unknown in North Korea," Weisensee says.
To him, the economic imperative alone doesn't completely explain why businesses are developing so rapidly, and why seats in Choson's program are in demand. (They remain so, although recruiting instructors has been tough in a year when Kim Jong-un and Donald Trump are comparing big red nuclear buttons.) "I believe it's the same drive to create and to improve our lives that drives entrepreneurs everywhere," he says. And because conditions there are so harsh, and the future so uncertain, he adds, those who still pursue business ideas are the most resilient entrepreneurs he has met.
"If you grew up in a system where improvements can't be ordered on Amazon," he notes, "you have to improve things."
What North Korea needs now are successful examples of sound businesses, he argues, because "like anywhere else, when there's something new to be tried, as long as it's unproven, there's skepticism."