A job ad for an executive assistant and investor relations associate, working in financial services, has been doing the rounds over social media for all the wrong reasons.
Posted by RMS Recruitment on behalf of a client, the job ad reads like something from the 1950s. Nestled within appropriate requests for candidates to be degree-educated and hardworking, it asks those applying to have a "good personality—ability to deal with the male banter and be sociable but not distracting." If it weren't clear enough already that the company wants a candidate to put up with some pretty inappropriate or non-politically correct chatter, the ad also requests that the candidate to be "emotionally intelligent."
It's likely to be deleted from LinkedIn soon, after already being deleted off Guardian Jobs, but here it is: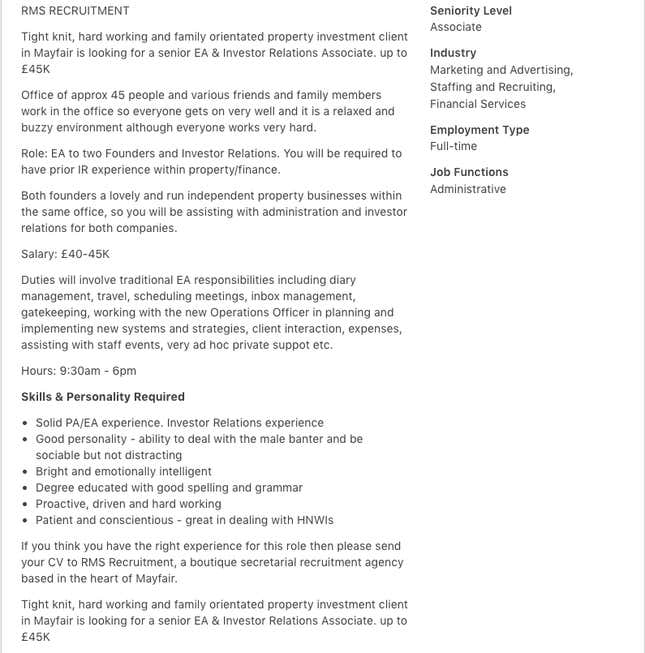 The art of "male banter," which is predominantly British slang, has been the get-out-jail-free card for men in the workplace for decades. It is a phrase used to dress up sexist remarks, jokes, or jibes as playful and friendly exchanges, and it has been used to shield the toxic masculinity of a "boys will be boys" mentality. The ad also demonstrates one of the many reasons why women find it hard to come forward about sexual harassment, because even within education they're told to "toughen up" and stop being so sensitive. It's so ingrained into workplace life that we have sexism defended as banter for centuries.
However, despite employment lawyers often hearing "it was only banter" as a defense to a sexual harassment claim, it is still in fact illegal.