Facebook founder and CEO Mark Zuckerberg testified on Capitol Hill today wearing a suit that spoke volumes.
The navy ensemble with white shirt and blue tie wasn't loud per se. As suits go, it was relatively understated. But it clearly communicated the deference and seriousness that Zuckerberg desperately needed to signal, both to the Senate panel that grilled him about Cambridge Analytica and Russian social-media meddling in the 2016 US presidential race, and to a public whose faith in Facebook has been shaken.
It usually doesn't mean anything when a titan of industry testifies to Congress in a suit. Consider the parade of properly attired bank CEOs who came before various committees of the House and Senate in the aftermath of the 2008 financial crisis. They're bankers; all they were communicating with their choice of clothing was that they saw fit to wake up that day and get dressed. But when a 33-year-old Silicon Valley chief who's usually seen at work in T-shirts and jeans ditches his youthful uniform for pressed slacks with a matching jacket and tie, it implies he understands the gravity of the moment, even if it would have been absurd for him to contemplate wearing anything different.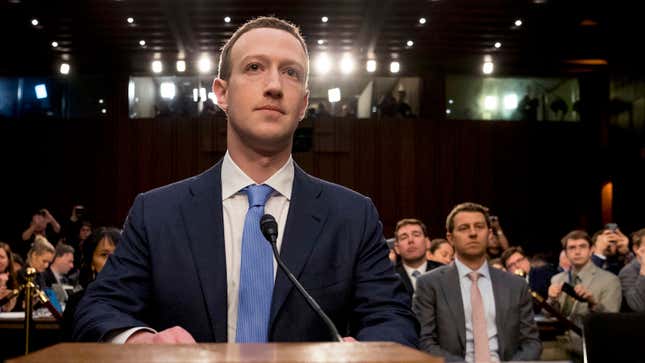 Zuckerberg also turned to traditional workwear for a brief spell in his 20s, during another high-stakes moment in Facebook history. It was 2009. A huge recession was underway and investors were nervous that Facebook was not yet profitable. "I was like, 'I'm going to wear a tie every day this year, so that when you see me, you know it's a serious year,'" Zuckerberg recalled last year in an interview for the podcast Masters of Scale. True to his word, Zuckerberg eschewed his trademark hoodie and wore a tie to work every day in 2009 (and Facebook indeed turned cash-flow positive that year).
There's every indication that 2018 will be just as pivotal for Facebook, and for Zuckerberg himself. In the wake of unauthorized data-harvesting of 87 million Facebook accounts by political research firm Cambridge Analytica and evidence of the social-media platform's role in Russian meddling with US elections, along with Zuckerberg's confounding absence from public view as both scandals started to snowball, Facebook's leadership can't afford to have a fashion faux pas derail its message now. There is no room for error, sartorial or otherwise.
Unless you're in the tailoring business, there's something a bit sad about seeing a Silicon Valley superstar kowtow to the stuffy tastes of Washington. No industry, and arguably no CEO, has done more to shape modern dress codes in American workplaces. By now, millions of office drones have been able to let their wardrobes evolve in a distinctly casual direction as a result of the cues they, and their bosses, have taken from tech entrepreneurs like Zuckerberg.
It is indeed helpful to be in comfortable clothes when you're trying to move fast and break things or when you just, you know, sit at a desk all day. But our ability to feel confident that we'll get taken seriously while dressing down is undermined every time a standard-bearer for the casual look decides to put on a suit to convey gravitas.