Forget dank, windowless basements cluttered with tangled wires, empty cans of energy drinks, and greasy pizza boxes. Driven by a mandate to be more inclusive, GitHub's newly redesigned headquarters reimagines the coder dens we've come to expect in Silicon Valley.
The architects behind the redesign explain that their primary goal was to "soften the harsh, masculine feel" of the open-source coding platform's 32,000 sq. ft. San Francisco office. While GitHub's previous space was certainly stylish—complete with all the expected quirky accoutrements of a thriving tech startup—it was unmistakably designed for bros. There was a "Rat Pack" room, a saloon, and the obligatory game room. There was even a motorcycle hanging from the ceiling.
Rapt Studio, known for designing handsome corporate offices, successfully deleted GitHub's design bro-isms in three moves:
Step one: Escape the man cave
Rapt Studio's architects jettisoned the space's man-cave décor and replaced it with an eclectic mix of modern furniture. In lieu of the trendy shipping-container cubicles that had been there since 2015, there are now cozy spaces designed like residential living rooms. They've also built a room for nursing mothers, a prayer room, and gender-inclusive bathrooms. In the library, there are even sculptures of female trailblazers in computing. While GitHub's workforce is still predominantly male, the redesign reflects CEO and co-founder Chris Wanstrath's ambition to foster a more inclusive workforce.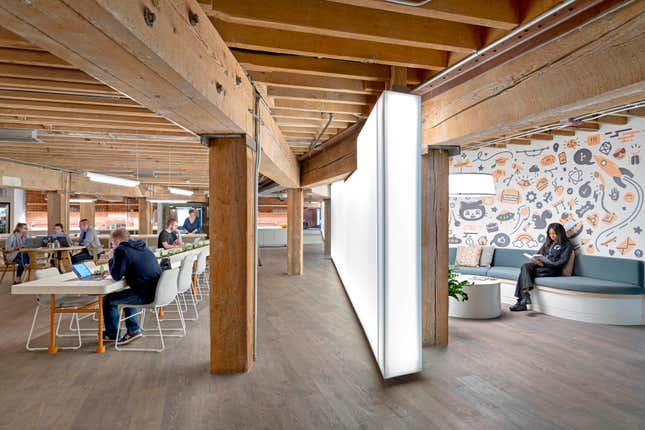 Step two: lighten, brighten, soften
To compensate for the space's small windows, Rapt created a system of back-lit fabric walls that create the illusion of natural light coursing through the space. "This is a project all about making an oppressive space feel bright and open—to create a space that connects all of the employees through light and activity," says David Galullo, Rapt's CEO and chief creative officer. The foot-thick dividers were produced with a stretchy, sound absorbing material called "NewMat."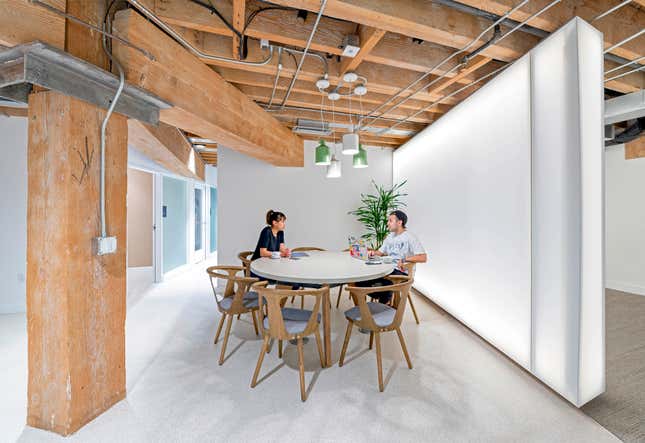 Step three: Add room for introverts
Perhaps the most enviable aspect of GitHub's office makeover is its array of spaces for focused work. Galullo says GitHub was particularly keen about designing areas for introverts who feel most oppressed by open-space office plans. For a warmer take on the "coder den," Rapt designed a library with a rows of solo work stations. The padded benches inset in bookcases may look dorky in photos, but it's a good solution for anyone who wants to work in quiet.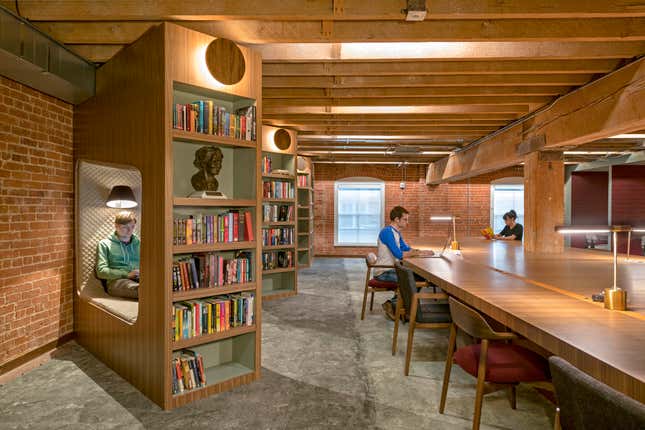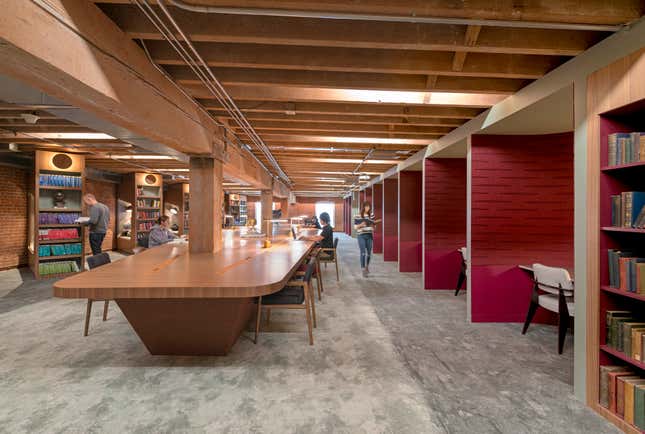 Galullo says GitHub's office makeover could act as inspiration for other companies struggling with the tyranny of their open-space work plans choked with bro bric-a-brac. The first guideline of an effective office is inclusivity, he says. "[Consider how] to allow employees to be their full self in the way that is most comfortable and productive," Galullo advises.