Bengaluru, Karnataka
Inside a sprawling sports center near Bengaluru's tech hub of Sarjapur, little boys practice scoring goals on a football pitch while others jump high on nearby trampolines. There seem to be boys and men everywhere—except inside the skate park, where there are hardly any to be seen.
Instead, as the sounds of Cardi B and M.I.A. fill the air, a group of little girls on skateboards—some dressed in kurtas and leggings, others wearing scuffed Vans shoes—glide effortlessly up and down the curves of a mini bowl. Over the next few hours, these girls rarely get off their skateboards, smoothly swerving from the tops of the skate park's ramps down to its expanse of flat concrete, going back up and around again with big smiles on their faces. When they fall down, as they sometimes do, it's only a matter of seconds before they're back on their boards again.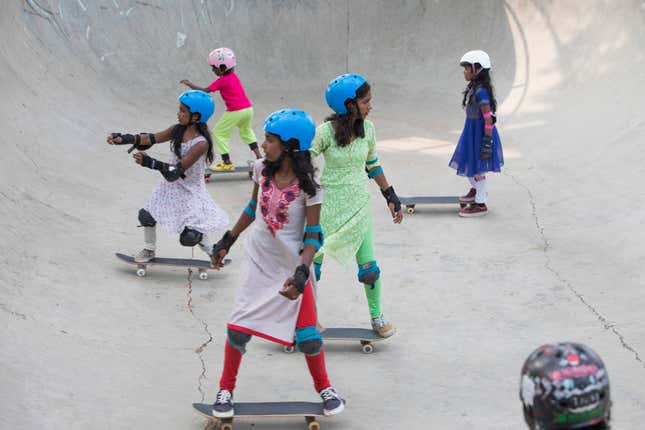 Some of the girls are from a fishing community in Kovalam in the neighboring state of Kerala, located some 700km away from Bengaluru. The oldest is 15 years old, the youngest eight. They urge each other on in Malayalam as they practice leaping over a metal bar and landing back on their boards, a trick known as the hippy jump. It's not easy, and they can't quite get it right yet. But they keep going anyway, with a little help from 24-year-old Atita Verghese, who knows them all by name and holds their hands as they try to jump one by one.
Verghese is often called India's first female skateboarder. She's the founder of Girl Skate India, an organization set up in 2015 to encourage more Indian girls to get into skateboarding through workshops and events. Born and raised in Bengaluru, she began skateboarding in 2012, borrowing her friends' boards at first. Drawn by what she describes as "the freedom, the community, (and) the weird shit," she quickly became an expert skater. But it didn't take long for Verghese to notice that something was definitely missing in India's burgeoning skateboarding scene.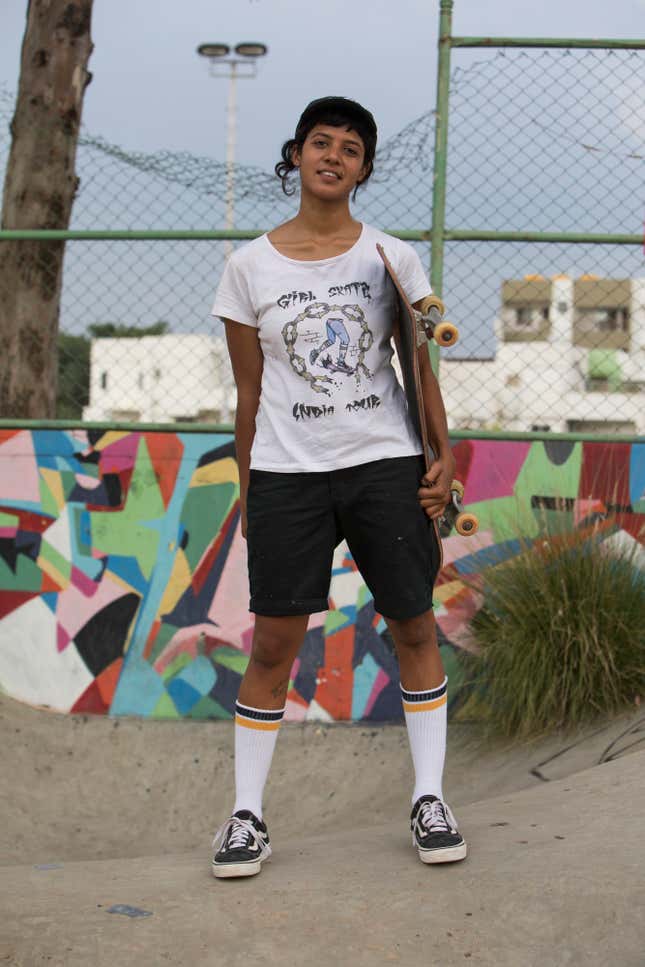 "It was a lot to do with the fact that there weren't many other girls actively in the scene and I wanted a crew to skate and hang with," she said, explaining how Girl Skate India came about. "I also felt what an exciting time it was for skateboarding in India, and I wanted more women to be a part of this history in the making."
For a long time, skateboarding was something you only saw in Western movies and music videos. But over the past few years, more young Indians have begun taking it up, with organizations such as Bengaluru-based Holystoked building skate parks in different cities. There are now at least 17 across the country, and plans for more are in the works.
But like with most things in conservative India, skateboarding has from the start been dominated by boys, who enjoy a certain freedom out in the open that most Indian girls still can't even dream of. Girls and women aren't encouraged to loiter (pdf) in public spaces in India. Skateboarding, along with the active urban culture associated with it, is almost completely antithetical to the established ideas of what Indian women can and should do, and where they are allowed to be.
This conditioning starts from a young age.
"[Parents] don't allow their girl children to take up all these activities at all," said K. Shailaja, the founder and principal at Bengaluru's South School, noting that while Indian boys can go outside and play, girls are often told to stay indoors. "Always they're restricted. There's no freedom at all."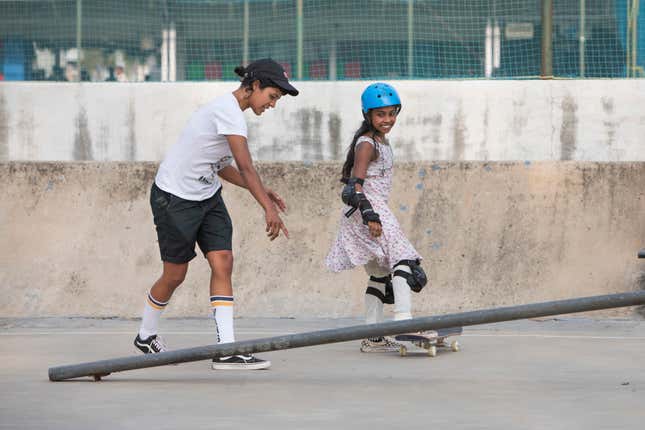 Part of this is because of the fear of what might happen in a country where sexual harassment and assault are rampant. But it also has the effect of reinforcing traditional gender roles, and ensuring that millions of Indian girls grow up to feel like they only belong at home.
Which is why Girl Skate India is so revolutionary. For its workshops and events, Verghese invites Indian girls from different backgrounds out of their homes and into the open, arming them with skateboards and the skills to feel strong and confident on them. Asha Kudari, whose 13-year-old daughter Tanvi is a regular at Girl Skate India's events, says other parents in Bengaluru are often surprised to see girls taking up the sport, and scared of the injuries that might occur. But with regular sessions, girls like Tanvi have learned how to fall and pick themselves up again, she explained. Seeing this can help other girls get on skateboards, too.
But Girl Skate India is going up against a formidable cultural force—one that isn't easy to break through, especially outside of India's urban elite circles.
"Parents that come to skate classes in the cities are stoked about their girls learning to skate," Verghese said. "But it's a whole different thing when we do workshops with the rural communities. It can be challenging most of the time." In India's more conservative rural areas, patriarchy is deeply entrenched. Rigid gender roles restrict what girls and women can do. From a young age, girls are expected to help out at home in preparation for their eventual roles as wives and mothers; their access to public spaces is circumscribed. Being outside alone, by their own choice, is still an unimaginable prospect for many rural girls.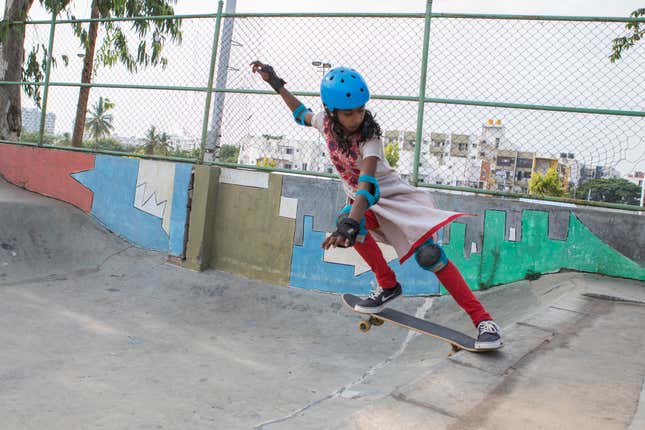 That's also why programs like Girl Skate India can make a big difference in the country.
"It is key to normalize women and girls in public spaces by starting young," Meenakshi Ganguly, south Asia director of Human Rights Watch, explained. She argues that initiatives like Girl Skate India can do double duty by not only building confidence in girls but also educating boys, showing them that girls belong outside, too, and that they can do just what boys do.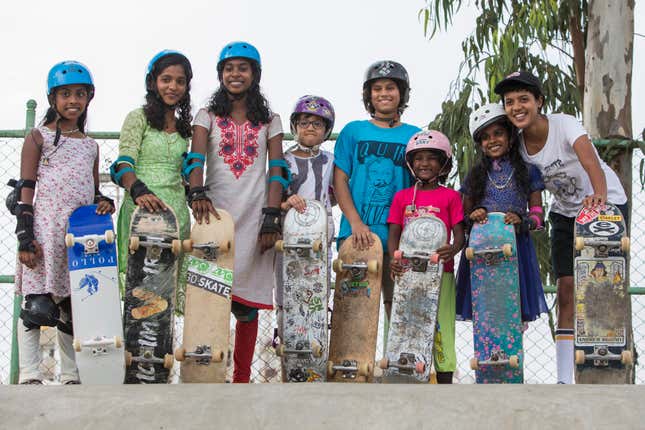 At the skate park in Bengaluru, boys and men stopped to watch in wonder as the girls of Girl Skate India smoothly slid up and down the ramps. Other girls of different ages joined in, wobbling on their boards at first and slowly gaining the confidence to glide forward without any help. As the regulars began coming in, the skate park was full of people, boys and girls, all jumping, sliding, and falling down.
In the middle of it all, one girl from the city, eight-year-old Nina, kicked off her shoes and rode around barefoot, already looking like an expert after just 30 minutes of practice. By the end of the Girl Skate India session, her mother, Loretta, was on a board, too.