Shaker Heights, Ohio
One day in early May, a group of 30 girls in Novelty, Ohio, were stressing themselves out. At the edge of the 140-acre property of Laurel School was a high-ropes course featuring a pamper pole, a giant swing, and a catwalk—American Gladiator-style challenges for the girls, grades third through seventh, who climb up 20-foot trees, swing through the air, and belay each other on the way down.
The girls were in the midst of a long-awaited overnight campout—the culmination of their semester of Adventure Girls, a program the Laurel School has run since 2012. Here, girls are challenged to take risks, get dirty, and let loose. While this may sound like a run-of-the-mill after-school program or summer camp, there's an element that sets it apart: Adventure Girls is borne out of research on how girls can build resilience. The program aims to create stress-inducing situations and equip young girls with the tools to get through them. Girls get started young so that they'll be prepared to handle the pressures of high school, college, and life beyond.
"Trust physics," Shannon Lukz, one of the Adventure Girls leaders, called out to a girl in a harness preparing to walk across the Catwalk, a kind of balance beam positioned between two trees.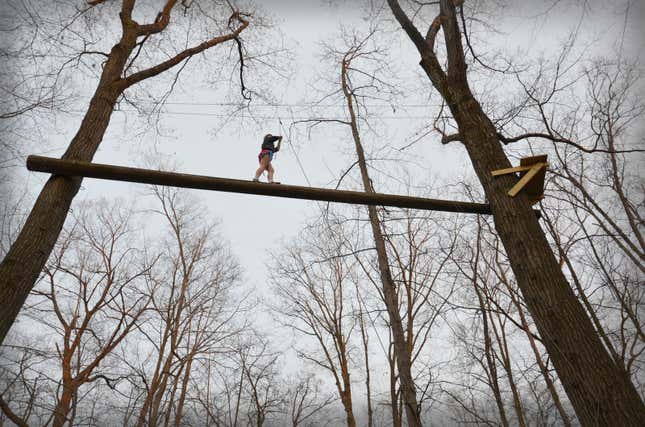 That the US has a culture of stress is probably no surprise. But the degree to which it disproportionately affects young people—particularly girls—is alarming. "This is the most academically impressive generation of girls we've ever seen," said psychologist Lisa Damour, the executive director of Laurel's Center for Research on Girls. "By every measure we have, they are excelling." Still, the world demands a lot from girls. "The expectations that they be incredibly giving of themselves, which is what we ask of girls, have persisted alongside these expectations that they will do more in high school than most of us accomplish in college."
When girls are stressed, they turn inward, which leads to higher levels of anxiety and depression. Girls from upper-middle-class families are particularly likely to feel anxiety and depression as a result of the intense pressure to succeed, according to Suniya Luthar, a professor of psychology at Arizona State University. In an interview with the American Psychological Association, Luthar explains, "If your sense of self-worth gets tied into how much you can accomplish, two things happen. One is, if you don't accomplish, you feel small, inadequate, lousy, what have you. And the other is, you live in a state of fear of not achieving."
There are some measures schools can take to help reduce the pressure girls feel. But after the death of a beloved high-school junior at Laurel in 2011 rattled the school community, Damour realized that eliminating stress from the students' lives entirely would never possible. "We could create the most magically gentle program on the planet and life is gonna happen," Damour said.
Thanks to a generous private grant the school received in 2010, Laurel had already embarked on a research initiative examining the relationship girls have with stress and how to build resilience—the ability to adapt well to adversity. Damour looked to work done in Sweden and Norway on stress and adolescent girls, and partnered with a school in Massachusetts and other psychologists. She now has a book coming out about stress and anxiety in girls next year that will be published by Ballantine, an imprint of Random House.
The research findings that Damour uncovered have been crucial for the framework that underpins Adventure Girls and the broader culture at Laurel School. This framework outlines five elements of resilience: creativity, purpose, growth-mindset, relationships, and self-care. Adventure Girls learn these tools in a variety of ways, often through more subtle cues, including the way the adults structure activities and discussions before and after.
The Adventure Girls program is year-round, and meets 12 times each semester. Girls take two to three field trips that involve adventurous activities like kayaking, climbing, or snowshoeing. The program works hard to get parents and teachers on the same page to work toward the same goal—fostering language and behaviors that teach these girls how to handle adversity.
"It's a funny word to use for a girl, but I've become very interested in durability," said Damour. "And to me, if a girl can accomplish a great deal but she's extraordinarily fragile, I don't really feel like we've done our job."
Building resilience
For girls in primary and middle school, one of the most basic stress situations has to do with their peers: Whose team am I on? Is there a friend there?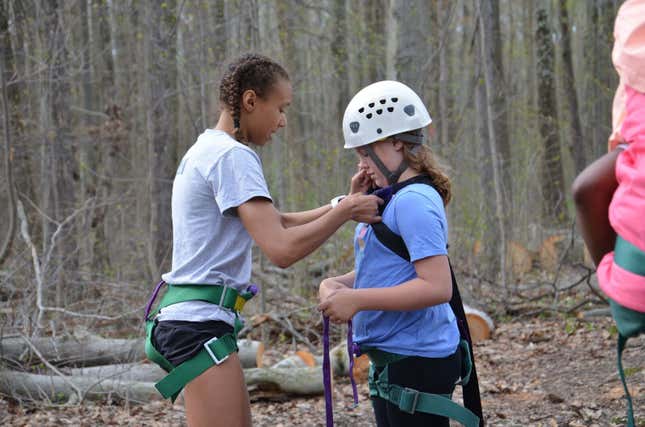 Rather than trying to smooth over anxieties like these, Adventure Girls aims to show girls that they can handle it. Lukz recounted an incident during a game of Capture the Flag when a third-grader was upset that she was on a team with older kids, separated from her classmates. In general, Lukz said, her instinct would have been to just switch a third-grader from the other team to join the girl so she wouldn't be upset. Instead, the leaders kept the teams as they were. Afterward, the third-grader felt empowered that she was able to complete the activity without her peers.
"In the past I think we would've been more likely to kind of mediate or reconstruct the teams to alleviate some of that stress," said Lukz. "Now, we really welcome it and design things in such a way that it's there, letting the girls work through it and then talking it through with them afterwards."
That's just one way that the program seeks to build resilience. Much of the work on resilience follows from Angela Duckworth and Paul Tough's work on grit—a combination of passion and perseverance that's been linked to long-term success in life. Resilience, too, is increasingly recognized as an essential component of success. As my colleague Ephrat Livni reports for Quartz, "Psychologist Anna Rowley—who counsels executives at Microsoft and other corporations—shirks the word 'happiness' altogether. She believes resilience is the most important skill to cultivate, given the rapid rate of economic and technological change."
Some of the most pertinent research on girls and stress comes from a study titled "Having it All? A Qualitative Examination of Affluent Adolescent Girls' Perceptions of Stress and Their Quests for Success," published in the Journal of Adolescent Research in 2016. The study tracked 60 American girls from sixth to twelfth grade, including students from Laurel, interviewing them along with their parents. Researchers found that from a young age, the girls displayed a "race to the top" mentality: They had internalized their parents' emphasis on achievement so much so that if they didn't feel stressed, they took that as indication that they weren't working hard enough.
"Whatever activities they were engaging in needed to serve as resume builders," the researchers write. That filter made the girls less likely to take risks and try new things. "This appeared to contribute to some reluctance on the girls' part to try new activities, such as a different sport, because there was less of a chance of achieving measurable success or take a challenging elective outside of their comfort zone because of the potential for receiving a subpar grade."
The study identified two antidotes to this kind of stress: Activities that gave girls a sense of purpose—like, say, challenging yourself to complete a ropes course—and mentoring relationships that fostered girls' personal growth.
In an effort to create such mentoring relationships, the Adventure Girls program includes high-school students at Laurel who serve as leaders for the younger girls. At the campout, there were 12 Adventure Leaders. One of them is Shea Purcell, a 9th-grader who was part of the first set of Adventure Girls when she was in the fourth grade. Of her experience seeing the younger girls navigate the challenge course, she said, "For me, I've experienced all of it, over and over again. But to see them, 'Oh my gosh, I'm up here, I can do this,' is really cool. And just to be their role model and show them and just be nice to them is fun."
This is exactly the kind of response that Damour points to as evidence of the program's enduring impact on participants. "Every kid, if she is down in the pre-primary helping little kids do things that they couldn't do before, has this unbelievably durable and consistent source of self-esteem," she said.
Adventurous girls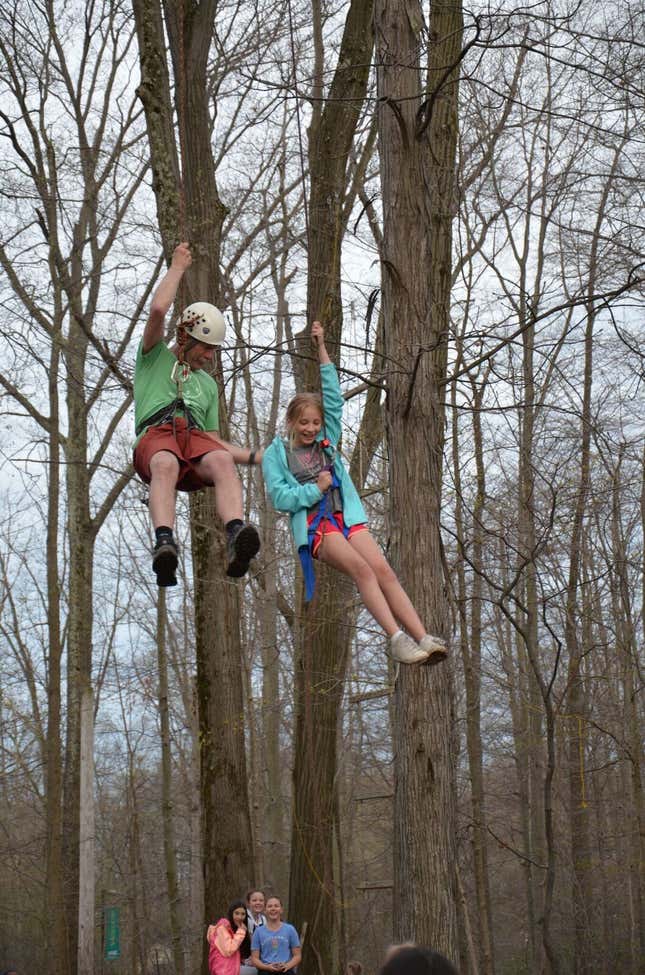 Chuck Allen, the challenge course leader and pre-primary physical education teacher at Laurel, is the beating heart of Adventure Girls. His easy smile and calm yet playful manner helps encourage dozens of primary school girls to trust him as well as themselves. He took them on a white-water rafting trip to West Virginia last summer, and partook in the catwalk at the end of the evening during the campout, to the delight of the girls.
Allen says that a big part of the program isn't just about challenging girls to get themselves through high-pressure situations—it's about teaching them to coach each other through stressful moments, too.
"We see the value now in having team support for the girls on the ground," Allen said. He cites the team effort that goes into belaying, which involves a system of ropes and clips used to secure climbers. "Now we have girls who are learning how to belay, and they're not only learning how to belay someone who is up in the trees, but they're learning how to communicate with that person extremely well about how they feel and what can they do for each other."
The most striking thing at the campout in May was how focused the girls were on the task at hand. Despite their youth, they weren't screaming or fighting or messing around while waiting in line for their turn. A girl was either belaying her peer, getting her harness adjusted for her turn, encouraging one of the girls on the ropes course, or up there herself. While there were a couple of adults at each station, the girls were really running the show.
"Will you check my work?" a student asked an adult, gesturing to the camper she had just harnessed. "You're comfortable with this, right?" an adult asked a girl, who had another student belaying her.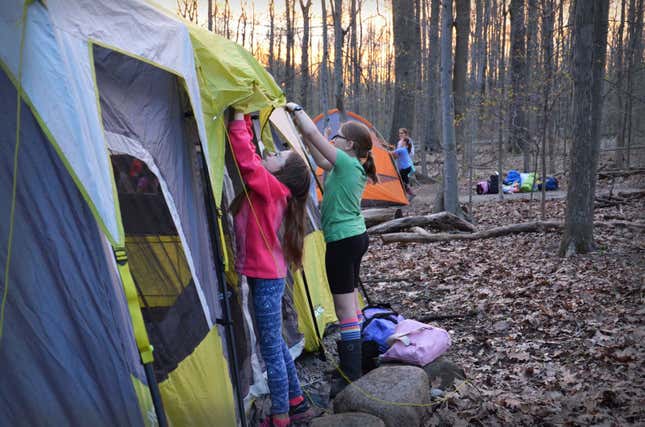 After a couple hours on the high ropes course, the girls stopped for a brief dinner of pizza, pasta, and Goldfish. After more time on the course, they were told to set up the tents for the night—which they did on their own. This was the apex of anxiety for many of the girls: Both spending the night away from their parents, and the question who would be grouped in each tent.
But the program had already prepared the girls for those fears. In pre-campout worksheets, the girls responded to the question: "What worries you the most about the campout?" Then they were instructed to come up with their own solutions: "What can you do to be resilient or conquer some of your worries? (Think about growth-mindset, self-care, relationships, creativity, purpose)." One girl wrote that she would pack in advance so she wouldn't find herself rushing the night before. Another decided that since she'd been camping before and wasn't worried about the event, she could help others who were feeling stressed.
Is it working?
It's difficult to make Laurel's program the subject of scientific study; the school can't create a control group by offering the program to one cohort and then withholding it from another, for example. So Damour mainly focuses on anecdotal feedback—from parents, teachers, and the girls themselves.
"At Thanksgiving every year, our front hall is flooded with freshman girls coming back from college who are appalled at how fragile their roommates are," said Damour, "and are taking it upon themselves to have to educate the girls in their cohort about growth mindset."
One former Laurel student wrote a blog post for Women's Media Center explaining the growth mindset and the impact Laurel has continued to have on her life after high school. She writes that the school "cultivated women who would ask more of the world around them, who would demand to be heard." Another former student created her own group for women at the University of Notre Dame, motivated, in part, by the solidarity she'd experienced at Laurel.
Laurel teachers also notice a difference among the students who've participated in the Adventure Girls. "I think a lot of the feedback from the teachers is an increase in confidence, an increase in self-care, being kind of being assertive in the sense of standing up for themselves—using their voice more in the classroom," said Lukz.
There's demand to continue expanding the program. This spring, Laurel ran an Adventure Girls pilot for 28 students in the first and second grade, and will run a semester-long program for that age group next year.
Kathryn Purcell, Shea's mother and the associate head of Laurel, said the program is just one of several ways the school tries to help shape girls who know themselves and are confident in their ability to face life's challenges. "What we want is them to find whatever their way is in grounding themselves," she said, from Adventure Girls to athletics, yoga, meditation, and mindfulness. "For me, it's important that we're offering as many avenues as possible."
Her daughter, Shea, noted that one of the most valuable things about the program is that it prompts girls to commit to taking risks. "When we were white-water rafting, there's not really a choice once you're on [the river]," she said, speaking of the Adventure Girls' trip to West Virginia the previous summer. "You just have to stay on. A helicopter is not going to come in and take you off the river. Just get into it and keep going from there."
Leaving Laurel is a lot like launching yourself into that river in West Virginia. There's no helicopter that will swoop in to rescue girls from all the stressors they'll encounter in their lives. But if Damour and the Adventure Girls have achieved their goal, the girls won't be wishing for a helicopter anyway. They'll be focused on navigating the rocks ahead.