During the 10 years she worked alongside her brother at Facebook, Randi Zuckerberg found Silicon Valley to be a lonely place for women. She was often the only woman in the room during meetings. And she's certain some of those meetings got booked simply because the strangers who answered her meeting requests presumed they'd be meeting with a man.
"The advice that I like to give young women to succeed today in tech is to have a man's name, like Randi," she said in conversation with Quartz At Work reporter Leah Fessler at an event today at Quartz's headquarters in New York. "It's funny and horrible that that's my best advice for women in tech, and unfortunately, a decade later, that's still my best advice."
For those women who'd prefer not to follow that advice, Zuckerberg suggests there is another good way to get ahead in tech: Seek out corners of the sector that are still in nascent stages of development, where gender bias has yet to fully crystalize the way it has in more established portions of the industry.
"That's actually why I've taken such an interest in new, emerging fields like blockchain, cryptocurrency, and cannabis," said Zuckerberg, who left Silicon Valley to come home to New York and today is an author, entrepreneur, business-radio host, and angel investor. "Not because I, like, 100% think any of these things are going to be the next big thing. But it is way easier for all of us to start on an even playing field in these new industries that are starting now than to struggle to play catch-up, only to then be left 10 years from now having these same conversations because we've missed the boat on these new things."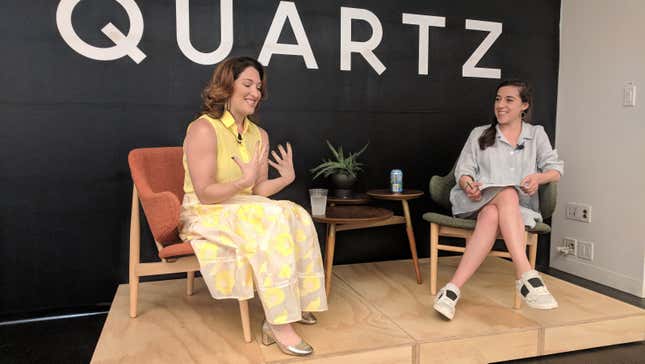 "It's important to talk about how we catch women up in tech and how we get funding," she added, "but let's not miss the new boats that are setting out from the harbor, because that's an opportunity for everybody to get in on day one." And this gives women a better chance to bring about genuine inclusion. 
Amber Baldet, who ran the blockchain team at JPMorgan Chase before starting her own blockchain company, voiced a similar hope in an April interview with MIT Tech Review. Women in crypto, Baldet said, are "fiercely determined to see it be different this time." So they're taking steps to level the playing field—such as establishing scholarships for women and creating women's networking forums—before it has time to tilt too far in an unfavorable direction.