On Monday (July 23), the staff at the New York Daily News received an email from "talent engagement" personnel at Tronc, the awkwardly named media company that bought the New York City tabloid last fall. In it, Tronc informed the paper's employees that it was "fundamentally restructuring" the 99-year-old newspaper. By the end of the day, half the editorial staff had been laid off.
The departing employees included editor-in-chief Jim Rich, managing editor Kristen Lee, and, according to reports, the paper's entire social media team.
But as news broke of the team's departure, the paper's Twitter feed took on a life of its own. In between prescheduled tweets linking to Daily News stories was a gif of a Pulp Fiction-era John Travolta looking lost: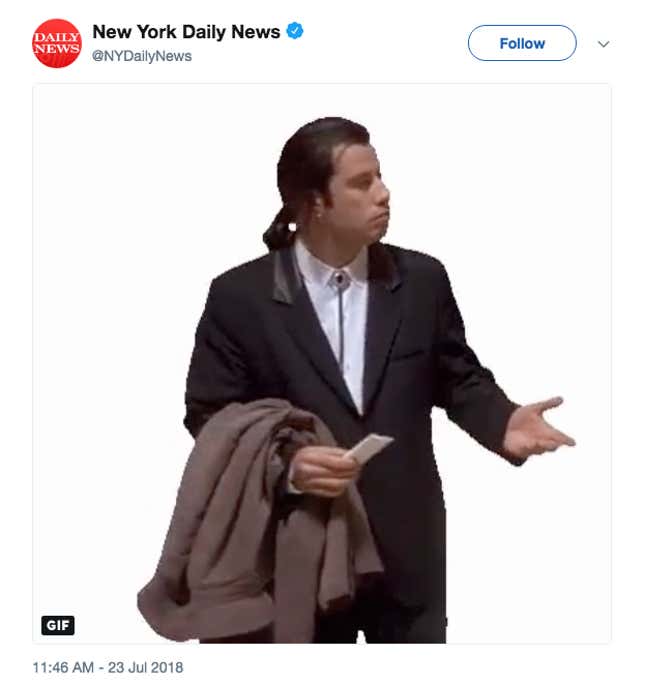 Charlton Heston screaming "It's a mad house!" in Planet of the Apes: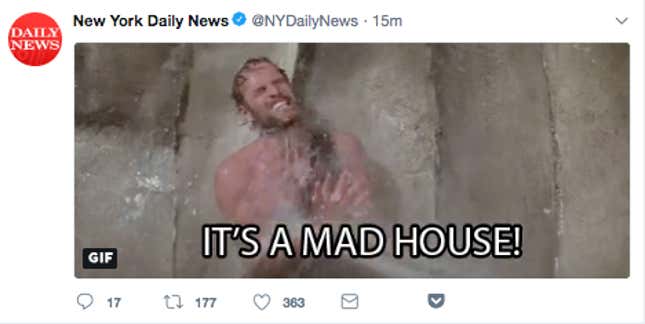 And a cheeky reminder of how to reset passwords on Twitter.
All the gems have since been deleted. Regaining control of the account, though, isn't as simple as resetting the password. A corporate social-media presence is a sprawling digital beast fueled by multiple plug-ins and automation services, all of which need to be reset or switched to different managing accounts when there's a staffing change. Any social media professional can tell you that—unless you fire them all first.
The Daily News cuts are a loss for local journalism, as well as for the individuals now out of work. New York City mayor Bill DeBlasio and New York governor Andrew Cuomo have both urged Tronc to reconsider the layoffs.
Indeed, the social media chaos following the announcement underscores the hazard of making cuts to an organization without fully understanding how it works. It's impossible to make smart, responsible decisions about resource deployment if you don't actually know what it takes to do a job correctly.
Understaffing—or in Tronc's case, eliminating—a crucial role can hobble an organization.  The Travolta and Heston gifs are entirely a self-inflicted injury.