Subscribe to the Quartz Obsession newsletter for this daily digression into the most fascinating corners of the global economy.
Office chairs are under siege—and it's not entirely a bad thing.
As more mobile workers are unshackling from their desks, almost any moderately comfortable perch qualifies as office seating today.
But technically speaking, office chairs belong to a special furniture category: They typically have wheels, lumbar support, and a load-bearing gas-lift leg—all designed to give workers the healthiest, most comfortable seat possible. To counteract the notorious pitfalls of sitting, industrial designers have been coming up with ergonomic solutions for decades, resulting in the dizzying array of styles and options.
From ancient Egyptian artisans to Charles Darwin, who created the first modern office chair—yes, really—figuring out a better way to get stuff done while seated has been an age-old human obsession. Where will our deepening understanding of human physiology and psychology take the office chair next?
🎧 For more intel on the modern office, listen to the Quartz Obsession podcast episode on office chairs.
By the digits
83%: Rise of sedentary jobs in the US since 1950
473: Calories a reporter burned in five days of "deskcercising" using an under-the-table cycling equipment
$84 billion: Projected value of the global office furniture market by 2021
$1,570: Price of Batman's ultra-high-tech Anthro 904BK Flexible Highback task chair, featured in Batman v Superman
$5,000: Starting bid for Dr. Evil's motorized executive chair from Austin Powers: The Spy Who Shagged Me. In International Man of Mystery, the scene-stealing villain also sits on a swiveling version of the Hans Wegner-designed Ox chair which retails for upwards of $10,000.
£38,000 ($49,600): Price of Elysium-R, the world's most expensive executive chair
$8,089: Taxpayer dollars spent on a fancy office chair by an West Virginia judge
12,000: Estimated number of seats at Apple's new headquarters. Jony Ive personally selected the Vitra Pacific task chair designed for its minimalist profile.
250 lbs: Maximum weight an average office chair can support. "Big and tall" models can accommodate weights of up to 800 lbs.
54%: Proportion of American workers who want a better ergonomic office chair
$2.2 million: Amount a Florida jury awarded a man whose office chair collapsed under him in 2003
86%: Proportion of discarded office chairs in the UK that end up destroyed for materials or dumped in landfills each year
Vocab lesson
Sitzfleisch (ZITS–flysh): "Chair glue." The German word for the ability to sit through something boring or complex for a considerable amount of time.
Freudian seat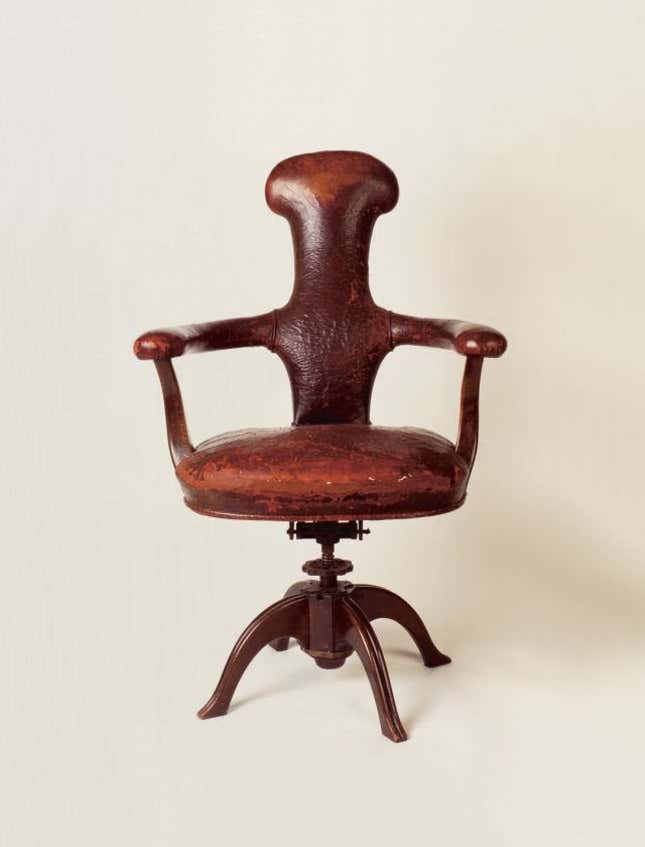 Sigmund Freud's office chair was designed to accommodate his strange reading posture. Noted in the nifty compendium Chair: 500 Designs that Matter, the father of psychoanalysis read with his "legs draped over one arm of his desk chair, his book held high and his neck unsupported." Freud's daughter Mathilde commissioned designers Felix Augenfeld and Karl Hofmann to create a padded armchair whose armrests could double as a backrest. Freud treasured the one-of-a-kind piece so much that he schlepped it across the UK border when he escaped from the Nazis in 1938. It's now displayed at the Freud Museum.
Brief history
1900 BC: Drawings and sculptures of forward-tilted stools dating back to the 12th Dynasty are discovered in Egypt. Scholars say the slight angle adjustment helped artisans perform their work.
1840s: Charles Darwin hacks a William IV-style armchair. The father of evolution pimped his office chair with cast-iron bed legs on casters so he could roll around in his lab with greater ease. Historians say Darwin's makeshift marvel is the first office chair on wheels.
1851: The Centripetal Spring Armchair—one of the first adjustable office chairs—is a hit at the World Fair. The upholstered chair with an elaborate skirt to hide the under-seat springs was so comfortable, it was deemed immoral. In the Victorian era, sitting on an uncomfortable chair was a sign of virtue, refinement, and willpower.
1904: Frank Lloyd Wright designs a beautiful but unstable office chair for typists. Secretaries soon dubbed the three-legged Larkin Building chair as the "suicide chair" because of its tendency to tip over easily. Wright defended its flawed engineering using the same old Victorian virtue excuse. (See above.)
1925: The healthy office chair craze is born. Designed by a former US Army soldier, the Do/More posture chair posits to raise productivity and improve the sitter's health, promising to "prevent hemorrhoids, kidney trouble, constipation, and a whole host of other problems caused by slouching in competitors' chairs," as the Daily Herald notes.
1954: Charles and Ray Eames's Pivot Armchair Cast Base on Castors (or "PACC" for short) debuts. The molded fiberglass and plastic chair brings color to drab offices.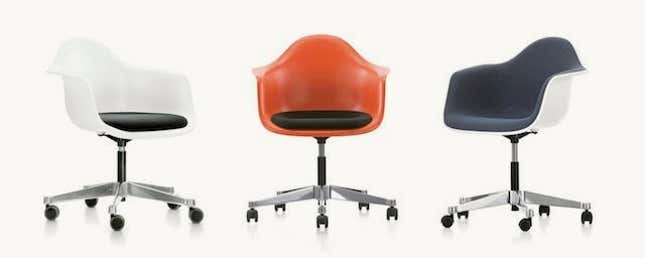 1976: Designers make ergonomics sexy. Emilio Ambasz and Giancarlo Piretti's "Vertebra chair" aspired to mould with the occupant's body "as to become virtually invisible and undetectable."
1994: Herman Miller introduces the Aeron, a radical upgrade that became an emblem of the late 1990s tech boom and a benchmark for today's office chairs. Using insights from a never-produced chair for the elderly, designers Don Chadwick and Bill Stumpf presented a gadgety and fully-adjustable alternative to padded units that came before it. It was a critical and commercial success—chosen for the Museum of Modern Art's permanent collection a month before its public debut in Cologne, Germany.
2007: Donald Trump puts his name on a collection of wood and pleather office chairs for Staples.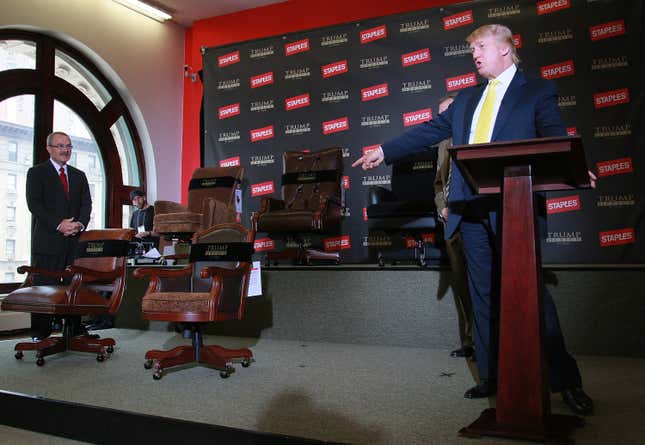 2013: Neutral Posture introduces the "Guardian Chair," an ergonomic computer chair kitted with a bulletproof Kevlar vest to protect students from gunshots. The manufacturer expedited the launch of the $1,900 units after the Sandy Hook Elementary School shooting.
2018: With extraordinary fanfare, furniture giant Steelcase unveils SILQ, an ultra-sleek office chair model designed to instantly adapt to a sitter's body movements without fiddling with knobs and levers—an attempt to unseat the Aeron.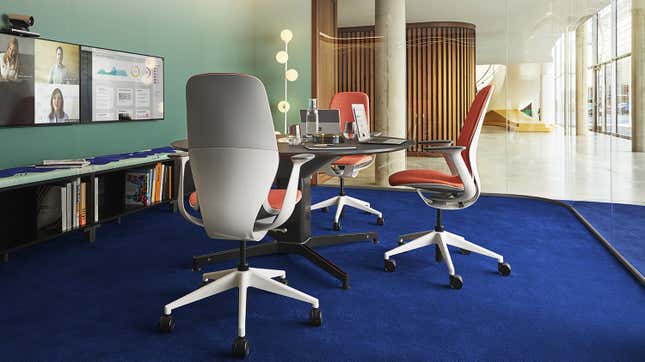 2019: Next year, IKEA plans to release Ubik, a personalized ergonomic chair designed for world's most extreme sitters. Marketed to gamers who spend up to 20 hours (!) in front of a computer for days on end, Ubik promises to relieve back aches and cramps via a custom-insert fashioned from a 3D scan of the sitters' buttocks.
Watch this
Responding to Connie Chung's challenge during a 1994 interview, Microsoft's surprisingly agile founder leapt over his office chair in a single bound.
The case for leaning in
Chair settings are tweaked according to cultural norms, according to industrial designer Martin Potrykus of Berlin-based ITO Design. For example, knowing that most Americans like to lean back, office chairs in the US are delivered pre-reclined. In contrast, Japanese workers tend to only occupy the only front of the seat.
The rise and fall of boss chairs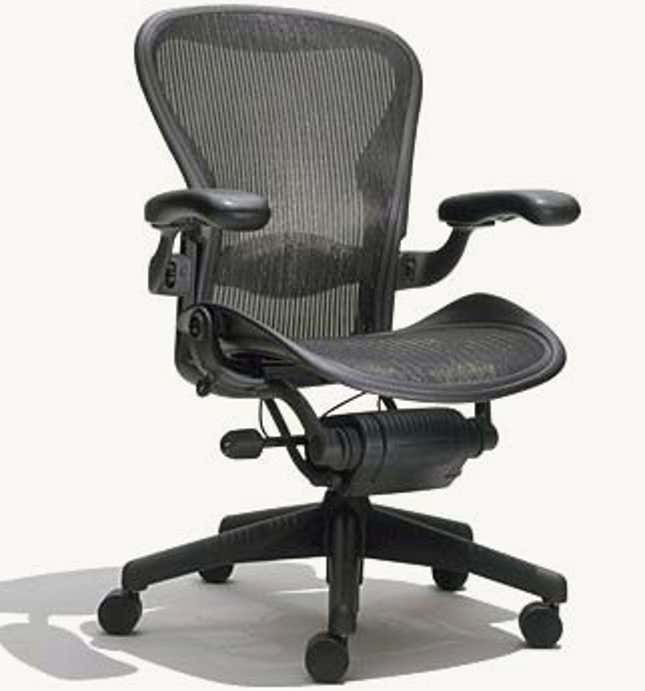 Much has been said about the Aeron's ergonomic comfort, but few know about its seminal role in democratizing the look of offices. Until the 1990s, office chairs communicated hierarchy: Costlier, high-back styles were reserved for executives, chairs with arm rests went to mid-level management, and no-frills seating was for secretarial staff and admin personnel. The Aeron was a "rejection of the traditional corporate chair hierarchy," as architecture professor Witold Rybczynski explains in his book, Now I Sit Me Down: From Klismos to Plastic Chair: A Natural History.
Fun fact
In 2016, Japanese car company Nissan teased obsessive managers with an "intelligent self-parking chair" system that promises to keep open-plan offices looking neat. The motorized Okamura chair was rigged to "automagically" tuck itself under the owners' desks with a single clap. (The whole thing was a marketing gimmick for the company's self-parking cars.)
Quotable
"Sitting is to be thought of a compromise position since man in his natural habitat functions best when he is either erect and moving or supine and resting… Many of our ailments are by-products of sitting."— American industrial designer and ergonomics pioneer Niels Diffrient
Pop quiz
Which of these famous writers worked sitting down?
Charles Dickens
Ernest Hemingway
Mark Twain
Virginia Woolf
The future of sitting
After spending years analyzing and testing hundreds of office chairs for his 2011 book, A Taxonomy of Office Chairs, Jonathan Olivares says he's ready to do without them. Instead of ergonomic models, the celebrated Los Angeles-based industrial designer uses a stool without a backrest as his office chair. "It's very comfortable for two hours of work, which is all I ever do in one sitting," Olivares says, referring to the Mezzadro seat designed by Italian modernism pioneer Achille Castiglioni.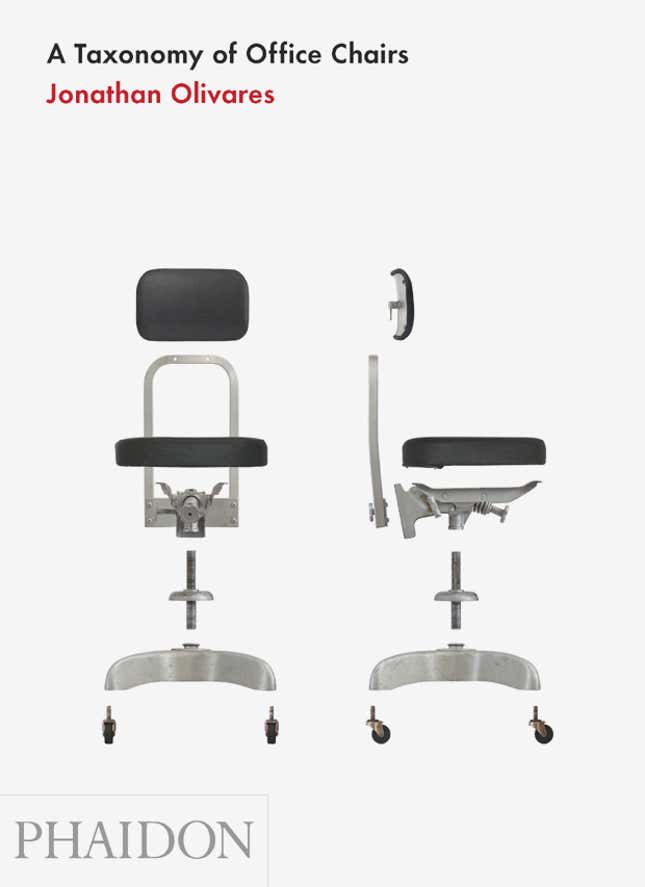 "I'm most excited about the trend when we don't use office chairs anymore," Olivares says. "There's a whole other series of workspaces popping up that don't really rely on the office chair. Sofas are much more important; lounge chairs are interesting," he tells Quartz (while perched on a poolside recliner).
Big furniture makers may have an answer for Olivares's lament. Last month, Steelcase, in tandem with US home furniture retailer West Elm, unveiled a new office furniture collection that very much looks like living room furniture. In the spirit of French designers Ronan and Erwan Bouroullec's experimentation with non-corporate office furniture, the collection aspires to bring a "residential sensibility to the modern office space."
The correct answer to the quiz is Mark Twain. Charles Dickens, Virginia Woolf, Ernest Hemingway and many others—penned their masterpieces standing up.