How much money does it cost to advance your career? It depends on where you spend it.
Fiverr, the online marketplace for freelancers, released a new product this week called Learn. The new platform offers online courses for freelancers like how to run an ad campaign on Instagram or how to use Adobe Photoshop. The courses are reasonably priced (around $30 each) and are taught by working professionals.
On the surface, this product seems like a win-win: Fiverr gets a new revenue stream that's independent of the small cuts it takes from matching businesses with freelance talent, and the freelancers get practical skills they can use. If freelancers (Fiverr calls them "sellers") complete one of Fiverr's certified courses, they also get a spiffy "badge" on their Fiverr profiles. "Show off your expertise with badges earned for every course you take," the website states.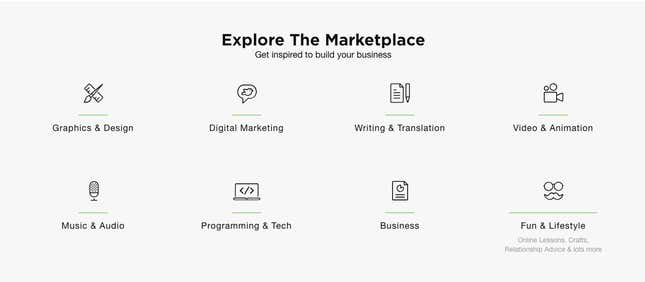 Learn is similar to several online course products that have launched in the last decade in that it encourages professionals to "upskill" themselves to advance their careers. But there's one big difference between taking an online course on Fiverr and taking one on another e-learning platform like Udacity or Khan Academy: Fiverr also helps freelancers get work. Like many gig economy platforms, it considers itself a marketplace. 
By rewarding sellers with badges and visibility for taking its classes, the company is incentivizing freelancers to spend money to make money. This isn't a new situation for freelancers: There are whole meta economies for people that coach freelancers on how to succeed on platforms like Fiverr and Upwork. As a freelancer, investing in yourself is investing in your business. But when a company rewards you for taking its courses, it's a slippery slope to having to pay to be seen.
The idea that tech marketplaces are run by free market forces has always been deceptive. Technically Amazon offers a marketplace where anyone can apply to sell their wares, but Amazon is slowly crowding out third-party sellers in favor of its Amazon-made products. Uber lets drivers compete in the marketplace for rides, though the company has complete control over setting their fares. Facebook, which once encouraged businesses to grow the followings of their pages, now all but requires them to put money behind their content in order to reach their own "fans." At the end of the day, platforms determine the rules of engagement—and workers have little power to push back.
As e-learning proliferates, it makes sense to develop an accreditation system for courses that potential employers can trust. Quartz spoke to one Fiverr instructor who was "thoroughly impressed" by the company's rigorous vetting of his curriculum. The price of Fiverr's courses are very reasonable compared to its competitors, and the company also offers a number of free resources for its sellers. A Fiverr spokesperson said that algorithms take into account many factors beyond how many badges a freelancer has earned, and the company occasionally spotlights freelancers who are just getting started on the platform.
"Upskilling is a big part of building a career as a freelancer, and it can often be a key in sustaining that career," says Fiverr's global head of community, Brent Messenger. "Learn is aimed directly at not only improving the skill sets of freelancers, but making sure those skill sets are geared to produce income."
But when the completion of paid courses influences a freelancer's ranking in the marketplace, it favors those who can afford to pay.