There are 30 strangers currently living together in Bali. There are another 30 in Mexico City, and 30 more in Buenos Aires. None of them are locals. None of them are on vacation. And this isn't an episode of the Real World.
They're all part of a co-working retreat, a new phenomenon where professionals try working from a different country for a month alongside an eclectic group of other internationals. Some are digital nomads, able to clock hours from anywhere with an internet connection. Others are on creative sabbaticals paid for by their companies, or between jobs and looking for inspiration for their next jump. The one thing they all have in common is they're there to work.
Unsettled, the three-year-old startup that organized the programs in Bali, Mexico, and Argentina, puts on a couple dozen co-working retreats around the world every year. Step off the plane, and the company will provide transport from the airport, a local sim card, a membership to a local co-working space, a few communal meals, and a house full of 30 people looking to have transformational experience just like you. Unsettled describes the accommodations as "comfortable," not luxury, and the internet service as "battle-tested." Participants are given the option to stay for two weeks or a full month.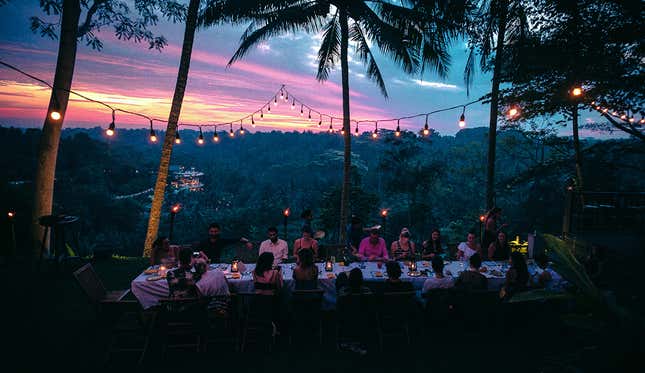 Alongside other companies like Remote Year and Terminal 3, Unsettled is carving out a new category of work-tourism where people are paying a few thousand dollars for a co-working experience abroad. An upcoming Unsettled retreat in Marrakech is priced at $1,750 to $2,500 for two weeks depending on the rooming options selected; a month in Medellin ranges from $2,200 to $2,500.
Unsettled co-founder Jonathan Kalan believes a break in routines—even if temporary—can help workers explore the possibilities of life outside the confines of their offices and nine-to-fives. Taking a month to work remotely from a beautiful place should be an easy sell to workers, but Kalan envisions a future where companies will pay to let their employees go on co-working retreats as an antidote to burnout and churn.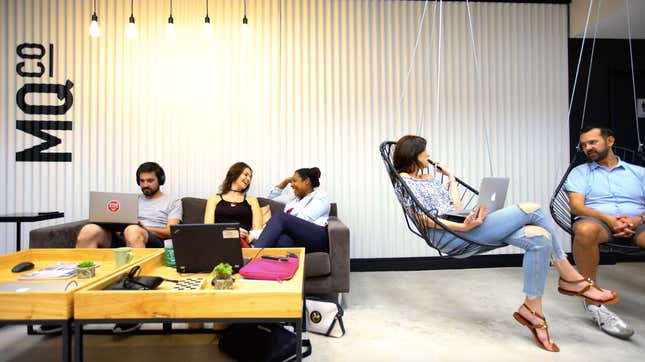 We often romanticize the virtues of working online, but as technology increasingly replaces face-to-face interactions, workplace loneliness is on the rise. More than access to a fast wifi connection and recommendations for good local restaurants, Kalan believes the unique value of an experience like an Unsettled retreat is the community of other workers.
It seems having other participants on the retreat from a number of different countries and industries can be as informative as the destinations themselves. Though co-working spaces like WeWork extoll the virtues of rubbing shoulders with other creative professionals all day long, in practice, co-working spaces often are a series of workstations from which worker drones can pull in and out, without much community or collaboration in the process.
Unsettled, on the other hand, provides the scaffolding you might expect from a study-abroad program in college. The company curates the group and supplies some recommendations for places to go and things to do, but ultimately leaves it up to the attendees to decide how to spend their time.
Especially in a remote-work experiment that only lasts a few weeks, not having to worry about the lion's share of logistics seems like a luxury worth paying for. "Sure you can do it on your own," says Kalan, "but it's often two-thirds the cost and five times the work."