Gloria Steinem is one of the most legendary social-justice organizers and writers in American history. Having fought at the forefront of the women's movement since the 1960s, Steinem, now 84, has hardly slowed down. She's been an advocate for the #MeToo and #TimesUp movements, and this month, her life's work became the subject of an off-Broadway play.
Written by Tony Award-nominee Emily Mann and directed by Tony Award-winner Diane Paulus, Gloria: A Life is a vulnerable, first-person account of Steinem's evolution as a feminist, her battle to be taken seriously as a journalist, her relationship with her mentally-ill mother, and her history-altering alliances with black feminist leaders who showed her the connection between gender equality and civil rights and the need for intersectional feminism.
Yesterday (Nov. 17), Steinem herself attended an invitation-only performance of the play in New York City and led a "talking circle" afterward, in which audience members were encouraged to offer any thoughts, feelings, or questions.
Well-versed in feminist discourse and the difficult feelings it often evokes, the show's organizers prefaced the talking circle with special guidelines. "Gloria says these are the best conversation guidelines she's ever known," one of the organizers said. "They were written by the three young black feminists who started the movement #BlackLivesMatter." These three women are activists Alicia Garza, Patrisse Cullors, and Opal Tometi.
The guidelines, projected on the wall in the theater, consist of four simple ideas:
Lead with love
Low ego
High impact
Move at the speed of trust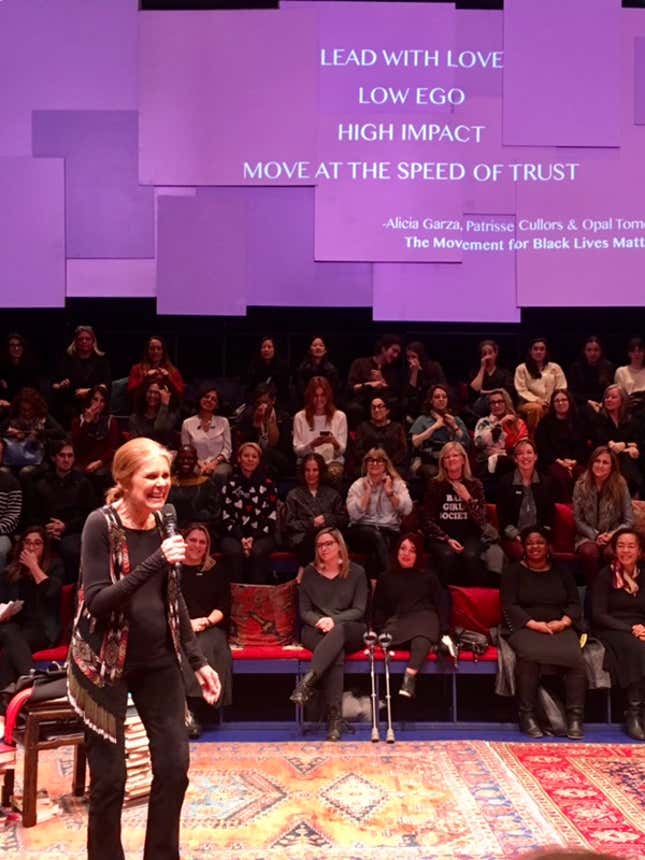 Yesterday wasn't the first time Steinem has elevated the profiles of Garza, Cullors, Tometi, and their organizing principles. Greater recognition for the women and their ideas were on her 2015 list of the things she wanted for Christmas.
The impact of the guidelines is evident in the impact of Black Lives Matter. As Garza recently noted at the Lesbians Who Tech conference in New York City, "today, Black Lives Matter is a hashtag, it's an organization with over 40 chapters in four countries, and it is the civil rights movement of our generation."
The underlying power of the guidelines, for global organizers or any human having a difficult conversation with someone, is that progress depends on people of all backgrounds prioritizing compassion for others above personal differences, while recognizing that justice is never served by one person, or by small, exclusive groups. More important than high-visibility, power-centric leaders are everyday people uniting behind shared ideas and solutions. When this happens at scale, culture shifts.
The emphasis on unity does not dissolve the importance of each person's background—that's where "move at the speed of trust" comes in. Trust is the foundation of every healthy relationship, which is why, within any social movement, each individual must be listened to, and their experiences validated. Productive, fulfilling discourse demands we move as slowly as necessary to ensure each participant feels safe enough and trusting enough to engage in the dialogue.