Infosys has been operating in the US for more than 30 years—the Indian technology giant's first international office opened in Boston in 1987. But its presence as an American employer is just beginning to be felt.
For years, the consulting company, like many of its Indian IT brethren including Wipro and Tata Consultancy Services, relied heavily on H-1B visas to bring engineers trained in India to the US, where they often commanded lower salaries than their American peers. Infosys had no more than a few thousand American employees in most of that time.
But in May 2017, Infosys said it would hire 10,000 US technology workers within about two years' time. It had several good reasons to do so, ranging from the threats the Trump administration had made about clamping down on the H-1B visa program, and its criticism of outsourcing generally, to the ever-expanding technology needs of clients, particularly in North America, which accounts for more than 60% of the company's annual revenue.
Infosys is making good on its employment promise, albeit perhaps a bit behind schedule. It has hired 7,600 US workers so far, with several thousand more hires planned for 2019.
Much of the US hiring is happening at six technology and innovation "hubs" that Infosys is opening around the country, starting with one that opened in Indianapolis in March 2018 (the plans for it were it announced not long after former Indiana governor Mike Pence was sworn in as Donald Trump's vice president). Additional hubs have since arrived in or been slated for Hartford, Connecticut; Phoenix, Arizona; Providence, Rhode Island; Raleigh, North Carolina; and Richardson, Texas. Each hub is geared toward clients in the region and to the local talent base. The hub in Richardson, for example, will focus on sectors including telecommunications and retail, both industries with deep ties in nearby Dallas.
At the Providence hub, which had its ribbon-cutting ceremony on Feb. 12, the focus is on digital innovation and design. It's a fitting emphasis, given the company's partnership with the Rhode Island School of Design (RISD), which is helping to train designers for jobs with Infosys. The setting is fitting, too. Infosys took a two-story space inside a 1934 Georgian-Revival building, designed by famed industrial architect Albert Kahn (it formerly housed the press room of the Providence Journal newspaper), and outfitted it with all the prerequisites of a modern workspace, from the open floor plan and multiple coffee bars to tech-themed art like the "cloud" sculptures hung from the ceiling.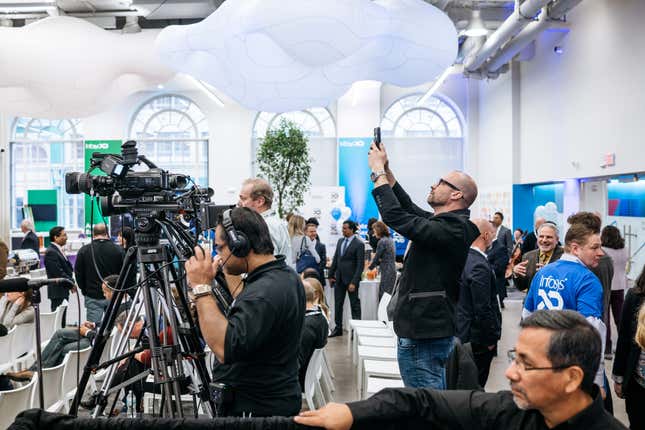 The center of the new workspace, cleared out for seating at the opening event, will be used as a lab, dedicated to one client at a time, where teams of Infosys designers, technologists, consultants, and digital strategists will conduct a "systems-level investigation" of a problem or need, Keith Venkiteswaran, a senior digital strategist and innovation lab principal at Infosys, tells Quartz. The collaborative projects, which might last anywhere from several weeks to eight months, will start by questioning the assumptions held by clients or their customers. "Maybe they aren't true anymore, or maybe they were never true," says Venkiteswaran, who also teaches design innovation at The New School in New York. "The power of design is creating form. But the other power of design is thinking through the systems in the first place."
The rest of the main floor is dotted with stations displaying different aspects of Infosys' work, ranging from applications of artificial intelligence in banking to the digitization of physical models of industrial equipment.
The opportunity to create showcase workspaces is one reason to locate employees closer to where the customers are. Infosys is also finding that clients' needs are getting more complex as more elements of their businesses get digitized. Infosys CEO Salil Parekh, who came to Providence for the hub opening, said in an interview that the 225,000-strong company, which still has the vast majority of its employees in India, also has been focused on local hiring in Australia, Germany, and the UK. It's also doing so on a smaller scale in Singapore, and may do more local hiring in Switzerland, he added.
In Rhode Island, Infosys expects to create 500 jobs by 2022 and has already made 100 hires. One of them, Amber Czesnolowicz, an experience designer who took a job with Infosys after graduating from RISD last year, says that while school taught her the fundamentals of art and visual design, her Infosys training has taught her "how people react to design."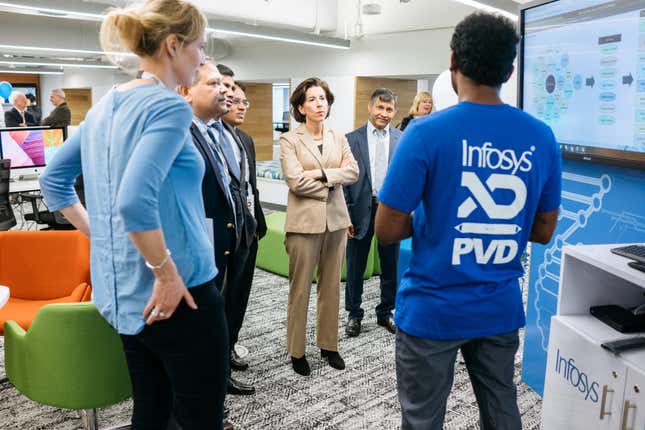 Along with the hubs, Infosys has been working with universities (usually based nearby) to help train students and the company's new hires. It has partnerships with Purdue University in Indiana, with Trinity College in Connecticut, and with North Carolina State University in North Carolina.
A unique feature of the Providence hub is that—beyond the RISD partnership—Infosys has formed ties with a community college, which Infosys president Ravi Kumar describes as "an experiment which can be taken to a national scale." More than 40% of US students at public colleges are enrolled at two-year community colleges. These students have relatively low graduation rates; many work full- or part-time and most attend school part-time. But Kumar says community college students are highly trainable for jobs in technology and are often shown to be exceptionally loyal to employers that offer them good-paying roles.
Community College of Rhode Island (CCRI), the largest community college in New England, is working with the new Infosys hub to create a "Digital Economy Aspirations Lab," or DEAL for short. Meghan Hughes, CCRI's president, says the first batch of 15 to 20 students who will be trained and potentially hired as a result of the program "will get exactly what we want for all students: exciting learning and market-relevant skills … and access to professional networks and mentoring" that can tip the scales toward career success.
As for the company? "I think Infosys gets a shot at a lower churn rate, as long as Infosys continues to invest" in their new hires, Hughes says.