We're living in a time of significant change—some of it devastating, some of it long overdue. The impacts of the global pandemic and our current reckoning with systemic racism will be felt for decades. People have united to demand justice, safety, dignity, economic security, and a complete reimagining of the institutions and practices that shape our lives. It's no wonder employees are challenging employers to take concrete action, accelerating revolution from the bottom up. 
Every leader knows adapting to new circumstances is part of the job, but now, it's more important than ever to understand what that means in practice. Leaders who identify and communicate their brands' authentic purpose will forge the connection employees crave, and guide business innovation and reinvention. Those who don't will be paralyzed or hesitant, and ultimately, left behind.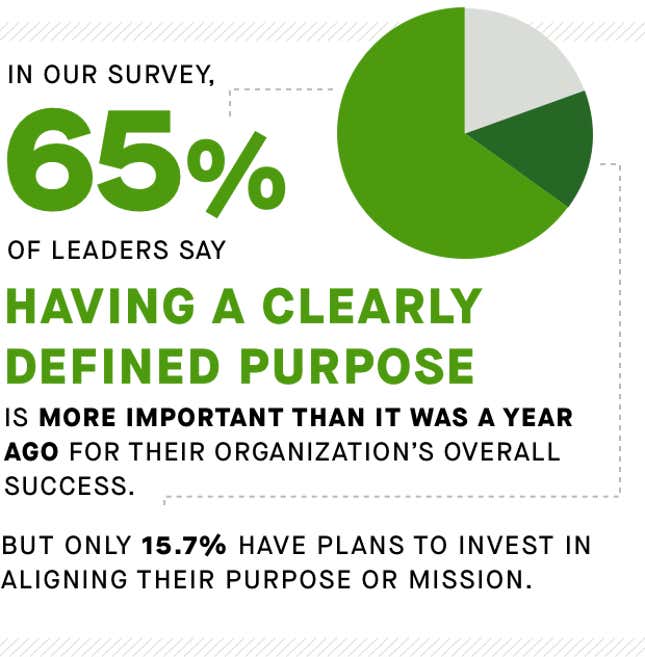 So, where do you start? We recommend taking time to revisit and re-imagine the foundations of your employee engagement strategy, because the clearest way to live your purpose is through collaboration and a strong connection with employees. Here's how to make it happen:
Align purpose, vision, and strategy
In a WE Communications survey of business leaders with Quartz Insights, 80% of respondents agree that the economy looms as the largest threat to purpose leadership. It's in these times of crisis that purpose must be tightly aligned with business objectives, company culture, and employees' passions. If it doesn't, team morale and motivation will suffer. 
Periods of crisis, however, leave business leaders equally concerned that employees will become disillusioned with the company's purpose. And only half say employee engagement programs are meeting employee needs and creating dialogue for them to voice concerns safely. 
This is the time to speak directly with team members to understand how—or if—your purpose resonates with your teams. But don't stop there. Regularly follow-up on your commitment to align employee passion with business strategy. And, more importantly, follow through with your actions. 
Further Reading
Lead with empathy
The pandemic has touched every corner of the globe, and this has only increased the imperative for many countries—including the US—to look racism and inequality in the face. Yet the impact of these events has not been distributed equally, as each employee is affected differently by their situation and lived experience. This makes it even more important to recognize that the first step in effective communication is engaged listening. 
Using a range of forums to solicit and hear your employees' concerns, feedback, and insights will help you understand what they're experiencing before launching into problem-solving mode. Listening will also help you support the next generation of leadership: Our survey showed that the top two factors to enable new leaders is having a clear mission and creating an open dialogue. 
Sometimes the biggest obstacle to leadership is not knowing the right questions to ask. Begin a deliberate and consistent program to open channels of communication and invite input so employees can start conversations with you. By leading with authenticity and empathy, you'll be more attuned to the heartbeat of your brand, and your business will have a more committed, engaged workforce. In fact, a recurring theme in our survey interviews was the idea that effective leadership involves consensus-building between stakeholders—not a single-minded pursuit of one course of action.
Further Reading
Collaborate, connect, and co-create
History—and months of isolation—have taught us that personal connection is transformative, whether it's a hug from a friend or the energy of marching in the streets. Before the coronavirus outbreak, the demand for remote work and flexibility was on the rise. When the pandemic made remote work the norm overnight for some, companies of all sizes discovered new ways of collaborating while staying physically separated. Beyond the day-to-day of business, many people forged stronger personal bonds with their colleagues by seeing each others' homes, kids, and pets in video conferences, or by talking through shared anxieties over email.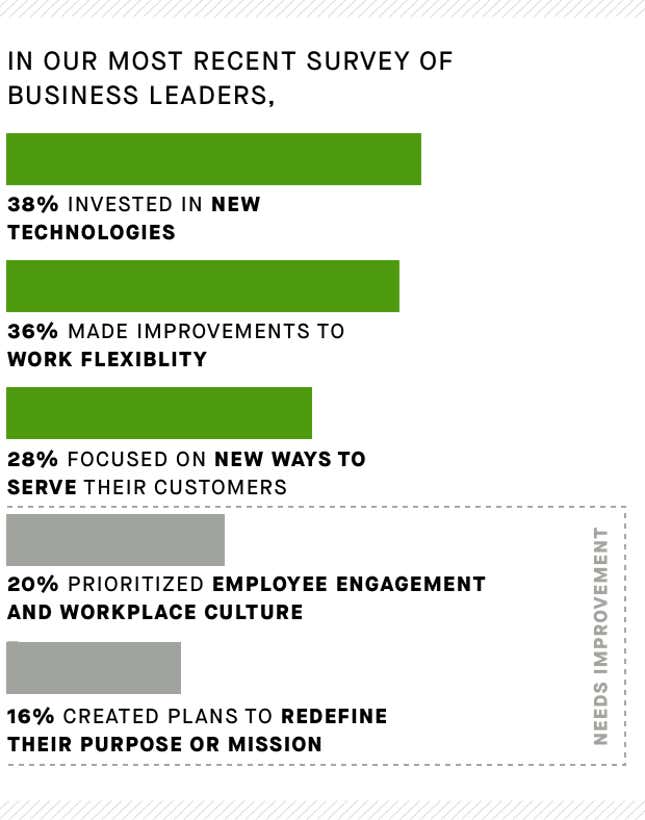 Cultivate these emerging connections as a new path to inclusive engagement. Business leaders can encourage connection by providing opportunities to collaborate across teams, maintaining transparency throughout the organization, and empowering people at every level to drive change. After all, the power of purpose isn't limited to the C-suite—54% of those we surveyed believe that collective purpose can start anywhere.
Further Reading
Activate new leaders
More often than not, the only lasting impact of unilateral leadership is employee frustration. In fact, 62% of our survey's respondents said that the most effective purpose leaders are those who listen and embolden others to drive positive change. And that role is no longer reserved for a few top leaders alone.
Activating potential within your own ranks means tossing outdated ideas about what a leader looks like. Remember, inclusivity isn't something you feel—it's something you do. That means investing in Black, indigenous, people of color (BIPOC), and others excluded from the usual hierarchy. Seek out those whose passions will inspire them as leaders, and make sure they have the tools and resources they need to flourish on their own terms.
Eventually, this activation can expand to include customers, shareholders, communities, and advocacy groups—multiplying your impact and deepening the investment of your employees even further.
Further Reading
Cultivate clarity in the face of the unknown
There's more than enough uncertainty to go around. Employees and their managers are faced with heightened concerns around job security, safety, emotional well-being, and their all-around ability to perform well. Revisit and expand the ways you're listening to employees to understand their unique fears and needs. Use your business purpose as a navigation tool to maintain regular, values-driven communications to establish clarity, while providing employees ownership in outcomes. This will help dissipate fears of the unknown, and encourage them to make a difference at work—and in the world. 
Removing the fear of failure is especially important as workplace norms and economic conditions continue to change. The pandemic challenged businesses of all kinds to adapt to meet immediate and long-term needs, and we know there's more evolution ahead. You want a team empowered to think boldly and act swiftly so that they aren't just responding to these shifts, but getting ahead of them.
Further Reading
Want to learn more about leading with purpose? Read the report.