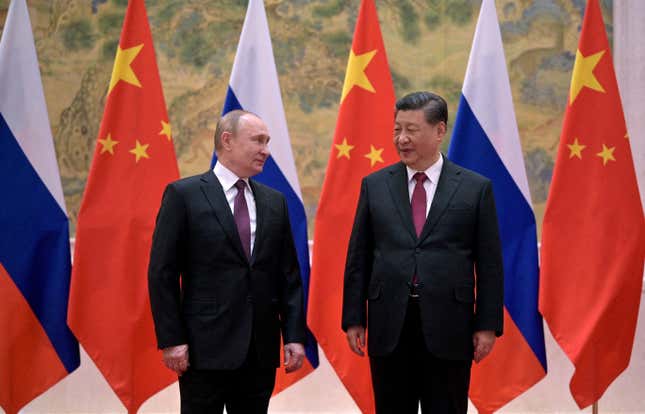 The war in Ukraine is likely to dominate upcoming talks between Chinese president Xi Jinping and Russian president Vladimir Putin next week in Moscow. Scheduled to run from Monday to Wednesday (March 20 to March 22), it marks the Chinese leader's first foray abroad since he won an unprecedented third term as president.

Should you keep investing in Big Tech?
Xi, who according to the Wall Street Journal is planning to call Ukrainian president Volodymyr Zelenskyy after the trip, is likely to maintain his role as a neutral peace broker during the three days of talks. Success on that front remains to be seen.
Progress on the economic front, however, may prove more fruitful. Cooperation on trade is likely to be a major topic of conversation, being a key part of Xi and Putin's "no limits" partnership that they sealed last February, weeks before Russia invaded Ukraine.
Western sanctions on Russia, including an oil embargo and price cap, have forced the Kremlin to seek trade opportunities elsewhere. China has stepped in, purchasing $50.6 billion worth of crude oil from Russia from March to December of last year, amounting to a 45% increase compared to a year earlier. China's purchase of Russian coal and natural gas last year also surged 54% and 155%, respectively.
What are the main goods traded between China and Russia? 
Russia and China's economic ties, by the digits
$190 billion: The record volume of bilateral trade between Russia and China that was reached in 2022, according to China's customs authority
38%: Market share of Chinese car brands in Russia in November 2022, compared to just under 10% in January 2022, according to analysis by Russian firm Autostat
$200 billion: Trade volume Russia aims to reach this year with China
19.8%: Surge in trade between Russia and China in January and February of this year, amounting to $15 billion
Quotable
"Russia and China are reaching new levels of cooperation." –A statement made by Russian president Vladimir Putin after meeting with Chinese diplomat Wang Yi in Moscow on Feb. 22, 2023
Can China broker a peace deal between Russia and Ukraine?
China has been stepping up efforts to bring Ukraine and Russia closer to negotiating a peace deal, with Xi's visit following a month after Beijing published a 12-point plan to end the conflict.
Russia, so far, has largely rebuffed China's efforts. Kremlin spokesperson Dmitry Peskov said in a statement last month: "At the moment, we do not see the premises for this matter to take a peaceful path."
Earlier this week, Chinese diplomat Qin Gang expressed to Ukrainian foreign minister Dmytro Kuleba in a phone call that he hopes Ukraine will hold talks with Russia, while emphasizing the importance of territorial integrity.
Related stories
⛽ How much money did India save in a year by buying Russian fuel?
📈 An unprecedented boom has made Russia India's seventh biggest trading partner
🫱‍🫲 Saudi Arabia and Iran agreed to restore trade and diplomatic ties in a deal brokered by China