Slow, labor intensive, and low tech are just a few of the words you could use to describe the way sneakers have traditionally been made. It takes big sneaker companies dozens of steps and up to 18 months to develop a new shoe, and with just a few exceptions, the manufacturing processes involved haven't changed significantly in decades.
Technology and automation are already beginning to upend that model, according to Morgan Stanley. In a June 6 research note for investors, the bank's analysts took a deep dive into the way the world's big sneaker players, most notably Nike and Adidas, are reimagining the way they make and distribute products. Their conclusion is that a "tectonic shift" in the industry is in the works, and it will ultimately have wide-ranging benefits for shoppers and brands alike.
The process is still in its early stages. Many of the innovations still need to gain momentum and reach scale. They basically fall into two categories, design and production—the two major steps in making a sneaker. But Morgan Stanley believes the changes will ultimately enable brands to provide shoppers with the products they want at lower cost, possibly even customized to their needs and wants, and far faster than ever before. Lead times could be cut from 18 months to just four, as laid out in one exhibit from the report.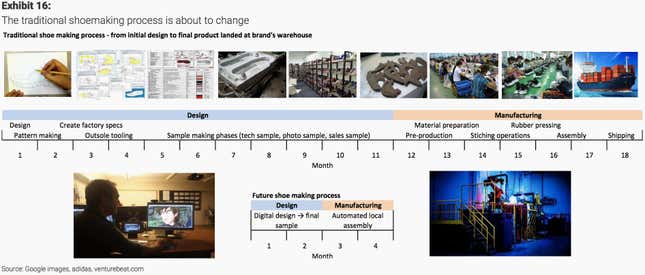 Design
A sneaker starts with a sketch. Before a brand can turn that idea into a prototype, it has to produce the patterns that serve as the instructions for the factory putting it together, and create the metal mold used for the sole. This process alone takes weeks. It then makes a sample, which usually requires more fine tuning. Several samples may be necessary, with the process repeated each time a new one is made. It can take a year before a final design is ready for production.

Now virtual prototyping is letting brands shorten that timeline dramatically. Nike's partnership with NOVA, the powerful technology platform from animation studio DreamWorks, allows it to produce photorealistic 3D images that eliminate the need for numerous physical prototypes, for example. NOVA even allows for material simulations, which let designers estimate how a shoe would fit. Nike is able to create more new designs in less time. The platform, Morgan Stanley notes, was used for How To Train Your Dragon 2.
3D printing is also hugely beneficial for rapid prototyping, since it lets brands skip the tooling step needed to build molds for foam soles. That alone can take a month. But brands can now print prototypes of a sole in a matter of hours. Adidas already has plans to mass-produce 3D-printed soles, allowing it to go straight from designing a product to printing the finished version with nearly no prototyping needed.
Manufacturing
To make their products even faster, Nike and Adidas are investing in automation. Adidas built an entire robotic "Speedfactory" in Germany, and by 2023, the two companies could have nearly 20% of their production done through more automation, according to Morgan Stanley.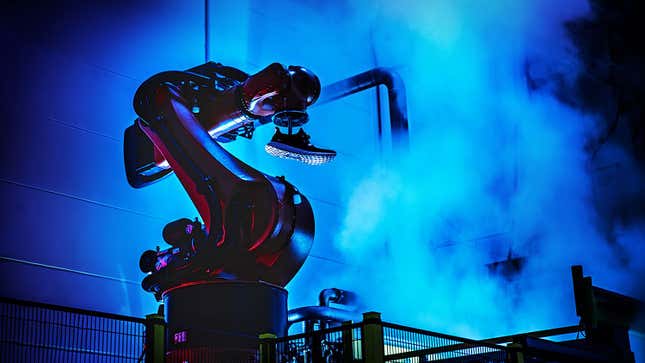 Speed isn't the only benefit. Nike engineers, for instance, can now use robotics to paint a sneaker's midsole, a process that previously required using tape to make sure only certain areas were painted, much like taping the edges of a room before painting. The new method is far quicker, and "also enables new aesthetic paint effects that cannot be achieved by hand," the report says.
Not least of all, both companies are looking to produce closer to key target markets. While they produce nearly all their products in Asia, especially China, they want to be able to make small quantities of goods quickly in response to consumer demand. Adidas, for example, has a Speedfactory in Atlanta now. Manufacturing isn't likely to return to Europe or the US in any large quantity, but locating some production closer to those markets will cut down the weeks it can take to ship items from Asia.
The big benefits
Why should shoppers care? Together these changes in design and manufacturing mean they won't need to wait to get the products they want, and it should soon be feasible to get items custom-made, since it will be easier and cheaper for brands to produce just one of an item.
"Let's say the consumer likes one style, but just wants to change one thing. He'll be able to do that," the report predicts. "What if he wants the product customized to his foot? No problem. Let's say he's traveling and wants to pick it up at a Foot Locker store near his hotel the next day? Easy."
For the brands themselves, cutting back lead times will let them respond to the market better, meaning they won't need to make vast quantities of shoes in advance. The new manufacturing model should also be cheaper—by up to 10%, Morgan Stanley estimates—as processes are streamlined. Together it will help sportswear outpace other consumer categories.
In the long run a number of brands will benefit, including New Balance and Under Armour, but the ones that stand to gain the most are the ones investing most heavily right now, and that's Nike and Adidas.