Long Beach, California
Building a rocket is as much as an art as a science, according to Dan Hart, the newly-minted CEO of Virgin Orbit, one of a number of new launch-vehicle companies aiming to ride a wave of investment in small satellite businesses.
Hart, a long-time Boeing executive, joined Virgin Galactic, the space company financed by entrepreneur Richard Branson, earlier this year. Now, with Virgin Orbit spinning out as a stand-alone firm as Branson's space companies focus on bringing products to market after years of delays, Hart is formally being made the company's chief executive.
The split with Galactic, which is working on its own vehicle to fly tourists into space, results in a company more likely to provide an immediate business impact to its backers.
Hart's team will build rockets capable of launching small satellites weighing a few hundred kilograms into orbit from the bottom of a customized 747 jetliner. It is competing against companies like Rocket Labs, which performed its first flight test in May, and Vector Space, which flew a prototype rocket the same month. These companies want to be the first to provide rapid launches to small satellite-makers, a market that remains underserved by companies like SpaceX and Arianespace that built businesses around flying the largest, heaviest satellites into orbit. Analysts suspect competing on the low-end could be a billion dollar opportunity.
"What is happening with the small satellite market is pure energy," Hart says, comparing the burgeoning competition to the rivalry between Boeing and Lockheed Martin in the early days of the commercial launches. "The next three years are big."
Virgin Orbit has already signed contracts with companies like OneWeb, which aims to put a constellation of hundreds of internet satellites into low-earth orbit in the years ahead, NASA, and Planet, the operator of the world's largest commercial satellite constellation.
Orbit hopes to offer flights on its rocket, LauncherOne, for $12-15 million a pop. On a per kilogram rate, that would still be more expensive than SpaceX's Falcon 9 rocket. Because the company will focus on smaller satellites, tailoring its services and launch timing to their needs, Orbit still expects to find enough customers for at least 10 launches a year before increasing the tempo to 20 if the demand is there.
Currently, most small satellites are secondary cargo and must find opportunities to fit on launches tailored for larger satellites, which often fly in different orbits. Being the primary cargo on a smaller rocket provided by Virgin Orbit or its competitors would mean the new generation of small-sat operators would get faster access to space, on their own terms. That means they don't need to watch their satellites, built in a matter of weeks, sitting in storage for months instead of generating revenue in orbit.
Hart says customers will be able to go from contract to launch in just six months, compared to the 18 months or so of lead-time common in the launch industry. He says his number one concern right now is making sure his team is "line of sight" with future users of the system.
This is a delicate time for the company, as design and testing of the rocket's individual components moves to integrated testing and manufacturing. While air-launch systems aren't novel, attempts to build a business around them have yet to succeed on the scale of vertical-take off rocket. One prominent example, OrbitalATK's Pegasus rocket, can cost $55 million per launch and has flown just 43 times in since it came into operation 26 years ago. Overcoming the doubters (and the competition) is no mean task.
"The integration of the team has to happen in the right way so the integration of the system can happen," Hart says. "People picture some isolated person in an office, [but] so much of aerospace is teams, how they communicate, solve problems. It's really psychology."
In its new Long Beach facility, Orbit's engineers are hard at work. Tim Buzza, a former SpaceX executive hired in 2014 to lead development of the LauncherOne rocket, helped bring some of that firm's cost-saving vertical integration to Orbit, which leans on building components in-house and using new manufacturing technology. The rocket body is made from carbon composites created in-house, and Orbit boasts a partnership with DMG MORI to pilot its latest 3D-printing technology to make engine parts. The propulsion system and propellant tanks were designed by Virgin Orbit's team.
Young engineers showing off the factory floor talked to Quartz about the benefits of being close to the manufacturing process as the rocket moves from design to production. So far, the company's 300 employees have built four rockets for testing. Some of the parts are on temporary wooden stands while the permanent manufacturing setup is installed. A system the company built to coat its rockets in insulating foam stands near the future home of a custom-designed clean room that Virgin Orbit's clients will take over when putting their hardware on the rocket.
"[Hart] is bringing some rigor to our systems and mission assurance, [but] we are teaching him as much as he is teaching us," Eric Wostenberg, a senior engineer at Virgin Orbit, says, of the meld between the the new CEO and his team. Wostenberg and the other engineers celebrate the scrappy, organic culture the Orbit team has cultivated. Nicole Lewis, an engineer who works on the propulsion system, began at the company as an intern, and says her experience isn't unusual at what is still a very flat firm. The workers feel like they have a ownership over their production. "The amount of responsibility here is unparalleled, you can't find that the other space companies," Meghan McCarthy, another engineer, says.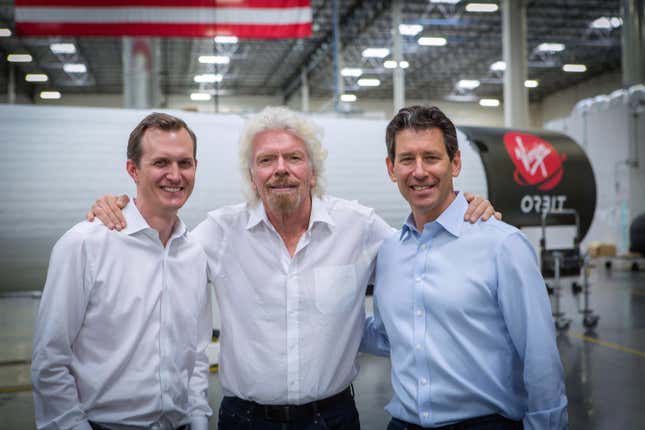 One key part of Hart's job will be marrying that culture to high-level execution ahead of flight testing expected to begin in early 2018. So far, Hart and his team seem to be on the same page, talking about the cost savings that come with mass-producing rockets and the company's ability to react quickly to challenges in the development process.
"I don't have layers and layers of organization to deal with," Hart says of how his new role leading a small company compares to heading up a major division at Boeing. "[We can] get four or five people around a whiteboard debating, somebody gets an idea, [and you] get a jazzed team that now has a plan. I see that happening on a daily basis."
Correction: An earlier version of this article reported that Tim Buzza joined Virgin Galactic in 2015, instead of 2014.