On Feb. 14, an Indian PSLV rocket will attempt to set a record by deploying 103 small satellites in a single launch, including 88 satellites owned by Planet. With a successful launch, the San Francisco-based imaging startup will operate a total of 143 satellites—the most of any company in the world.
If all goes according to plan, Planet expects to be able to image the entire Earth daily; right now it covers about a third of the world's landmass every 24 hours. Planet's satellites fly north to south in a polar orbit as the earth rotates beneath them, acting like a "line scanner" for the ground below:
The company's decision to fly its satellites from India speaks to the log-jam of companies eager to get into space.
Planet's Dove satellites, which weigh about 9 lb (4 kg) each, have mostly been launched from the International Space Station, but problems with rockets like SpaceX's Falcon 9 and Russia's Proton have caused delays in regular flights to the ISS. In the commercial market, big firms like SpaceX, ULA, and Arianespace are focused on launching large, expensive satellites.
While a number of companies are scrambling to fill that market gap with rockets designed to launch small satellites, right now India's reliable PSLV rocket is the best option available. It's expected to conduct five launches this year. Planet flew twelve satellites on the Indian rocket for the first time in June 2016.
But using the rocket is not uncontroversial: The US government technically prohibits American companies from using India's rockets, since the company that markets them, Antrix, is state-owned and arguably distorts the market for space access. The rule is in part designed to protect American rocket-makers from competition, but also to protest Indian policies that effectively block foreign satellite companies from doing business there.
Yet with so few options available to small satellite firms, the US has increasingly granted waivers for companies to contract with India. Planet worked through a Dutch company, Innovative Solutions in Space, that handled the task of integrating Planet's satellites into India's launch vehicle, which Mike Safyan, the Planet executive responsible for launches, said smoothed the way for US government approval.
The launch will position Planet to be the dominant new provider in satellite imagery. Since it was founded in 2010, the company has designed and launched its own satellites, but also moved briskly to acquire satellite imaging assets on the open market: In 2015, it purchased a German company called Blackbridge that had its own fleet of five satellites, and just last week, the company announced the purchase of Terra Bella and its seven satellites from Google parent Alphabet.
Planet's platform also incorporates historic data from US Landsat satellites and European Sentinel satellites; the company will announce later this week that it is adding information from Landsat-8 and Sentinel-2 to its database.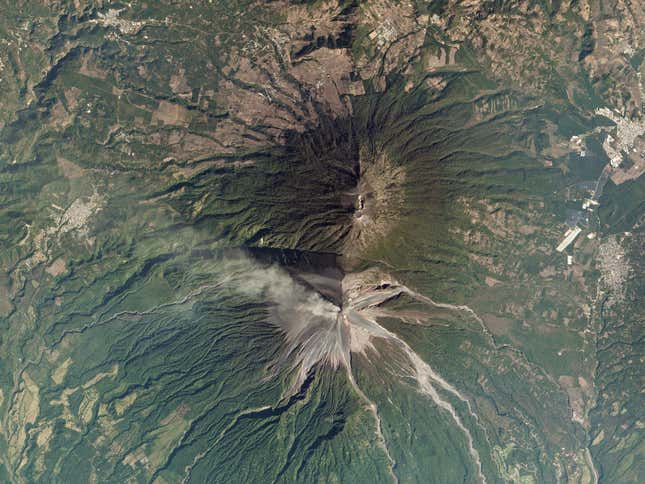 All this puts it in a position to be the dominant supplier of space data to a growing number companies eager to put machine learning and other big data techniques to work.
While publicly-traded DigitalGlobe remains the legacy space imaging firm to beat, its obligations to existing clients—especially the US government—have left it unable to meet the needs of new and eager clients.
Planet's strategy depends not just on surmounting the challenges of putting sensors in space, but also of making sure that the data is valuable to customers. Like any good startup, the company is eager to be seen as a platform, not just a service provider.
"Collection of the data is one thing, but arguably the access is more important to using it to make smarter decisions," Planet spokesperson Trevor Hammond tells Quartz.