Earlier in June, Facebook launched a set of features to celebrate Pride month, including the option to react to posts with a rainbow flag in lieu of a regular "like." But access to this option is different depending on location.
The feature is only available as a default option for users living in "major markets with Pride celebrations." In other places, users need to "like" the Facebook LBGQT page to gain access to the feature. And in some places, the feature isn't available at all.
According to a Facebook blog post, the disparity in access is necessary "because this is a new experience we've been testing."
Some users see it instead as a way for the company to avoid offending those who may not be supportive of LBGQT rights. "It kind of feels like facebook higher-ups are afraid of losing whatever percentage of their userbase are hateful bigots so they hide it behind liking this page so that nobody who would get upset will accidentally see it," writes a user by the name of Wil Donaldson on the LBGQT Facebook page.
Other users pointed out that Facebook has released temporary reaction buttons in the past that did not require users to opt in. The company's announcements for its theme reaction buttons for Mother's Day and Halloween do not mention any need to like a page or otherwise signal special interest. "Not everyone has a mother, or a good relationship with their mother, but we all got purple "thankful" flowers for Mother's Day," wrote Facebook user Sadi Ebon Askavi. "Not everyone celebrates Halloween, but all the reactions were tweaked to reflect the whimsy of that holiday. What I'm seeing here is Facebook is trying to play both sides. 'Here's a rainbow reaction if you're not homophobic. If you are, no problem! It's opt in only! You'll never have to see it!' So you get all the praise and little to no pushback."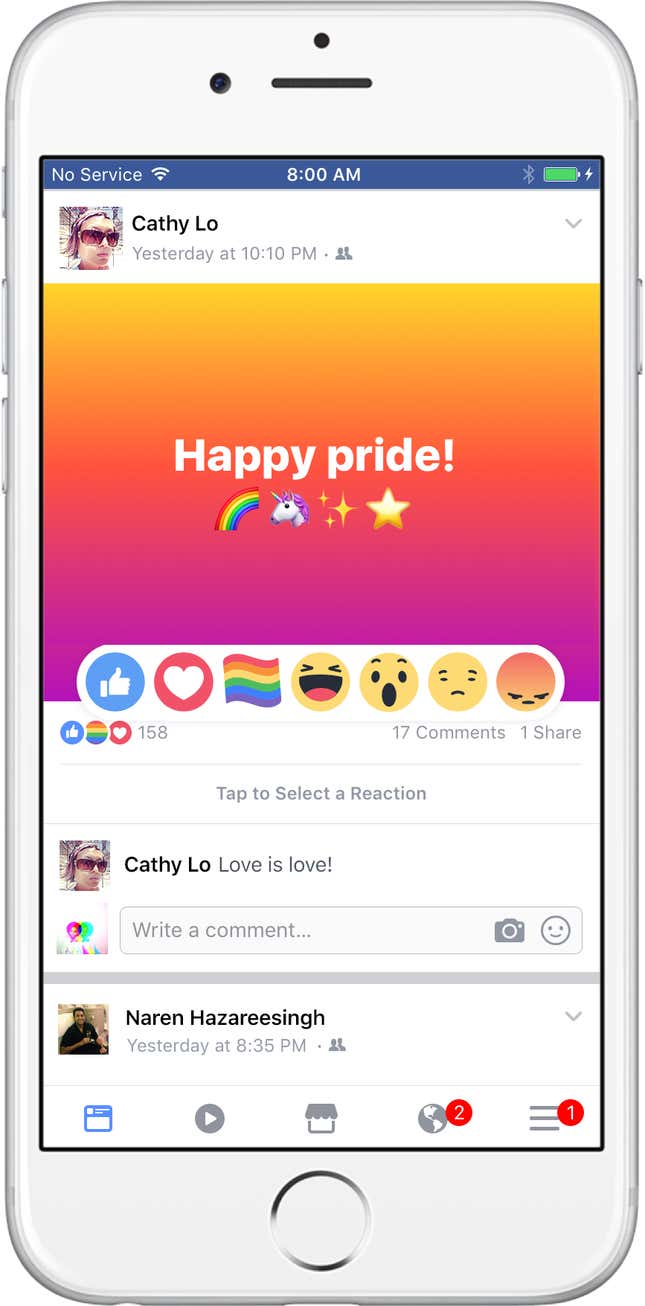 Of course, Facebook users did need to "express interest" in Star Trek to unlock themed reaction buttons for the franchise's 50th anniversary. The company seems to have grouped interest in LBGTQ rights into the same category.
The decision to make pride month reactions more visible in some places than others highlights a common problem for Facebook as it has scaled to nearly 2 billion global active users. In many of the countries where Facebook users said they could not access the pride button feature, such as Egypt and Algeria, homosexual acts are illegal (this was not the case for many users who reported not being able to access the feature).
"At Internet companies that offer global platforms like Facebook and Twitter, there is often the tension of whether the company should deploy the same features and principles around the world, or whether it should be more sensitive to local communities," says Dipayan Ghosh, a fellow at the New America Foundation who researches consumer privacy and algorithmic fairness and previously worked on Facebook's public policy team. "The advantages and disadvantages of each are real, but at the end of the day, very difficult choices do have to be made."
That dilemma is less clear, though, around the opt-in requirement reported by users in markets such as Detroit.
A Facebook spokesperson declined to discuss where the pride button reaction feature is available or why it is necessary for some users to first "like" the Facebook LBGTQ page, but reiterated that "because this is a new experience we've been testing, the rainbow reaction will not be available everywhere."