It seems that it's finally getting through to the US financial markets: The US jobs pictures is getting noticeably brighter. Here's how a few key asset classes reacted to today's positive employment news.
The biggest move seems to have been in the US bond market, where interest rates jumped sharply.
A better jobs picture means it's more likely that the Federal Reserve starts to taper off the pace of the bond-buying program—known as quantitative easing, or QE—it put in place to shore up the economy. The yield on the benchmark US 10-year note hit 2.71% in the wake of the report. That's its highest since way back in the summer of 2011.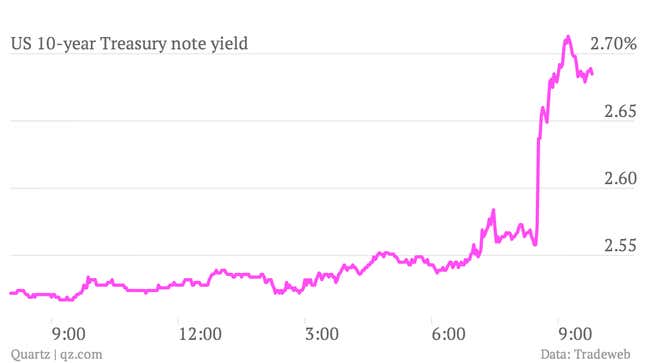 But the stock market doesn't seem to think that higher interest rates will choke off economic growth.
US stocks jumped at the open in the wake of the jobs numbers. They're up a modest 0.3% at last glance. But they're losing altitude.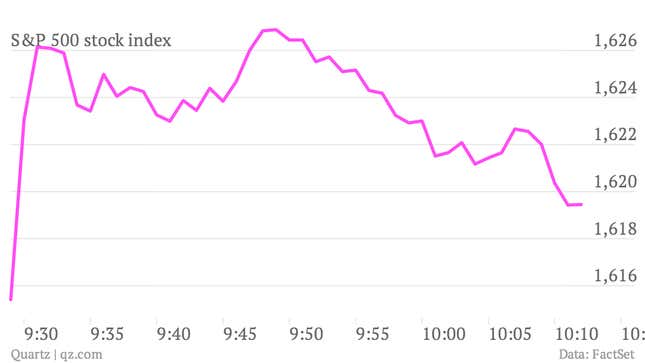 Gold continues to get clobbered.
This is also because the Fed seems more likely to scale back its QE programs, which inflationistas have been claiming would cause a problematic US price spiral. It never happened. As a result the yellow metal is one of the worst performing asset classes over the last year, down roughly 23%.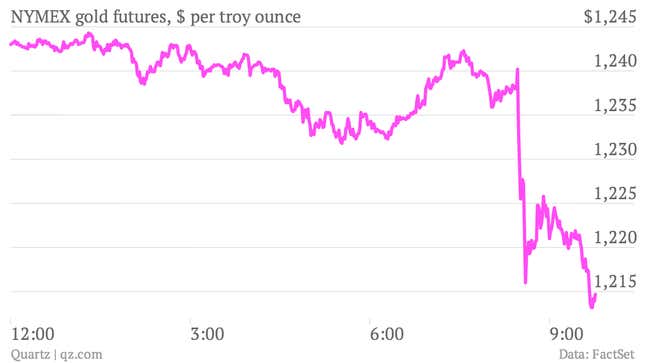 And investors flocked to the dollar.
If the Fed scales back its money-creation programs—that's essentially what QE is—that's a good thing for the dollar, as it means the central bank won't effectively be creating as many dollars as many thought. That also reduces the inflation-related risks of holding greenbacks. Here's a look at the ICE US dollar index, which tracks the US dollar against a basket of trade-weighted currencies.