Apple's next retail outlet opens on July 1 in Taipei—its first-ever in the island, 497th worldwide, and 78th in Asia, where it has steadily expanded its footprint. In May it opened its first store in Singapore, ringing in the occasion with a "giant" little red dot sign that some found perplexing.
For the Taipei store, Apple has commissioned something more elaborate—a 75-metern wide (250 feet) artwork made in the style of Chinese paper-cutting, surrounding the as-yet-unopened store's periphery in Taipei 101, a major shopping center.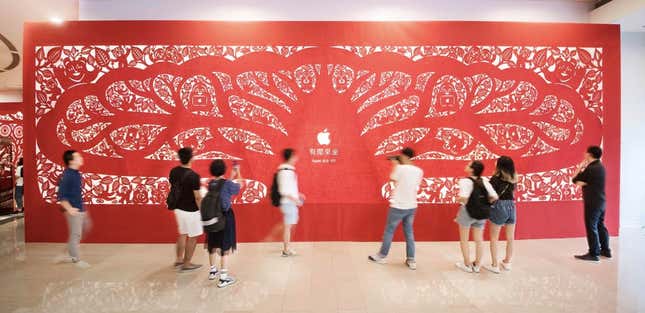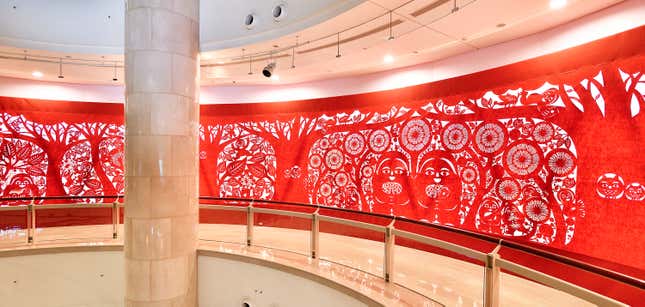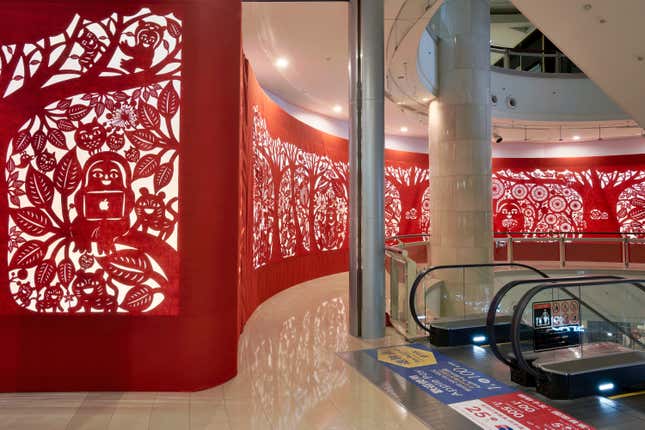 The artwork was designed by Yang Shiyi, a Taipei-based artist who specializes in the ancient art form. It depicts a banyan tree surrounded by various creatures, including black bears, leopard cats, and owls, all common to the island. Of course, some of them are perched atop branches whilst tapping away at Apple products.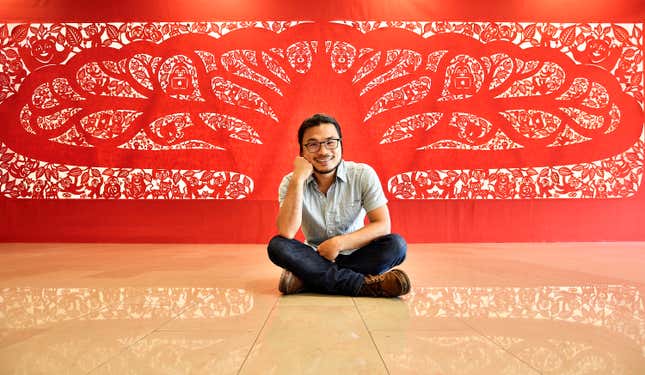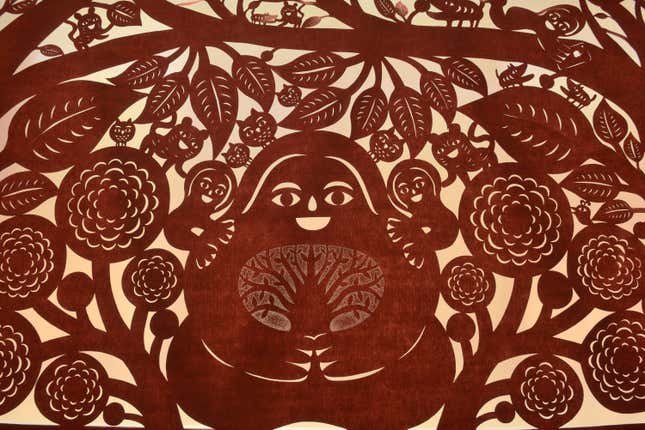 "For me, trees are structures of life, but they don't just take up space—they are spaces for innovation. As they mature, they give people a space to congregate and exchange ideas. And Apple store's aren't just places to sell products, they provide spaces for classes and activities. The ideals are very similar," he tells Quartz.
Yang says that Apple contacted him in late March, and that the piece took three months to create. In order to finish the project in such a short time-span, he worked with over 100 people to manage the design, cutting, and lighting. Since paper is too delicate for such a massive structure, Yang used fabric as the piece's material. The entire piece was cut by hand, using X-acto knives.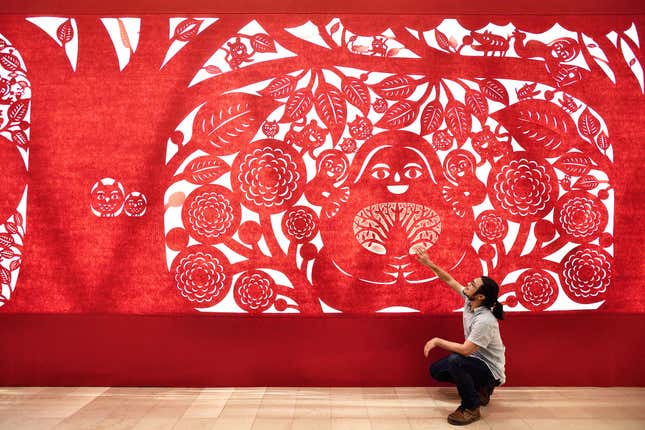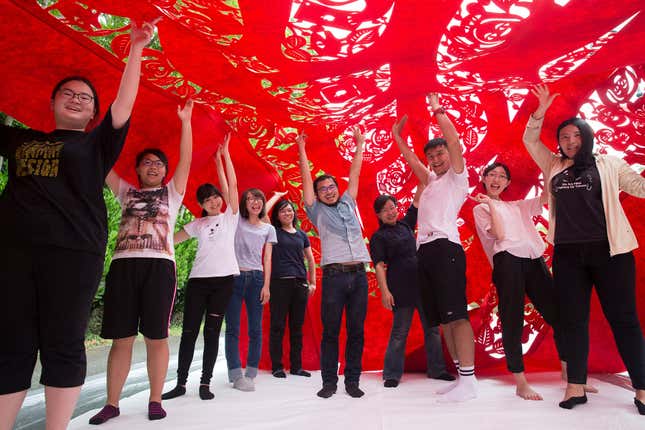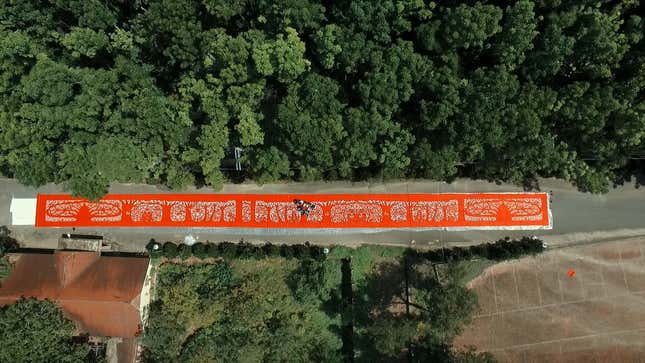 Paper-cutting dates back to second-century CE in China. For centuries, it has been a common folk art, with pieces adorning households during holidays like Chinese New Year. Often these works take the form of the Chinese characters for "luck" or "double happiness."
Yang learned the art of paper cutting by traveling to China's Shaanxi province and studying the craft. His says his work diverges from the form's traditional mold, but not out of a desire to break artistic ground. Rather, it's to ensure his pieces touch a chord.
"Paper-cutting dates back thousands of years and thousands of traditional designs have accumulated, but the visual vocabulary of modern people has gone through many changes, and traditional imagery won't necessarily resonate. I always try to make my artwork have non-traditional designs, but the purpose isn't innovation, it's to communicate with people."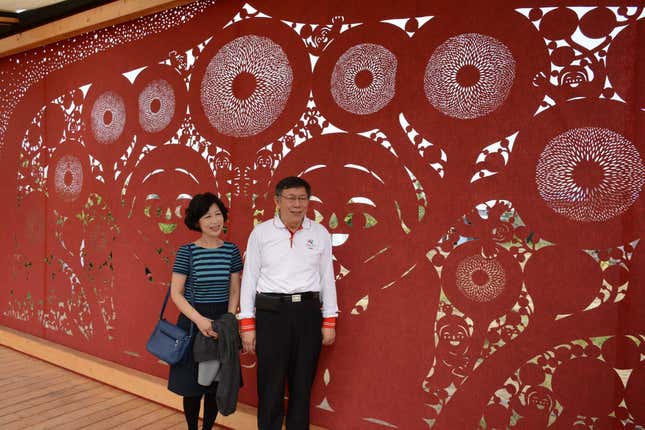 Yang's piece won't remain inside the actual store once it opens. But he has released a set of iMessage stickers based on the concept.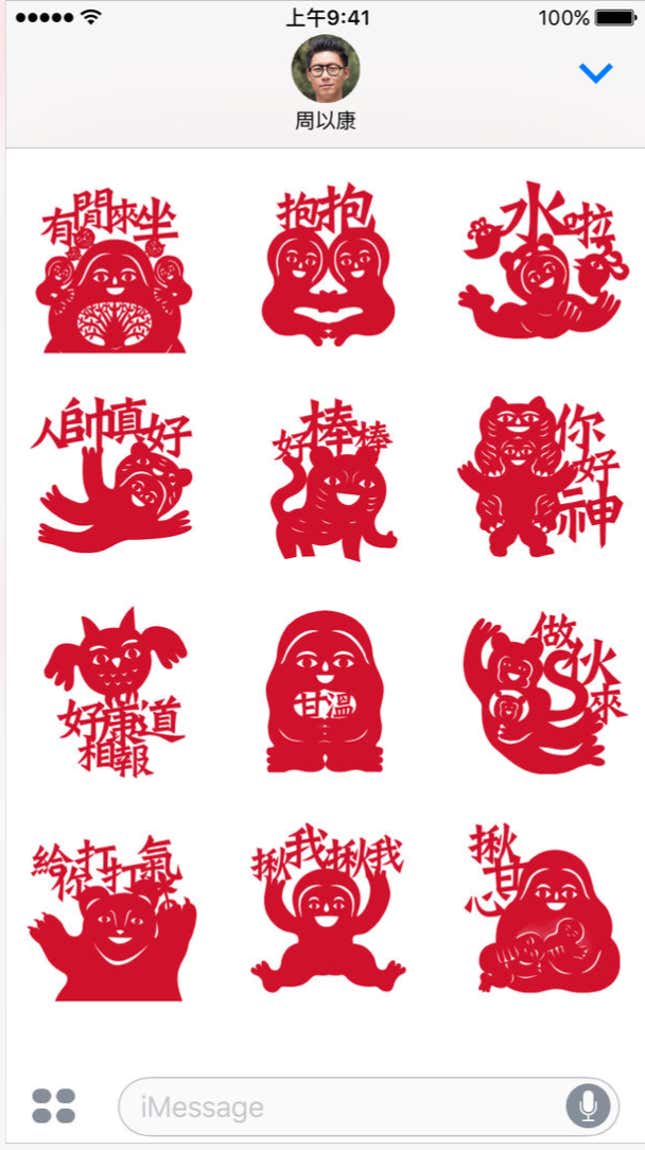 Correction: An earlier draft of this piece stated the Taipei store is Apple's 496th worldwide, it is the 497th.