Blue Apron's June 29 IPO was a lavish affair.
Caterers walked around Broad Street, just outside the New York Stock Exchange in Manhattan, passing out steak on lattice potato chips and tiny chicken burgers. People lined up beside booths shaped like giant cardboard Blue Apron boxes to sample ramen noodles (with sweet corn and kirby cucumbers) and fish tacos (wild Alaskan rockfish, red cabbage, and scallions). There were blue-painted crates piled high with produce and bass-heavy speakers that blared pop hits. The main attraction was a cooking competition, held in front of a towering wall of salad greens with a white apron cutout pinned to its center.
Lots of companies hang banners and ring the opening bell when they go public, but Blue Apron's festivities were unusually involved. "It's one of the more complicated ones we've done here," said Alan Doyle, a managing director at Set Live, the production company that put on Blue Apron's IPO. He said it's especially uncommon for IPO activities to leave the stock exchange and spill onto the street. "They're using it as a promotional thing," he said. (He recently signed up to try it out.)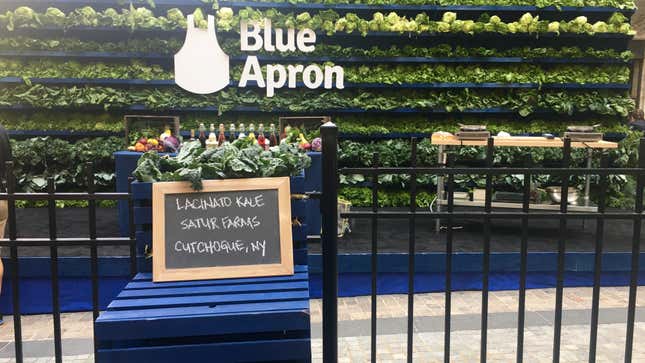 It's fitting that Blue Apron's public debut was an elaborate marketing stunt. Over the last three years, the meal-kit company has spent more than $200 million selling its boxes of recipes and pre-portioned ingredients to US consumers. That money has gone to podcast ads, customer referrals, discounts on first orders, and fliers sent through the mail. In 2016, Blue Apron spent $144 million on marketing. In the first quarter of this year alone, that number was $60.6 million.
Blue Apron's approach is typical in the startup world, where many companies pour their venture capital money into discounts to attract consumers. Companies from Uber to Lyft to Postmates know all too well that people are happy to use their services when they aren't paying full price. The million-dollar question (or, per Blue Apron's last private valuation, the $2 billion question) is whether those same customers can be kept around when the subsidies eventually go away.
For Blue Apron, there are already signs that increased marketing has a diminishing return. In the first quarter of 2016, Blue Apron's marketing was growing fast, up 204% from the previous year, but its revenue was growing even faster, at 254% year-on-year. But since the third quarter of last year, Blue Apron's growth in marketing spending has outstripped the corresponding growth in revenue. In the most recent quarter, the company spent 139% more on marketing to increase sales by 42%.
The real thing to watch on June 29 arguably wasn't Blue Apron's stock, which barely budged from its $10 IPO price, but the party taking place outside. The Financial District is a touristy neighborhood and the music and free food drew people in. But how many of them actually signed up? Loretta Carlisle, who was visiting from Ohio, told me she would consider it after trying four samples. Hershi Sahay, a college student, said the food was good but "the price seems a bit much." (The two-person plan (three meals, six servings) costs $59.94 a week, or $9.99 per serving.) I watched as another woman walked away grinning with a handful of red jalapeño peppers and a bunch of radishes, which she proceeded to stuff into a yellow plastic bag that she produced from the depths of her purse.
This has been the struggle of every meal-kit and food delivery startup. Subsidies are effective, but only to a point. It's unclear how many people fall in love with the service enough to pay full price, and how many just want to take the free radishes and run away. Until Blue Apron turns down the heat on its marketing contributions, it might be hard to figure the difference out.