Global technology stocks have had a great run—so great, in fact, that share prices for tech companies are closing in on levels last seen during the dot-com bubble. (And we all know how that ended.)
BlackRock thinks this time is different, which is always a bold call to make. The difference between then and now, the asset manager says, is that tech companies earn a lot more money today.
BlackRock managing director Belinda Boa says tech company profits are the strongest of almost any sector, justifying high valuations. Another reason why tech stocks aren't as bubbly as they were last time around is that technology adoption is spread more widely across other industries, reshaping business models in fundamental ways. This demand could push tech stocks even higher.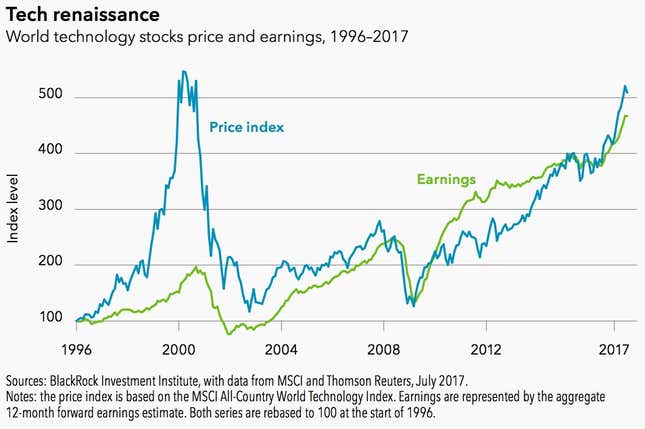 A lot of other things have changed, of course. Some tech companies so dominate their sectors that they face little meaningful competition. And as technology becomes cheaper and more available, it's become a feature of daily life in parts of the developing world that didn't participate in the last boom, expanding the available market for tech firms.
Any analysis of public stocks also leaves out some of the most valuable technology companies, like Uber and Airbnb, that aren't listed on an exchange. Since private companies disclose little financial information and trade less frequently, there's been hand-wringing over whether that part of the market is in its own bubble.
Back in public markets, the tech trade is crowded, and the rally has pushed shares so high that any setback has sent prices shuddering (paywall). BlackRock's Boa acknowledged that gains have been so extreme that there could be more sudden price swings in store. Still, it's noteworthy that the world's biggest asset manager thinks tech stocks may have even better days ahead, whether that makes you more confident or generates a scary feeling of deja vu.