Zaldrīzes ñuhe tale ipradas!
If you know what that means, then congratulations, you're already fluent in High Valyrian, one of the languages constructed for HBO's Game of Thrones. On the show, few people are still alive who speak it, save for Daenerys Targaryen, the Mother of Dragons.
Soon, you can be just like Daenerys (except for the dragons). Popular language learning app Duolingo launched a High Valyrian course today on its web platform. David J. Peterson, a linguist who invented the language specifically for Game of Thrones, has been working with Duolingo on the new course since last year, the company said. Android and iOS versions will be available soon.
Peterson, who also created the Dothraki language for the hit HBO series (in addition to making languages for other TV shows like The 100 and Defiance), taught a Game of Thrones languages course at his alma mater, the University of California Berkeley, earlier this year. But the Duolingo High Valyrian course marks the first time that people around the world can learn a language from the show. All of the app's language courses are completely free. (Users can pay a subscription fee to remove ads.)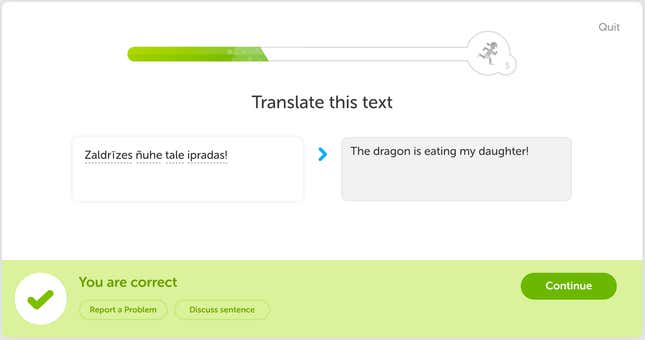 If you want to supplement Duolingo's course with some reading material, the internet offers a plethora of resources on the fake language. You can learn about everything from High Valyrian's phonology, to gender forms, to its verb conjugation.
Unlike English, High Valyrian uses an aorist tense, similar to Ancient Greek and Sanskrit. Quenya, one of the Elvish languages invented by J.R.R. Tolkien for The Lord of the Rings, also employs the aorist tense. A Song of Ice and Fire author George R.R. Martin only created a few words and phrases of his made-up tongue, while Peterson did the rest at HBO's behest.
Despite Thrones's popularity, High Valyrian pales in comparison to constructed languages like Esperanto, which has thousands of native users. Duolingo already offers an Esperanto course, and is also testing one for Klingon, from Star Trek.
Aside from "the dragon is eating my daughter," here are some phrases the High Valyrian course will teach its participants:
Daenerys zaldrīzī rijas. (Daenerys praises the dragon.)
Daenerys Visero hāedar issa. (Daenerys is Viserys' younger sister.)
Varys zaldrīzerme Dovaogēdī majaqsa. (Varys admires the indestructible Unsullied.)
Ñuhe averilloma kepe ykynan. (I smell my drunk uncle.)