E-commerce company Brandless launched last week, but it is already billing itself as the "Procter and Gamble of millennials." The startup sells a variety of Brandless-branded foods and household goods, supplied by its proprietary partner manufacturers, and all priced at $3. It's raised nearly $50 million from venture capitalists.
Brandless cares a lot about its brand. The company promises to keep prices low by eliminating the BrandTax, a phrase it requested a trademark for last November, and which it defines as the "hidden costs you pay for a national brand." Its simple white labeling was designed by a team of product and marketing experts and food scientists, what Brandless co-founder and CEO Tina Sharkey calls the "white box council." The products are tailored to the "conscious urban millennial" and other shoppers who are "very connected to their values."
"We're not anti-brand, we're not not a brand, we're just reimagining what it means to be a brand," Sharkey says.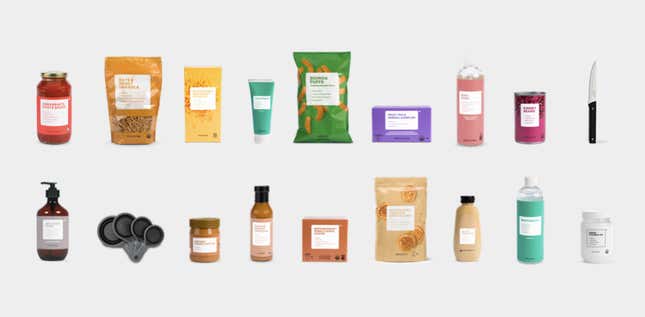 Sharkey has been laying the groundwork for Brandless with her co-founder, Ido Leffler, for three years. Before that she co-founded women's media site iVillage, led community programming at AOL, served as chairman and global president of Johnson & Johnson subsidiary BabyCenter, and was CEO of Sherpa Foundry, a group founded by Sherpa Capital partners Shervin Pishevar and Scott Stanford that promotes startups to traditional and non-tech companies.
When she talks about Brandless, Sharkey speaks in blandly positive phrases that evoke Gwyneth Paltrow's recent Goop Summit. The Brandless movement is the "democratization of goodness." It's that everyone "deserves better, and better shouldn't cost more." The $3 price point is designed to make it "very freeing when you shop on brandless.com." Brandless wants people to "live more and brand less," to "tell their own stories," and to drop the "false narratives" sold by Madison Avenue. "We want to aspire to help people live the lives they want to live," Sharkey says.
In the meantime Brandless is crafting its own narrative. On its website, the company claims the average person pays a 40% or greater BrandTaxTM markup on products "of comparable quality as ours." This seems likely true of Brandless organic extra virgin olive oil ($3 for 8.5 oz, or about 35 cents an ounce) but perhaps less so for its organic taco seasoning mix ($3 for a pair of 1 oz packets). By comparison, the cheapest bottle of organic olive oil sold online by Target costs $7.99 for 16.9 oz, or about 47 cents per ounce, making Brandless's about 25% cheaper on a per ounce basis. You can buy a dozen 1 oz packets of organic taco seasoning mix for $11.74, or less than $1 each, on Amazon.