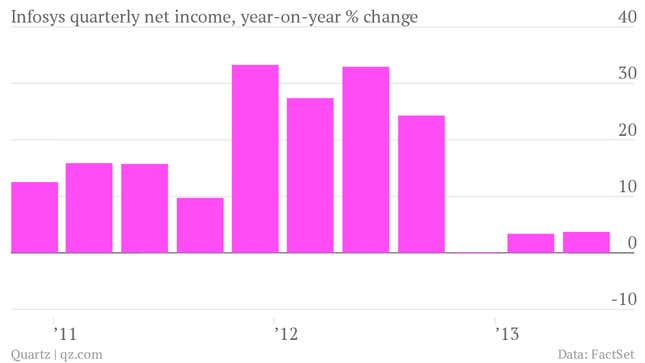 The numbers: Good. India's second largest software exporter Infosys reported a net profit of 23.7 billion rupees (roughly $396 million) for the three months ending June 30, up 3.7% from the same period one year ago. The company's sales were better than expected, rising 17.2% to 112.7 billion rupees, aided by the Indian rupee's 8.6% decline in the April-June period. Infosys maintained full-year revenue guidance at 6-10%, defying expectations that it would cut its target in the face of growing competition and uncertain growth. The stock rallied as much as 15% after the results before closing with an 11% gain.
The takeaway: It's too early to judge how much of an impact NR Narayana Murthy is having. The Infosys co-founder was brought out of retirement in June to spearhead efforts to turn around the company, which has seen its "Infosys 3.0″ strategy—essentially a plan to shift more of the business towards higher margin data-management and consultancy work—sputter. Early indications are that Murthy is leading a shift back towards the core IT business in an effort to shore up revenues.
What's interesting: Murthy believes he can build a "desirable Infosys" in three years. His biggest challenge will be to find a successor for the current CEO SD Shibulal, whose term ends in 2015. But he also must outline a clear strategy that can get Infosys back on par with the Indian IT industry, which is expected to grow 12-14% this year. (As we said above, Infosys is expecting sales to rise 6%-10%.) Murthy started by announcing a surprise 8% pay hike in July, designed to boost employee morale and arrest the 17% attrition that it witnessed in the latest quarter. His other big worry will be the proposed new visa rules in the US. Infosys gets 62% of its revenues from North America, and new laws may make it more costly to send workers there.