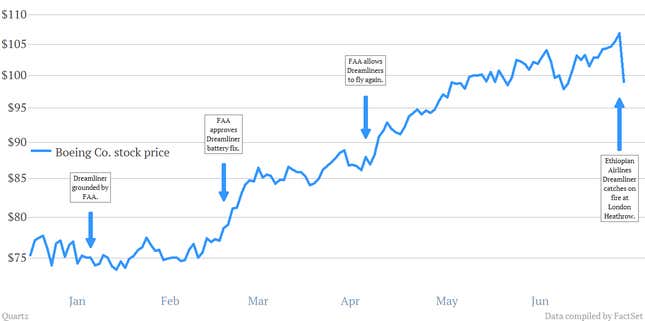 London's Heathrow Airport was briefly shut down today after a Boeing 787 Dreamliner operated by Ethiopian Airlines caught fire on the tarmac.
You can hear the cries of "not again!" ringing from Boeing's corporate offices. This year, the company's stock price has lived and died on the news surrounding its new flagship plane, which features a combustion-ready carbon fiber body and battery. The stock plummeted after the FAA grounded the plane in mid-January, then rose when it approved a better re-design and ultimately approved its return to the skies. The stock dropped $6, about 5% of its value, following the news of the Heathrow fire, though no one is sure yet of the cause.
The fire comes amid some relieving news for Boeing, regarding the recent crash of one of its older models operated by Asiana Airlines in San Francisco. Early indications from investigations suggest pilot error, not mechanical problems, are to blame. In that case, the design of the plane could be praised for allowing all but two passengers to survive.